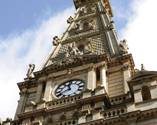 Saturday 17 May is International Day Against Homophobia and Transphobia (IDAHO) and for the first time ever, Calderdale Council is flying the rainbow flag at Halifax Town Hall in a show of support. 
This visible and colourful support for lesbian, gay, bisexual and transgender (LGBT) communities emphasises the Council's commitment to equality, in recognition of IDAHO.
 On 4June 2003 in Quebec, a day was set aside to fight and challenge homophobia.  It was decided that this event would be repeated every year on 17 May and would be known as IDAHO day. This date was chosen as it was the anniversary of the World Health Organisation removing homosexuality from its list of mental illnesses in 1991. 
To mark the day, Calderdale Council has agreed to fly the rainbow flag from one of the most prominent buildings in the borough, Halifax Town Hall. 
Calderdale has a large LGBT community, and we would like to acknowledge and identify with the diverse communities that make up the community of Calderdale. We believe that everyone should be valued for who they are. To continue supporting this, we are working with Stonewall, Britain's leading gay, lesbian and bisexual equality organisation to help demonstrate our commitment to equality even further.
Calderdale Council's Director of Communities and Business Change, Robin Tuddenham, said:
"The rainbow flag is displayed around the world as a sign of diversity and inclusiveness. I'm delighted that we're able to fly this flag at Halifax Town Hall on the International Day Against Homophobia, reflecting our diverse community and commitment to equality.

"We are working with Stonewall to become a recognised top employer for LGBT communities, making sure we continue to tackle discrimination and create inclusive workplaces."