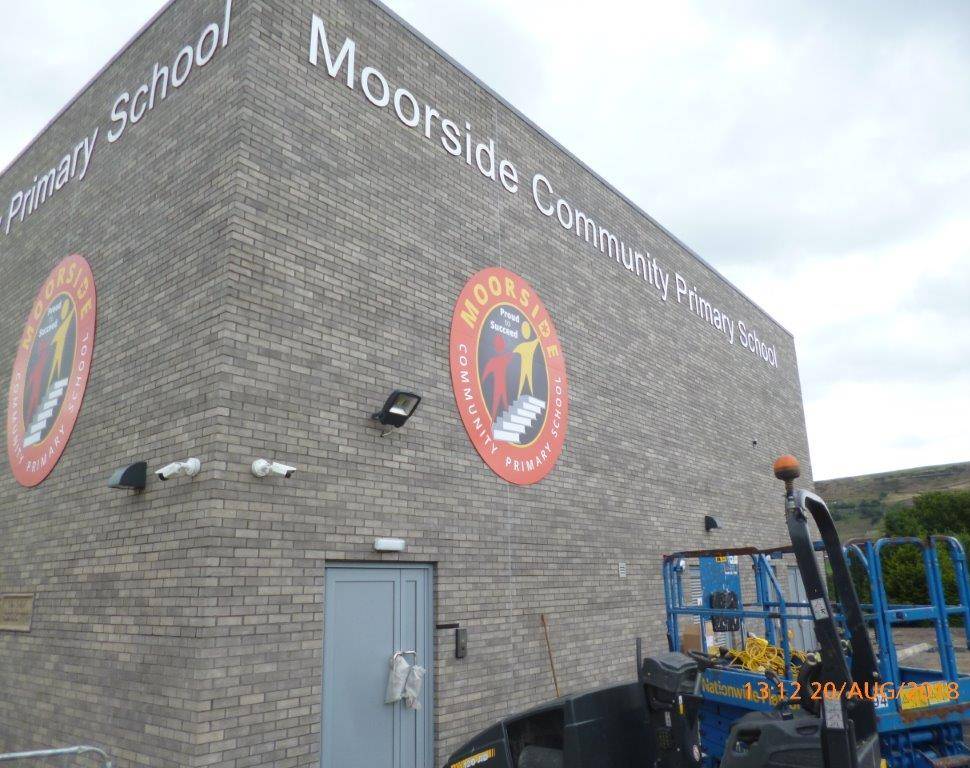 Work is continuing apace to rebuild Copley Primary School and Moorside Community Primary School in Ovenden, Halifax, with pupils and staff due to move into the impressive new buildings in the new term.
The project was commissioned by Calderdale Council following its £8.6m investment that will see the creation of brand new, modern facilities including new sports areas equipped for football, hockey, netball and basketball.
The finishing touches, including fixtures and fittings, are now being put in place by lead contractor, Wates Construction.
When complete, the new school buildings will provide a state-of-the-art home for more than 500 Halifax pupils. Construction is on track to complete in time for the new academic year.
The construction project has created new jobs for local people, and school staff and pupils have been involved throughout, including work experience opportunities, planting flowers, design updates and career talks.
Paul Dodsworth, Business Unit Director, Wates Construction North East and North West, commented: "Our construction of the new school facilities for Copley and Moorside marks the latest in a number of education projects delivered by Wates in Yorkshire and the North East. These include the new £57m Quarry Hill campus for Leeds City College and the new £22.3m National Horizons Centre research and training facility for Teesside University in Darlington.
"It is a huge privilege to be involved in a project that will enhance the learning experience for young people and we're delighted to be working with Calderdale Council and the schools to create inspirational environments in which young people in Calderdale can thrive."
Cllr Megan Swift, Calderdale Council's Cabinet Member for Children and Young People's Services, said:
"It's exciting to see the new school buildings really taking shape. We have invested in these fantastic new facilities to provide a top-class learning experience for local children to help them achieve their best. Enhancing local people's talent is a key part of Vision 2024 to make Calderdale a place where people want to live, learn, work and invest.

"Work is progressing well due to great partnership work with the Council, the schools and Wates Construction – a big thank you to everyone involved."
The year 2024 marks Calderdale's 50th anniversary. Where do we want to be by 2024? What's our ambition and what will be different? Get involved with the debate on Twitter with #VisionCdale2024 and find out more at www.calderdale.gov.uk/v2/council/vision-2024
Nan Oldfield, Headteacher of Copley Primary School, said:
"The new term begins with our move into the new build, marking a brand new phase for the children and staff of Copley School. The facilities now taking shape after so many months of planning and designing are just fantastic. The first day we welcome the children into the new build will be a very special one. The exciting redevelopment starting in September, of the park and play area on the old school site will also be such a welcome facility for the village community. The children have been involved in this redesign and cannot wait for it also to be completed."
Dani Worthington, Headteacher of Moorside Community Primary School, said:
"The children and staff at Moorside Community Primary School are very excited about returning to school in September and moving into their new facilities. We are very grateful to the local authority for their investment in Moorside. On 21 July we held a 'goodbye to the old Moorside' event which was attended by hundreds of past pupils and was an emotional time for many seeing the old building for one last time. As a community school we also look forward to sharing the benefits of our new facilities with the local community and being able to provide the children with an exciting and engaging learning environment that they can be proud of."