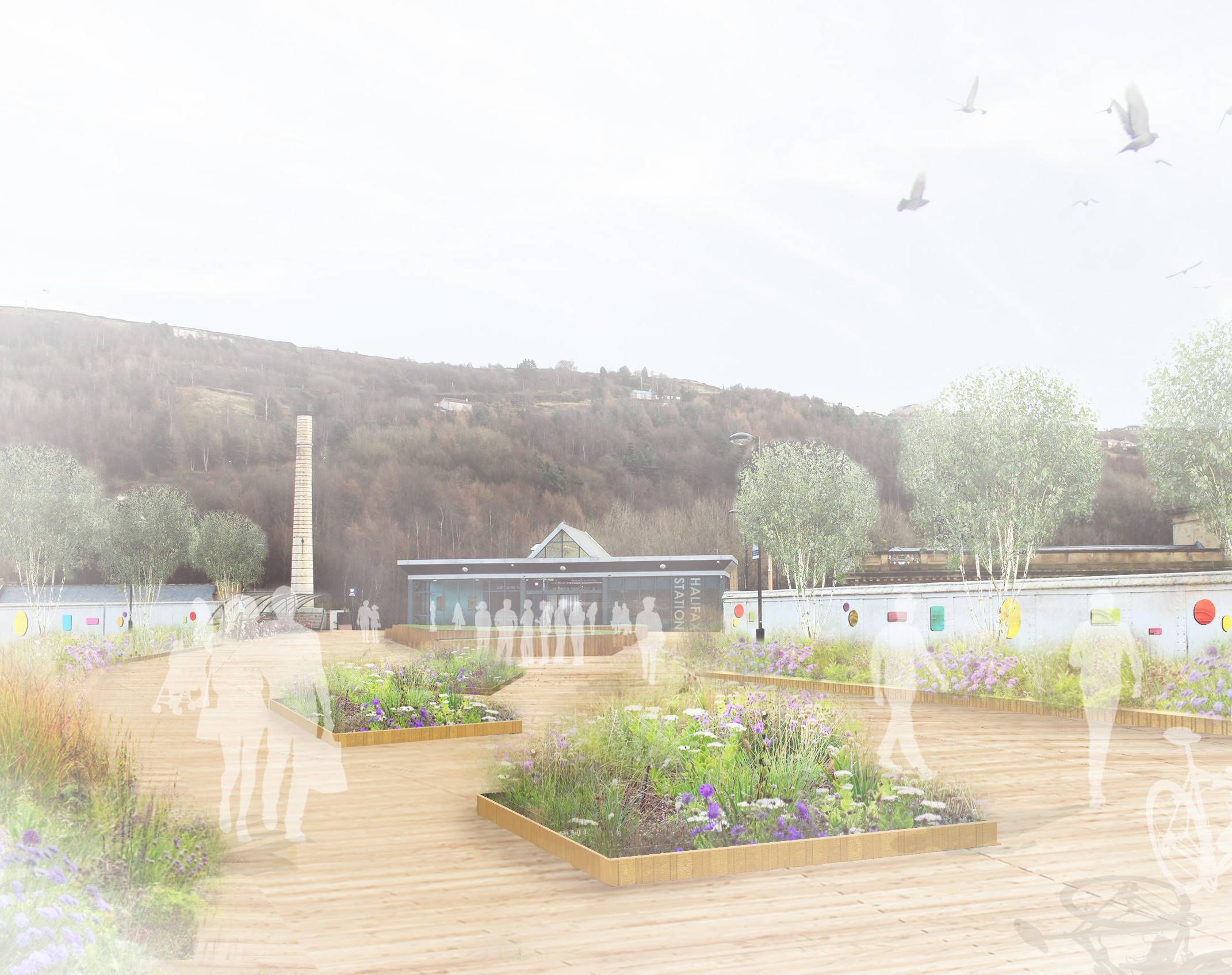 Local people are being invited to find out more about exciting plans for once-in-a-lifetime travel improvements and regeneration in Halifax town centre.
Calderdale Council is holding a public information session at Halifax Town Hall on Tuesday 18 July from 4pm to 7pm, on a drop-in basis. Attendees can talk to staff working on the project, ask questions, give feedback and see images of the proposed developments.
The work will see £58 million invested to improve the way that pedestrians, cyclists and drivers travel around Halifax town centre. This is one element of the Council's work to reduce congestion on the A629 route between Halifax and Huddersfield town centres, which is part of the West Yorkshire Combined Authority's Transport Fund programme.
Cllr Barry Collins, Calderdale Council's Cabinet Member for Regeneration and Economic Development, said:
"This is a really exciting time for Calderdale – we haven't seen transport development of this scale for many, many decades and there will be key long-term benefits.

"The proposed Halifax town centre schemewill reduce congestion and make it easier for people to get into and around the town centre. But it's not just about transport; it's also about making our historic town even more visually attractive, boosting visitor numbers, encouraging people to stay for longer and increasing business and employment opportunities.

 

"We're keen to share our plans with as many people as possible, and hope you will be able to come to the drop-in session to view and discuss the proposals with us."
Proposed developments include better cycling facilities and footpaths; improvements to bus routes and on-street infrastructure; easier, safer and more enjoyable pedestrian access to shops and leisure facilities; a public square next to the Piece Hall, new Central Library and Archive and Square Chapel to create a safer, more pleasant space for pedestrians and people arriving by train and bus; better links to Dean Clough; and much more.
Specific areas being targeted in Halifax town centre include Church Street, Bank Bottom, Charlestown Road, North Bridge, Broad Street, Market Street, Wards End, Bull Green and Cow Green.
The initial designs will be discussed at the public drop-in session and feedback will be taken into account. A planning application is expected to be submitted in late 2017. If approved, this will lead to a detailed business case being submitted to the West Yorkshire Combined Authority to release the funds required to deliver the scheme. The expected start date for works is late 2018.
After schemes including the A629 Halifax to Huddersfield Corridor Improvement scheme were supported at the recent Investment Committee meeting, its chair Cllr Susan Hinchcliffe, Leader of Bradford Council said: 
"The transport schemes which the Investment Committee has supported have been designed to achieve the Combined Authority and its partners' aims of encouraging sustainable economic growth that sees more local people in high quality jobs that they can access easily."
The £1 billion West Yorkshire Plus Transport Fund is being invested over 10 years in more than 30 transport infrastructure schemes across West Yorkshire and York, designed to create around  20,000 new jobs and add £2.4 billion a year to the economy by the mid-2030s.
The West Yorkshire Combined Authority's Transport Fund has been part-funded through the Leeds City Region Enterprise Partnership (LEP) Growth Deal – a £1 billion package of Government funding to drive growth and job creation across the Leeds City Region.
For more information on the West Yorkshire Transport Fund programme in Calderdale, head to www.calderdalenextchapter.co.uk(external link)