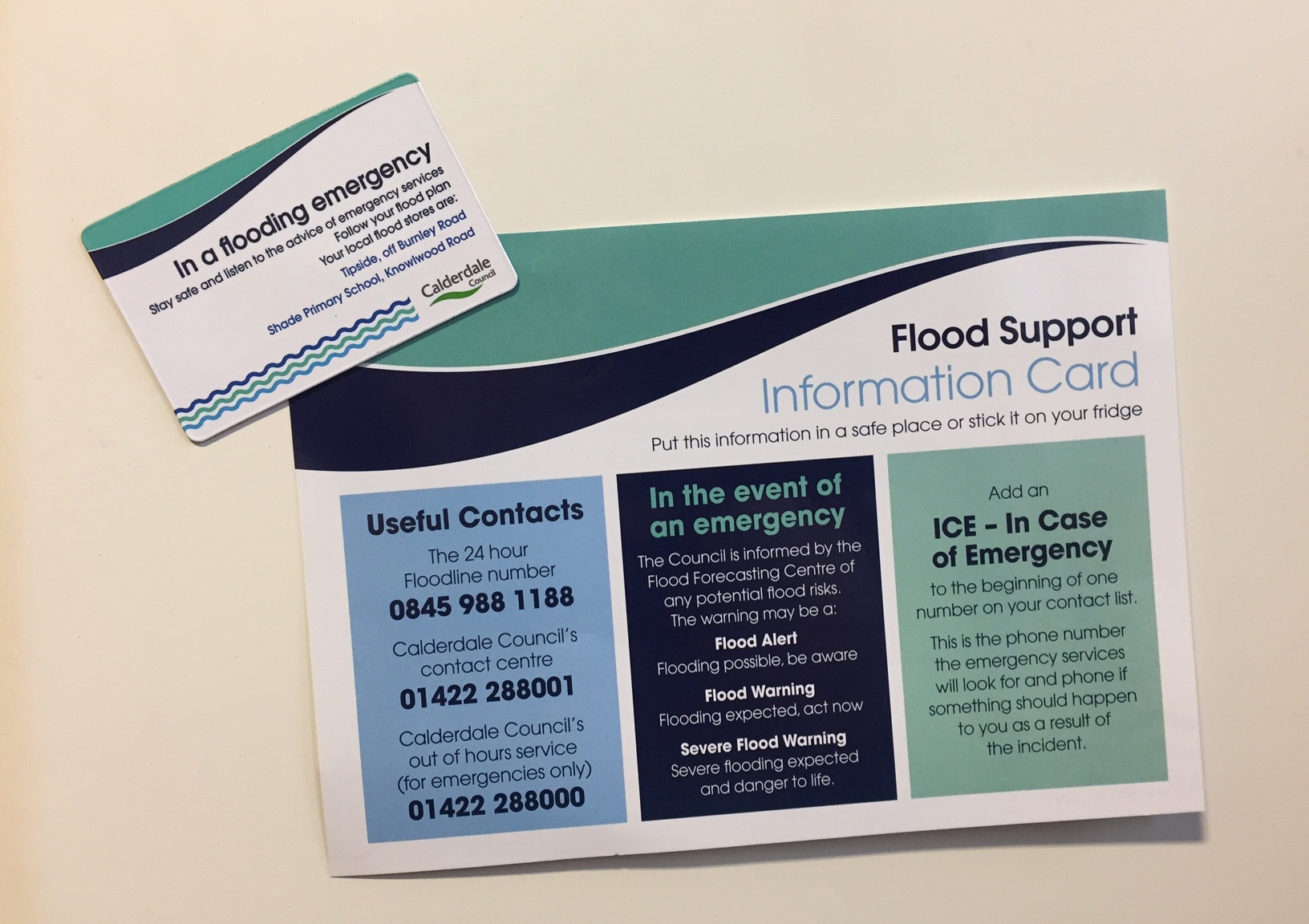 Flood hit residents in Calderdale will soon be receiving handy guides to help them develop their own flood plan in the event of future flooding in the borough. 
Flood risk can never be eliminated, but it can be reduced and its impacts lessened through good planning, preparation and practice.  
Acting on recommendations of the Flood Commission, Calderdale Council has produced handy fridge magnetsand laminated cards for distribution in all flood affected areas of Calderdale. Together they contain important information for residents and businesses in case of a flood event, including useful contacts, general advice, and details of the locations of the Council's Community Support Hubs which will be set up during an emergency and where relevant, flood stores.  
There are currently flood stores in Hebden Bridge, Mytholmroyd and Todmorden, with flood stores in other locations currently being developed. Flood stores are run by the local flood groups with Council support and contain items such as emergency sandbags, rakes, clean up kits and torches. Residents can find out more about their local flood group at www.eyeoncalderdale.com(external link)
The information cards and magnets will be distributed from Monday 19 December by Council officers, the Community Foundation for Calderdale, local groups and volunteers, with high risk areas receiving their cards first.  
Distributors will also talk to residents about how they can improve their own resilience. This will include encouraging all eligible properties to take up the £5000 Flood Resilience grants. 
The Leader of Calderdale Council, Cllr Tim Swift, said: 
"The Floods Commission recommended that guides should be prepared to help people in flood risk areas plan ahead, and encourage people living in these areas to prepare personal emergency plans. 

"These handy cards and magnets are a great way to have and keep safe important information in the event of a flooding emergency." 
Emma Woods-Bolger, from the Community Foundation for Calderdale, said: 
"It's really important that people know who to contact in the event of a flood and this handy fridge magnet is a convenient way of keeping the information close at hand.   

"We are also really keen to let households know about the further financial support our charity has available including top up grants for resilience works. Information about this grant and other financial support for those affected by flooding is available at www.cffc.co.uk/flood-fund(external link)." 
ENDS