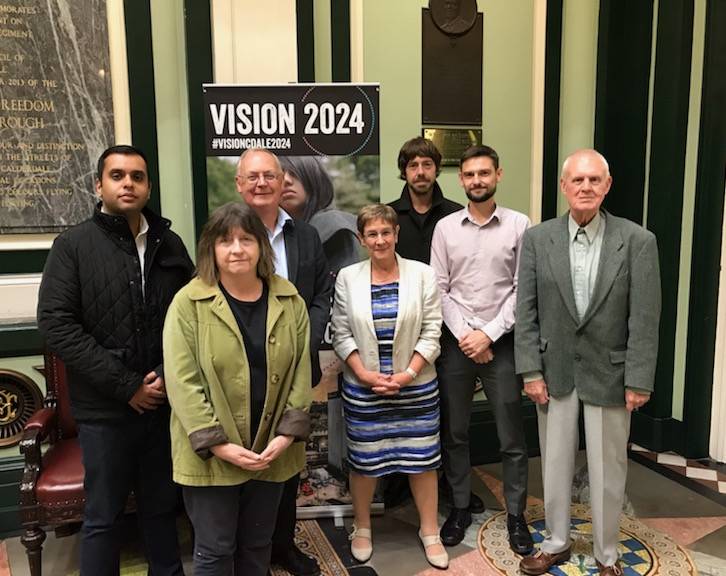 Calderdale Council's Cabinet for 2019/20 has set out its priorities and introduced two new members.
The new faces – Cllr Adam Wilkinson and Cllr Scott Patient – join Council Leader Cllr Tim Swift and existing Cabinet Members Cllr Bob Metcalfe, Cllr Susan Press, Cllr Jane Scullion and Cllr Faisal Shoukat.
Cllr Adam Wilkinson has taken on responsibility for Children and Young People's Services. Cllr Wilkinson has been a Sowerby Bridge Ward Councillor since 2012 and studied in Calderdale schools. For him, the key focus is early investment in local children and their families, to ensure they have the best possible future.
Cllr Scott Patient, who represents Luddendenfoot, is one of the younger Councillors to be elected in recent years. He is responsible for climate change and the environment – major areas of focus for the Council. A flood warden, school governor and father of three children, Cllr Patient is especially concerned about flood resilience and air quality across the borough, and believes that Calderdale can lead the way in improving the environment for future generations.
Ward Councillor for Town, Cllr Bob Metcalfe, returns to the Cabinet to continue his role in looking after Adults' Services and Wellbeing at a time of high demand. As the number of adults needing care in Calderdale continues to rise, Cllr Metcalfe will be looking at different ways to organise services, involving hospitals, local health services and community groups.
Cllr Faisal Shoukat from Park ward in Halifax continues his Cabinet role of overseeing Public Health, which covers a wide range of issues from obesity to health visiting. He also expands his role by taking on voluntary and community services, which are important as the Council increasingly works with local communities. Cllr Shoukat is also responsible for improving community cohesion and integration across the borough.
Cllr Susan Press (Todmorden ward) continues to look after services for residents as Cabinet Member for Public Services and Communities, which includes community safety, environmental health and cultural and leisure services. Priorities in this area include ensuring support for the most vulnerable people and driving Calderdale's anti-poverty strategy.
Cllr Jane Scullion (Luddendenfoot ward) has been appointed Deputy Leader of the Council and continues her Cabinet role of overseeing the Council's internal resources, but adds regeneration to her responsibilities. A key focus is taking forward work on the inclusive economy and Calderdale's economic development. Cllr Scullion has a strategic role in relation to tourism, building on the recent success of The Piece Hall and other developments.
Cllr Tim Swift (Town ward) maintains his responsibility for setting the strategic direction of the Council and the borough as Leader of the Council, as well as leading on regional working, partnerships with health services and Council finances. Cllr Swift said:
"This Cabinet reflects our renewed commitment to ensuring that we tackle climate change in Calderdale, that we grow a strong and inclusive economy with good jobs and that we reduce inequality across the borough.

"With continued significant budget pressures, it is vital for us to work with local people to find a way forward together. We will continue to do all we can to protect our public services, especially those which support the most vulnerable people, building on the Council's work to recover from flooding, improve children's services, regenerate Halifax and bring investment and business to Calderdale.

"However, there is still much more to do. There is something distinctive about Calderdale and its talented, resilient people which gives me hope that we can make the borough a better, kinder place."
Distinctiveness, talent, kindness, resilience and enterprise are key themes of the Vision 2024 for Calderdale. The year 2024 marks Calderdale's 50th birthday. Where do we want to be by 2024? Get involved with the debate on Twitter with #VisionCdale2024 and find out more at www.calderdale.gov.uk/vision
The Cabinet Members and their roles for 2019/20 are as follows:
Cllr Tim Swift – Leader of the Council
Cllr Jane Scullion – Deputy Leader of the Council and Cabinet Member for Regeneration and Resources
Cllr Bob Metcalfe – Cabinet Member for Adults' Services and Wellbeing
Cllr Scott Patient – Cabinet Member for Climate Change and Environment
Cllr Susan Press – Cabinet Member for Public Services and Communities
Cllr Faisal Shoukat – Cabinet Member for Public Health and Cohesion
Cllr Adam Wilkinson – Cabinet Member for Children and Young People's Services