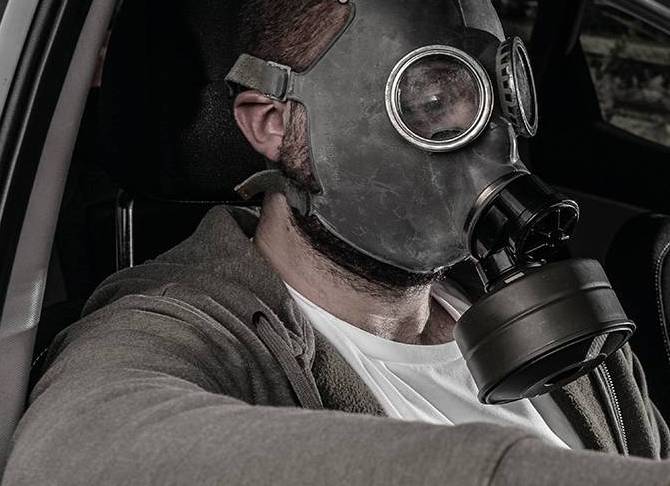 Calderdale Council is launching a hard-hitting campaign on Clean Air Day (Thursday 20 June 2019) to help tackle air pollution and urge people to do their bit to improve air quality in the borough.
Shocking images will be used in the Let's Clear the Air campaign to emphasise the seriousness of air pollution. It may be invisible, but it's a real issue in Calderdale – not just in big cities. It can't be ignored and we need to act now, before it's too late.
The campaign images show a variety of people in everyday situations, such as driving a car, playing in a school playground and walking along a Calderdale street. However, their faces are covered by protective masks, including gas masks, giving a surreal and disturbing aspect to an otherwise ordinary setting.
Masks have been used to illustrate people trying to protect themselves from damaging pollutants. This idea reflects the danger of air pollution, its effects on people and the personal responsibility we all have to address the issue.
Cllr Scott Patient, Calderdale Council's Cabinet Member for Climate Change and Environment, said:
"Air pollution is dangerous – it harms our health and the environment. Our Let's Clear the Air campaign is purposely shocking, as we need to be very clear that local people are at risk and the problem won't go away unless we address it. We need to protect ourselves and each other by taking collective action to improve air quality, and we need to do it quickly."
Through social media, radio advertising, media stories and banners outside schools, the Council's campaign is asking local people to take action of their own by making changes to their daily lives – for example, by making more sustainable travel choices like walking, cycling and public transport. Not only does this benefit people's health by reducing harmful toxins, it also gets them moving more and supports the ambition to be the most active borough in the North by 2024.
On Clean Air Day and beyond, the Council is asking its staff, residents and organisations to make cleaner, greener travel choices, and to post their experience on social media using the hashtag #LetsClearTheAir.
The initial focus of Let's Clear the Air is to combat vehicle idling (where a vehicle's engine is left running whilst stationary). An idling engine can produce up to twice as many exhaust emissions as an engine in motion. So if people do have to drive, the Council is asking them to turn off the engine if their vehicle is not moving; for example, through the hard-hitting images and messages on banners outside schools.
For more information visit www.calderdale.gov.uk/letscleartheair
Improving air quality, protecting the borough's distinctive environment and making it more resilient is fundamental to the Vision2024 for Calderdale. In the year 2024, Calderdale will celebrate its 50th birthday. Where do we want to be by 2024? How will the Calderdale of 2024 be different from the place it is now? What ambitions do we share? Join the conversation by following #VisionCdale2024 on social media and visit www.calderdale.gov.uk/vision