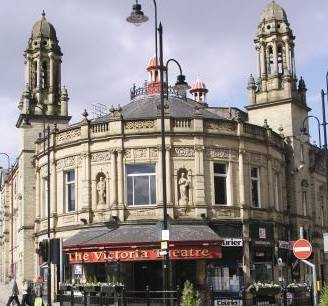 The Victoria Theatre Halifax has been awarded £301,330 from the government's £1.57 billion Culture Recovery Fund, to help face the challenges of the COVID-19 pandemic and to ensure it has a sustainable future.
The Victoria Theatre is one of 1,385 cultural and creative organisations across the country receiving this urgently needed support. £257 million of investment was announced on Monday 12 October as part of the first round of the Culture Recovery Fund grants programme, administered by Arts Council England. Further rounds of funding in the cultural and heritage sector are due to be announced over the coming weeks.
The magnificent theatre, run by Calderdale Council, has entertained local people and visitors since opening in 1901 and is central to the cultural, economic and social life of Halifax and Calderdale. It also plays a significant role in supporting people's health and wellbeing.
The grant will help towards the venue's safe and COVID-secure reopening plans, which will be announced as soon as possible.
Calderdale Council's Cabinet Member for Public Services and Communities, Cllr Jenny Lynn, said:
"This is terrific news for our much-loved, historic theatre, for the brilliant team that keeps it running, for the artistes and performers that it supports, and for all the theatre-goers who have missed spending time there during its closure due to the pandemic.

"The Victoria Theatre makes a significant contribution to our local economy, bringing joy to our communities and development opportunities for performers, technical staff and arts management professionals. I am delighted that this grant will enable it to carry on delivering for future generations."
Chair, Arts Council England, Sir Nicholas Serota, said:
"Theatres, museums, galleries, dance companies and music venues bring joy to people and life to our cities, towns and villages. This life-changing funding will save thousands of cultural spaces loved by local communities and international audiences. Further funding is still to be announced and we are working hard to support our sector during these challenging times."