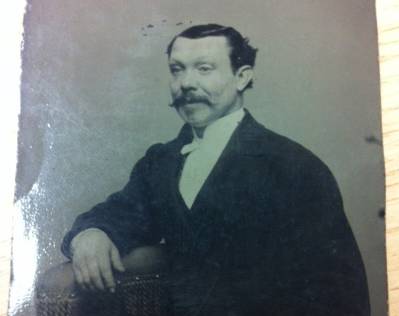 Mystery surrounds a number of objects found at the Piece Hall during its transformation into a 21st century heritage visitor attraction.
The conservation of the Grade I listed Piece Hall is being undertaken by the Council's contractors, GRAHAM Construction.  The items were discovered as work continues to progress on site.
Three photographs were revealed behind the skirting boards of one of the former shops and provide a glimpse of a bygone era.  One photograph shows a young boy holding an object which looks very like a catapult, standing next to a young girl, both in period clothing. 
The two remaining photographs are of smartly dressed gentlemen, one with an impressive handlebar moustache.  Both appear to have been taken in a studio and one is a tintype, which was widely used during the 1860s and 1870s.
Workmen also found a booklet printed by the War Office and dated 30 June 1939 called 'Notes for Instructors on the Principles of Instruction', a manual providing advice on training army recruits. 
Leader of Calderdale Council, Cllr Tim Swift said:
"These are fascinating items which provide a tantalising view of a forgotten world.  It would be great to know the stories behind them but unfortunately we know very little.  We don't even know if the people within the photographs are from Halifax or had any connection with the Piece Hall.

"Although these artefacts have little historic value they provide a hint at what daily life may have been like in the Piece Hall during the past 230 years." 
A simple unlidded wooden box was found, branded with the name 'Emsley & Collins Ltd', which may once have been a local company.  More surprising was a pile of oyster shells which were revealed when the cellars were cleared.
Perhaps the most intriguing discovery has been that of eleven empty 'Fairbank Compressed Cooked Corned Beef' tins which had been neatly stacked together and then abandoned in the Piece Hall, possibly for more than a century.
To see photographs of the objects visit The Piece Hall Halifax page on Facebook.  To find out more about the transformation project at the Piece Hall visit  www.thepiecehall.co.uk(external link) or follow @ThePieceHall on Twitter.