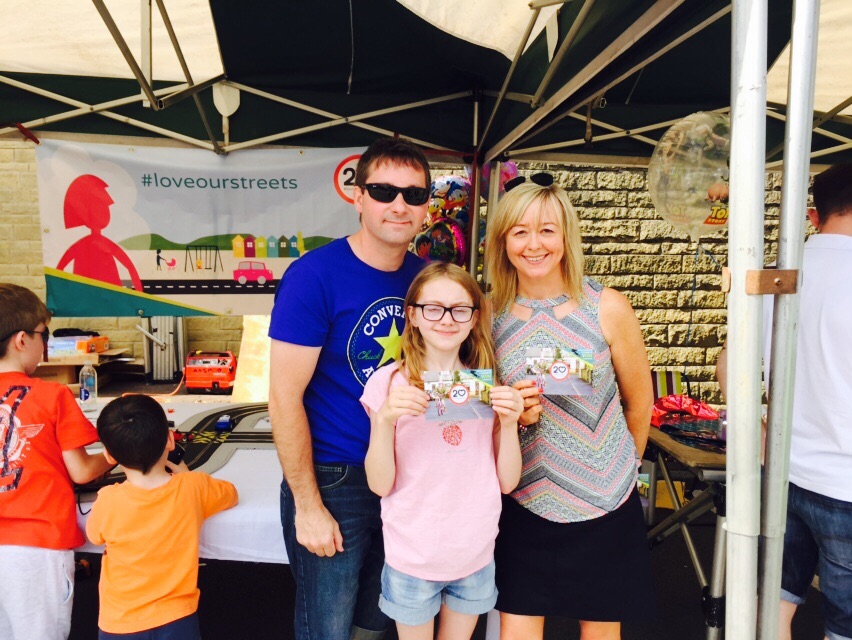 Calderdale residents have the chance to find out more about the roll out of 20mph speed limits in the borough, as the Love Our Streets campaign visits the Todmorden Fire Station Open Day this Saturday. 
Love Our Streets will see 20mph speed limits introduced in residential streets throughout Calderdale by 2017. The limits are already in 12 areas of Calderdale and the next place they will be installed will be Todmorden this October. The rollout will continue in 6 further phases for the next two years.   
To provide residents with more information about the campaign, the team will be out and about visiting a number of events across the borough. Love our Streets engaged with locals at the Halifax Police Station Open Day on Saturday 8 August, and will now be at the Todmorden Fire Station Open Day this Saturday from 11am-4pm. 
The team will have plenty of information about the facts and the benefits of 20mph, there will be fun activities such as Scalextric with a difference (the slowest car wins), plus goodies and the chance to win a Car CCTV camera. 
The move towards more 20mph areas reflects what other parts of the UK are already doing. Calderdale is the first place in West Yorkshire to introduce 20mph speed limits in most residential streets.  
Love Our Streets wants to:  
Help make our streets safe for everyone and reduce the number and seriousness of collisions. 91 people were killed or seriously injured on Calderdale's roads in 2014 – 10 were children.

Enable people to walk or cycle short journeys. In areas of slower moving traffic, people are more likely to walk or cycle their regular journeys instead of using the car.

Help create calmer and happier communities for us all to enjoy and aims to help us get to places no matter how we travel or where we live

 
If you can't make the Todmorden event this week, there are still plenty of other ways to get involved with Love Our Streets. Parents can access information on how to teach their children about road safety on the Love our Streets(external link) website. You can also find out more about the campaign and the benefits of driving at 20mph, and take part in a short quiz that gets you to think about how you drive and tests your knowledge. 
Calderdale Council's Cabinet Member for Public Health, Wellbeing and Engagement, Cllr Simon Young, said: 
"Through the Love our Streets campaign we want to help make our streets safer for everyone, enable people to walk or cycle short journeys, and help create more pleasant communities for us all to enjoy. 

"We're listening to feedback from residents and taking on board their suggestions during the roll out of the scheme. We know change won't happen overnight, but through events like this one in Todmorden, plus information on the Love Our Streets website, we will be sharing the facts to show that driving at 20mph has real benefits for everyone!" 
Visit http://20mph.livingcalderdale.co.uk/(external link) for more information about the campaign, or http://www.visitcalderdale.com/open-day-at-todmorden-fire-station(external link) for more information about this week's event. Join the conversation on https://www.facebook.com/LoveOurStreets(external link)