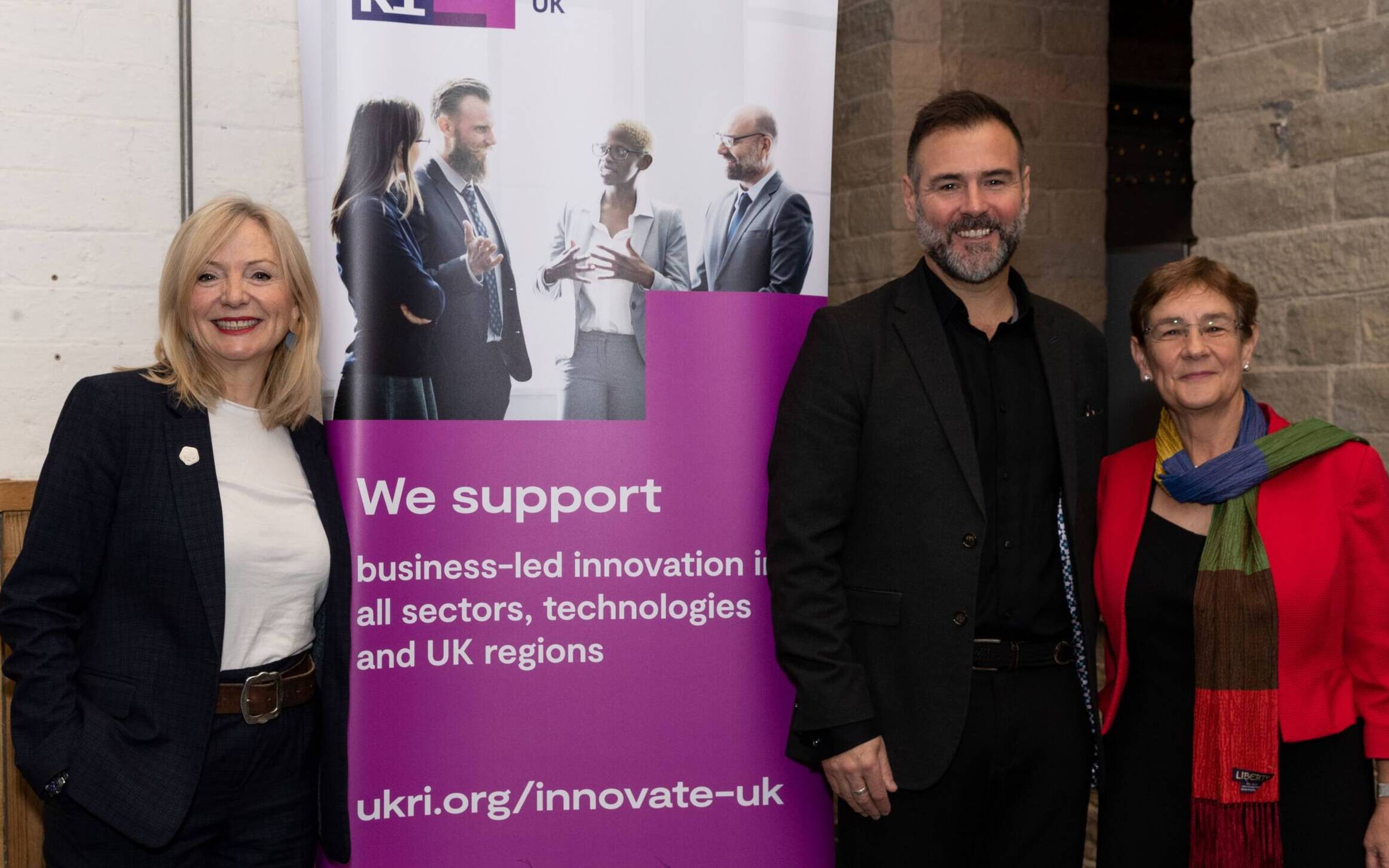 Calderdale's proud tradition of innovation was in the spotlight at a major event helping businesses to grow through new ideas and opportunities.
Dozens of businesses from across Calderdale and West Yorkshire discovered how to take their products, services and processes to the next level, at the 'Innovate Local: West Yorkshire' event at Dean Clough, Halifax, on Tuesday 14 November 2023.
Cllr Jane Scullion, Calderdale Council's Leader, opened the event, which was hosted by Innovate UK (the UK's national innovation agency) and the West Yorkshire Combined Authority as part of the West Yorkshire Innovation Festival(external link) (13-17 November 2023). The Mayor of West Yorkshire, Tracy Brabin, and the Director of Place and Levelling Up at Innovate UK, Dean Cook, also spoke at the event.
Attendees heard from other businesses about how innovation had benefitted them, and learned how staying ahead of industry trends can make them more competitive, boost profits and build resilience for long-term success. Practical tips from innovation experts, including the Council's Business Growth Calderdale team, helped attendees to take the next steps towards transforming their businesses.
Cllr Scullion's opening speech highlighted how all businesses can and should be led by innovation, and showcased examples of Calderdale's innovation history.
These include the 'cat's eye' reflective road stud, invented by Halifax's Percy Shaw in the 1930s; Violet Mackintosh's game-changing toffee recipe in the 1890s that led to the success of Halifax-based Nestlé; and Crossley Carpets which was once the largest carpet manufacturer in the world and based at Dean Clough, Halifax, which in more recent times has undergone its own major transformation into the thriving business and leisure complex that it is today.
Cllr Scullion also gave examples of Calderdale's current innovative businesses, including FeTu and its revolutionary green energy device targeting carbon reduction; A-SAFE and its pioneering workplace safety technology supplied to major international companies; and WITT UK Group for manufacturing innovative industrial fans and air movement solutions and supplying global markets.
Cllr Jane Scullion, Leader of Calderdale Council, said:
"The decision to hold this important regional event in Halifax recognises the town's pioneering role in the Industrial Revolution and its strong history of innovation. Once known as 'the town of 100 trades', and with the whole of Calderdale continuing to innovate ever since, there's a reason why 'enterprising' is one of the key qualities driving the Vision 2024 for Calderdale.

"It was great to be part of this event to support growth and thriving towns, to give people the chance to network with like-minded professionals from Calderdale and West Yorkshire's vibrant business communities, and to discover the opportunities and incentives for ambitious innovators across the region."
For support to grow your business with the Business Growth Calderdale team, please visit https://new.calderdale.gov.uk/business-services/business-advice-and-support/business-growth-calderdale
For information on other kinds of business support available from the Council, go to https://new.calderdale.gov.uk/business-services
The year 2024 marks Calderdale's 50th birthday and there's less than a year to go. Where do we want to be by 2024? Get involved with the debate on X with #VisionCdale2024 and find out more at www.calderdale.gov.uk/vision