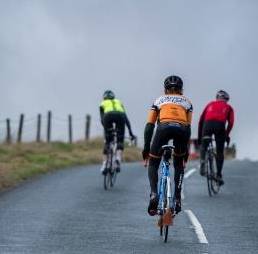 Have you been inspired by the Tour de France? Has it encouraged you to buy a new bike or dig your old bike out of the shed? If so, social cycling may be for you. 
Calderdale is a great place to go cycling and has many cycle routes available. Social cycling groups take place regularly across the region for families, friends and for specific cycling groups, including women only rides. 
If you've not ridden in a while then social cycling groups are a great way to meet other cycling enthusiasts and pick up some group riding skills.
 The groups allow you to get back on your bike in a fun and friendly environment, with many rides both on and off road with lengths to suit all abilities. The rides are a great way to challenge yourself, discovering new cycling routes and exploring Calderdale. 
Calderdale Council's Cabinet Member for Communities Cllr Steve Sweeney said:  
"Social cycle rides are organised all year round by local cyclists right across Calderdale. They are a fantastic opportunity to get back into cycling, discover new places to ride and even make some friends along the way. 

"Most cycling groups have evening and weekend rides, so there's no excuse not to give them a try. There are also rides for all levels of ability, so you can be sure to find one that meets your needs." 
To find your nearest cycling group visit www.goskyride.com(external link)  and for information about a whole range of cycle routes and cycling events across Calderdale visit the new cycling website www.cyclecalderdale.co.uk(external link)