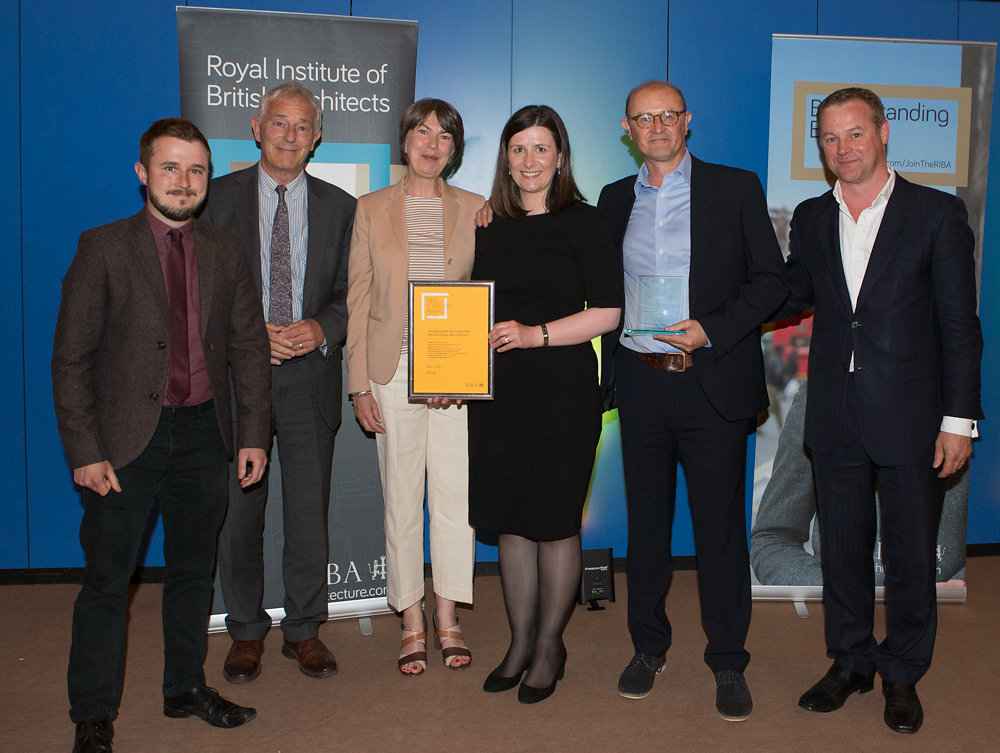 The awards just keep on coming! The latest wins for the Piece Hall transformation and Central Library and Archives project are for architectural excellence at the RIBA (Royal Institute of British Architects) Yorkshire 2018 Awards.
The incredible Piece Hall and library in Halifax were on a shortlist of 13 buildings, and they scooped not one but four accolades on Thursday 24 May 2018 – the Regional Award and the Building of the Year, Project Architect of the Year (for Mark Hopton at LDN Architects) and the Conservation categories.
The Piece Hall transformation was made possible by funding from Calderdale Council, the generous £7 million grant from the Heritage Lottery Fund – thanks to National Lottery players – and support from the Garfield Weston Foundation and the Wolfson Foundation. It's now run by The Piece Hall Trust, an independent charity, set up to run The Piece Hall for public benefit and to ensure the sustainable future of this magnificent building.
The stunning new Central Library and Archives has been wholly funded by Calderdale Council and incorporates the old Grade II* Square Church building including the spire and the beautifully restored Square Church rose window.
The awards covered a wide range of buildings throughout Yorkshire – large and small, public and private, new constructions and conservation work that demonstrated innovation in architecture. This year's awards focused on economic and environmental sustainability and the ability to stimulate, engage or delight.
Cllr Tim Swift, Calderdale Council's Leader, said:
"We're thrilled that the Piece Hall transformation and Central Library and Archives project has picked up yet another set of prestigious awards. Thanks to the hard work of everyone involved, the buildings are truly outstanding examples of architectural excellence and continue to impress visitors from Calderdale and beyond.

"Our congratulations also go to the Square Chapel Arts Centre, which also won the Regional Award. Overall, the Awards are a great advert for Calderdale as a place to live, work and visit."
Nicky Chance-Thompson, the Chief Executive of The Piece Hall Trust, said:
"I am really honoured that The Piece Hall has received these prestigious awards from RIBA. The Piece Hall is a truly spectacular building which has been beautifully transformed and it's wonderful that what we love so much has been recognised at such an important level. Since reopening on August 1st 2017, The Piece Hall Trust team has been focused on creating a well-loved, world class iconic heritage destination that has already attracted a huge number of local, regional, national and international visitors through a wide range of events, quality independent shops, bars and eateries all within this spectacular building. Winning four regional awards from RIBA last Friday, combined with our fantastic May Bank Holiday weekend of music events which welcomed almost 30,000 people through our gates in three days, meant that last week really was a fantastic week for The Piece Hall Trust team."
Mark Hopton, Partner at LDN Architects, said:
"LDN Architects is delighted that the Piece Hall project is being celebrated so widely, especially by the RIBA, and I am particularly surprised and delighted to be honoured with the Architect of the Year Award. I was only a small part of a large project team however and believe the award is testimony to the contribution of the whole project team who put their hearts and souls into delivering the project. The Piece Hall is very special and we are delighted to have been able to help the people of Calderdale revitalise it."