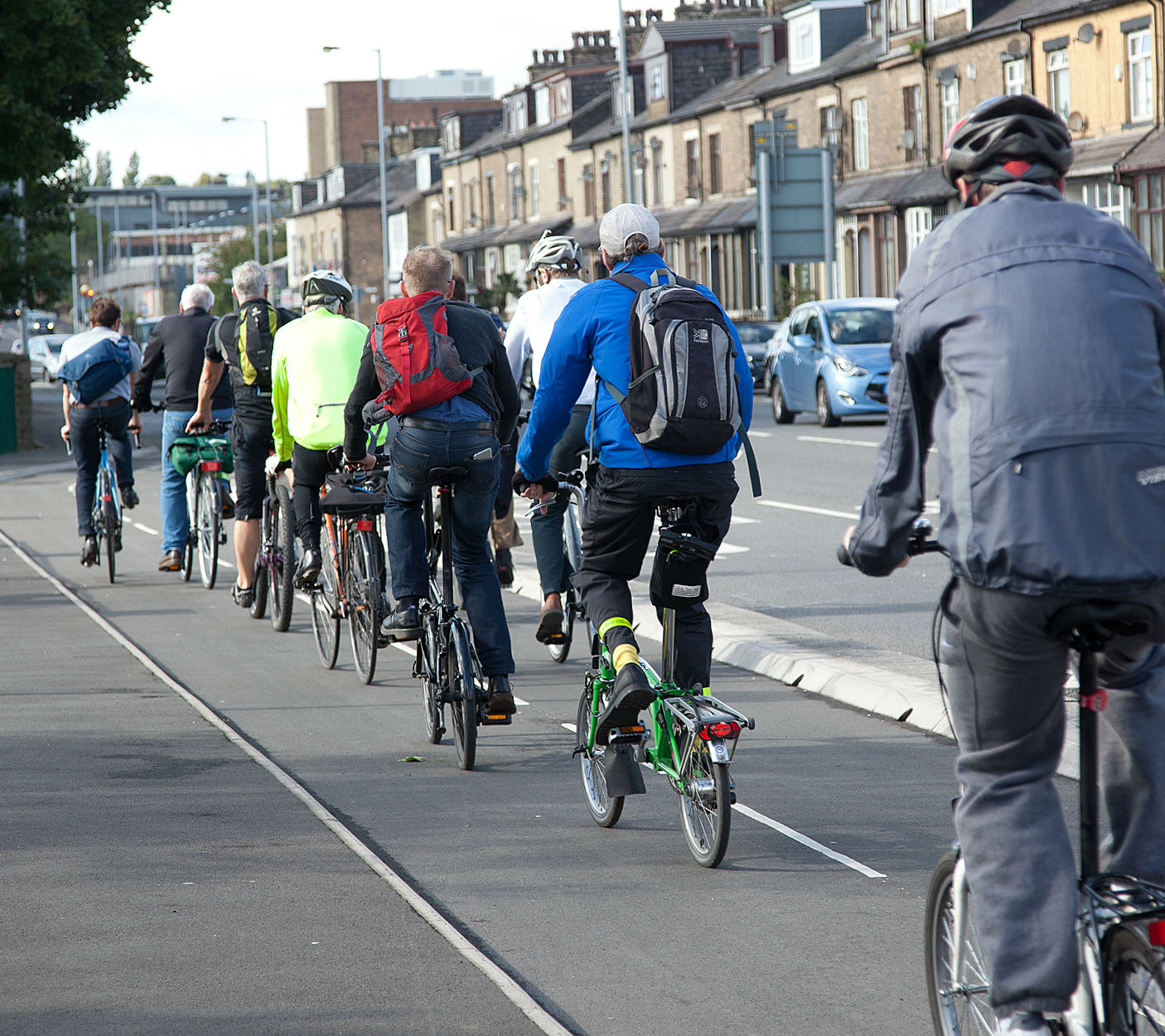 New walking infrastructure plans for Keighley, Halifax, Dewsbury, and Wakefield and at Harehills in Leeds, and new cycling network plans in south Bradford, Brighouse, east Huddersfield, north east Leeds, and the north and south of Wakefield are being created.
National and European experts are helping to develop the plans to improve conditions for people travelling by bike or on foot at key locations across the region, building on the work already underway through the West Yorkshire Combined Authority's £60m CityConnect programme aimed at encouraging more people to cycle and walk.
Friday's meeting of the West Yorkshire Combined Authority Transport Committee is being asked to back the Local Cycling and Walking Infrastructure Plan approach, which is the government's long-term approach to boosting the numbers of people travelling by bike or on foot.
West Yorkshire's five districts are leading work to identify standalone plans in their areas.
The report to tomorrow's Transport Committee proposes endorsing the Local Cycling and Walking Infrastructure Plan approach to support the region's 20-year Transport Strategy with a target of increasing the number of trips made by cycling by 300% over the next 10 years. It also recommends resources be identified to deliver the work.
Schemes identified in the first phase are being developed with Netherlands-based mobility specialists Mobycon, UK walking charity Living Streets, and consultants Steer.
Current infrastructure, planned housing and employment sites, health inequalities, people's propensity to cycle and opportunities to deliver improvements through existing projects such as the CityConnect programme, the West Yorkshire-plus Transport Fund and Connecting Leeds, are being taken into account.
Stakeholders from local community groups, councillors and officers are involved in developing plans including at workshops led by Mobycon and walking street audits led by Living Streets, with further engagement planned in the future.
Cllr Kim Groves, Chair of West Yorkshire Combined Authority's Transport Committee, said:
"We know encouraging more of us to travel by bike or on foot boosts people's health and saves individuals money, as well as bringing wider economic and environmental benefits.

"Local Cycling and Walking Infrastructure Plans will build upon the work currently underway through the West Yorkshire Combined Authority's £60m CityConnect programme.

"Adopting this approach will enable us to create new plans for infrastructure to help us achieve our ambition of making cycling and walking the natural choice for short, everyday journeys throughout West Yorkshire."
Cllr Alex Ross-Shaw, Bradford Council's Executive Member for Regeneration, Planning and Transport, said:
"Encouraging people to walk and cycle more across the district is important to help improve people's health and saves people money. It also brings wider economic and environmental benefits to the district.

"We chose Keighley for a Key Walking Zone due to the number of nearby houses and employment areas and the access to the stunning countryside nearby.

"In South Bradford, the potential to develop better cycling links with the existing Spen Valley Greenway, providing a link into neighbouring Kirklees, Calderdale and the new railway station at Low Moor represents a great opportunity to promote active travel with people from across the district."
Cllr Barry Collins, Calderdale Council's Cabinet Member for Regeneration and Economic Strategy, said:
"We welcome the support being given for us to develop our plans for an improved walking environment between Park ward and Halifax town centre and a cycling network into Brighouse town centre. Encouraging people to travel in more active ways is an important part of our ambition for Calderdale to be the most active borough in the North by 2024. Leaving the car behind and walking and cycling more helps our health and wellbeing and supports our local economy and environment by reducing the level and impact of traffic congestion and improving air quality."
Cllr Peter McBride, Kirklees Council Cabinet Member for Economy and Infrastructure said:
"Kirklees Council fully encourages more of its residents to use alternative modes of transport. We are working closely with our partners to build suitable infrastructure for both cycle users and pedestrians.

This requires a multi-agency approach to ensure we support people's transitions from their traditional means of transport. "
Leeds City Council executive member for regeneration, transport and planning Councillor Richard Lewis said:
"Walking and cycling infrastructure form an integral part of our plans for an integrated transport network in Leeds, so these proposals will help us shape our approach and unlock future funding opportunities for further investment."
Councillor Peter Box CBE, Leader of Wakefield Council, said:
"I am delighted to see the development of these plans to improve the conditions for those wishing to travel by foot or bike across our district.

"The plans will look at how to better connect our communities by improving transport links whilst also encouraging people to engage in a healthier lifestyle.

"Our communities are already seeing the benefits of the Castleford Wakefield Greenway and these plans will only add to our provision of safe and scenic routes to work for many people."
Working in partnership with Leeds and Bradford Councils, the Combined Authority's CityConnect team has completed the award-winning 23km Bradford Leeds Cycle Superhighway, which connects two of our major cities with a route segregated from traffic.
Since opening in July 2016, the Cycle Superhighway has been used for more than 845,000 journeys, connecting people with opportunities for work, training and leisure. Ongoing works to extend this network of segregated cycling routes through Bradford and Leeds city centre are due to be completed by summer 2019.
Communities across West Yorkshire and York are seeing the benefits of new, high quality cycling and walking infrastructure, including the Castleford Wakefield Greenway and a series of canal towpath upgrades in Bradford, Kirklees and Calderdale, with construction work currently underway on Scarborough Bridge in York.
Details of cycle routes across West Yorkshire and tips on cycling and walking can be found on the CityConnect website at https://cyclecityconnect.co.uk(external link) and there are updates from @CityConnect1 on Twitter(external link) and the City Connect Facebook page(external link).
In November 2017, the West Yorkshire Combined Authority Transport Committee approved £100,000 expenditure for the development of the Local Cycling and Walking Infrastructure Plan and in November 2017 the Combined Authority received £86,000 of Department for Transport revenue grant funding for the work.
Tomorrow's Transport Committee meeting takes place at 11am at Wellington House in Leeds (LS1 2DE). It is a public meeting and all are welcome. The agenda and papers can be found in the Committees section West Yorkshire Combined Authority  website.(external link)