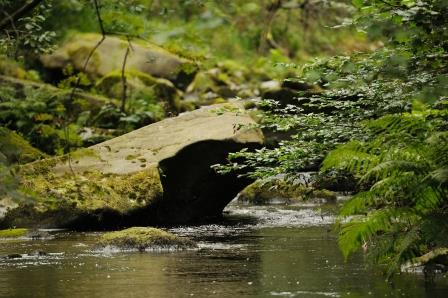 Press release from the National Trust
Image credit: National Trust Images
Work has started on a two year £2.6 million natural flood management project in West Yorkshire led by the National Trust to help protect homes and nurture wildlife devastated by the Boxing Day floods of 2015.
The aim is to reduce the risk of flooding to over 3,000 homes and businesses in Todmorden, Hebden Bridge, Marsden and surrounding areas.
Taking learnings from the conservation charity's success with a similar scheme at the Holnicote Estate in Somerset, this will be one of the biggest investments of its kind to date in England.
The work at Hardcastle Crags and Wessenden Valley, part of Marsden Moor, both cared for by the National Trust; and Gorpley Reservoir, looked after by Yorkshire Water and the Woodland Trust; will use a combination of natural interventions to slow the flow of water along the Colne and Calder river catchments.
With £1.3 million growth deal funding from the Leeds City Region Enterprise Partnership (LEP) and £1.3 million either in funds or in-kind support from other partners including The Forestry Commission, Moors For The Future partnership, Environment Agency, Woodland Trust, Yorkshire Water, Calderdale Council and other community groups, plans include the planting of 151 hectares of new woodland at Gorpley Reservoir and in the Wessenden Valley, the restoration of 85 hectares of peat bogs, heath and Molinia (moor grass) and the construction of over 650 "leaky dams".
Over 3,000 metres of fascines (bundles of brushwood) will also be dug in to help stabilise stream banks and slopes, and new areas of land will be fenced for sustainable grazing by sheep and cattle.
All partners have been working together as part of the White Rose Forest Partnership. New woodlands planted will help grow the White Rose Forest, part of the new Northern Forest.
Craig Best, countryside manager for the National Trust in West Yorkshire says:
"Traditional flood alleviation schemes have focused primarily on delivering hard infrastructures such as flood defence walls to protect the places where people live. However, there is increasing recognition of the role natural flood management can play to reduce the impacts of flooding on communities, while delivering key benefits for the natural environment.

"Although natural techniques are not considered to be the single solution to reducing flood risk they are increasingly recognised as playing a significant role alongside more traditional approaches.

"The combination of work we're planning here of both new habitat creation and landscape restoration will, once things have become established, help absorb significant amounts of water to help slow the flow of water heading downstream towards towns and villages when we experience heavy rain.

"Wildlife we are hoping will benefit from the project include upland birds such as curlew and twite and areas for bog plants such as hare's tail cottongrass and sphagnum to thrive."
The project is the second largest undertaken by the conservation charity after the success of a similar project on the Holnicote Estate in Somerset where similar interventions have eased flood risk downstream at the villages of Allerford, West Lynch and Bossington.
The ambitious project also marks the start of a joint, long-term partnership, between the National Trust and Yorkshire Water. Yorkshire Water Chief Executive Richard Flint said,
"The Calder Valley reacts extremely quickly to heavy rainfall and the resulting flooding can have a devastating impact on local people.

"In 2017 we launched a natural flood management pilot project at Gorpley. This, along with the planting of up to 200,000 trees as part of our commitment to plant one million trees over the next 10 years, will help to slow the flow of water, reducing the risk of flooding and make the area more resilient to climate change. However, we know that we can achieve so much more by working together with our partners and that's why today's announcement is such good news.

"By working together, we can join up our different projects and deliver landscape scale solutions that provide real benefit for people and the environment. This project also marks the start of an ambitious new partnership between Yorkshire Water and the National Trust and we're looking forward to delivering more in partnership in the coming months and years."
Mr Best continued:
"This partnership of charities, communities, government organisations and landowners is essential to getting these landscape scale changes for community benefit implemented.

"One of the fantastic things with the project will be the many opportunities for the community to get involved. We already work closely with our community partners, Slow the Flow Calderdale but we will need more volunteers to help with all the different interventions we have planned.

"Together with the community, all partners hope to create an exciting vision for the area, with real benefits for people and nature at its heart."
Mike Innerdale, director of the National Trust in the north says:
"We are just one of many partners that have been involved in flood recovery and restoration works in West Yorkshire since the Boxing Day floods of 2015.

"As a major land owner and conservation charity we have a huge part to play. We are seeing more extreme weather across the UK, which is what we expect to see as a result of climate change, and have to come to terms with these challenges.

"When it comes to reducing the risk of flooding, we have to think holistically and look at how we slow the water down from source to sea. If we get the pieces of the jigsaw right by intervening and managing water together, we can make a difference. By trying to 'slow, store and filter' water before it ends up in the main rivers we can help reduce flood risk, improve water quality and potentially make water available during dry periods.

"Changes to the way we manage our land and working in partnership with other organisations, community groups and volunteers can make a really big difference. Together we can reduce flood risk, improve water quality and soil condition and do something pretty special which results in being good news for wildlife and the local community."
Roger Marsh, OBE, Chair of the Leeds City Region Enterprise Partnership (LEP), says:
"The 2015 Boxing Day floods showed the devastating impact that flooding can have on our economy and people's lives. I'm delighted that Growth Deal funding is being put into local flood alleviation schemes to improve the standard of protection for communities and businesses."
The work will be monitored by the University of Leeds so that key learnings can be taken forward to other projects, including the National Trust's Riverlands programme, currently in development, which will bring communities and organisations together to protect local waters, habitats and wildlife across England and Wales.