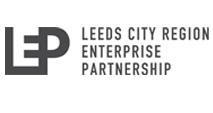 £8.5 million programme for SMEs to invest in digital technology and skills

Up to £5,000 available per business to invest in new technologies

Masterclasses and workshops to launch later in the year to offer mentoring for business owners and managers

The North's digital economy is creating jobs 10 times faster than other sectors and this new business support aims to enhance the thriving sector in Leeds City Region. 
Businesses in the Leeds City Region are set to benefit from a major new support programme that will help them invest in new technology and learn new digital skills.  
Launching today, the £8.5 million Digital Enterprise Programme(external link) will support eligible small and medium sized businesses (SMEs) to invest in digital technologies or advance their digital skills as they look to scale up and grow. Digital Growth Advisors will be on hand to offer advice and support to help businesses find the right type of investment that will help them achieve growth and raise both productivity and competitiveness.  
A Digital Growth Voucher of up to £5,000 will be available for eligible firms towards the cost of investment in digital or ICT solutions – this includes upgrading a website, enhancing a digital connection, acquiring new hardware or software or a combination of these.  
This support is available to business through the LEP's growth service, the comprehensive support service to businesses across the Leeds City Region. This latest support will feature in a new campaign from the LEP called #LetsTalkRealBusiness. This campaign is led by what business owners say they want – straightforward, no-nonsense support and advice about the issues relevant to them.  
Roger Marsh OBE, Chair of the Leeds City Region Enterprise Partnership (LEP) said:
 "Possessing intel on the latest digital technologies and skills is not only relevant to those working within the digital sector, but fast becoming essential to any businesses looking to target new customers and improve their productivity by becoming more efficient. 

"This exciting product adds to the growing amount of business support available via the LEP business growth service, a single point of contact for tailored business support. It will help SMEs in all our key sectors become more digitally savvy in their day to day activities. With grant funding also available to invest in new software and website upgrades, businesses will be supported to de-risk investments that can have a great impact on their bottom line." 
The programme is part-funded by the England European Regional Development Fund as part of the European Structural and Investment Funds Growth Programme 2014 – 2020 and will be managed by Leeds City Council.  
Cllr James Lewis, Deputy Leader of Leeds City Council added:
"A recent IPPR North report into the role of SMEs in building a digital powerhouse highlights that small businesses often see investment in new digital technology as risky because of the costs and time involved, particularly as many small businesses are likely to be extremely time poor. This new business support aims to take away some of that risk and help save time. With financial support available and a hands on approach from our digital advisers businesses will be supported to find the right support to help them grow." 
Businesses in the region have expressed a demand for this type of business support and this informed the bid for European Funding to establish the programme.  
Mark Ambler, Managing Director of Blue Logic Computers, based in Leeds, said:
"The Digital Enterprise Programme offers a real incentive for small businesses to upgrade their digital and ICT capabilities supported by a voucher.  Many businesses may have been considering investing in a range of digital solutions to help them grow and create jobs and so the launch of the Digital Enterprise scheme offers them that push to get on and do it. 
Mark Cowgill, Director and Founder of EXA Networks, based in Bradford said:
"Digital Enterprise offers game changing opportunities for small businesses, in the Leeds city region, to venture in to full fibre optic broadband solutions that will help drive economic growth through the Digital Growth Voucher scheme" 
The Strategic Economic Plan(external link) for Leeds City Region sets an ambition for an additional 15,000 digital jobs to be created by 2025.  With the North's digital economy creating jobs 10 times faster than other sectors, this new business support programme aims to further enhance the already thriving digital sector in Leeds City Region. It will also be available to help eligible businesses across other key sectors such as manufacturing and financial and professional services to improve their digital capabilities.  
Later this year a series of workshops, masterclasses and mentoring support will launch to help upskill entrepreneurs and managers of SMEs. The workshops will be available across the Leeds City Region and will cover a range of topics including social media, cyber security, digital marketing and web development. 
Small to medium sized business based in the Leeds City Region should visit the Digital Enterprise website at www.digitalenterprise.co.uk(external link) to see if they are eligible for a Digital Growth Voucher.  They may also email any enquiries to; enquiries.DE@leeds.gov.uk. Alternatively, they can contact the LEP to find out what support is available to help them grow – 0113 348 1818.