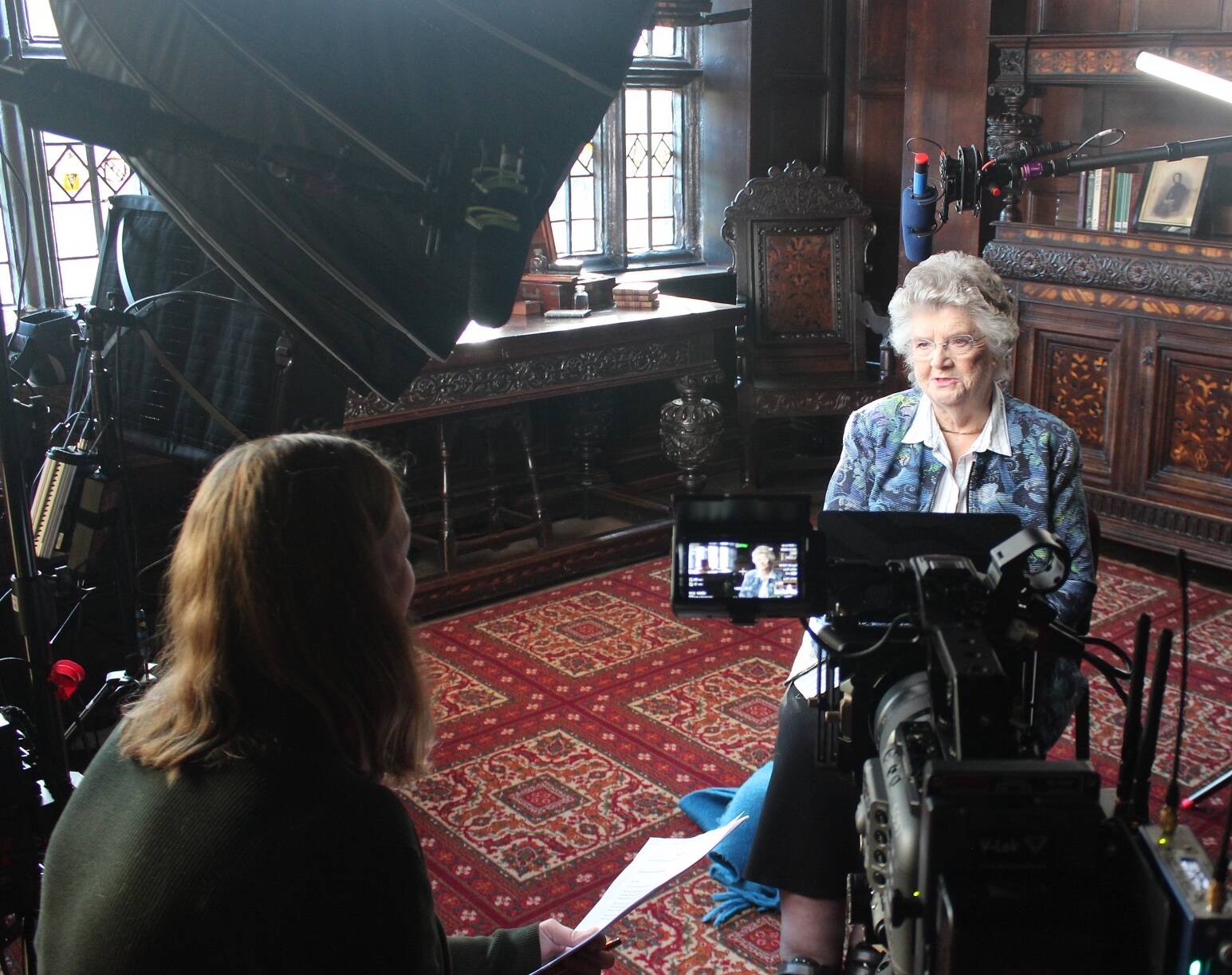 The fascinating life of world-famous Anne Lister biographer, Helena Whitbread, is being showcased as part of a new, exclusive film.
As part of celebrations for the anniversary of Anne Lister's birth, on 3 April, Calderdale Council premiered the new documentary about Helena, which delves into the fascinating work of the renowned historian, who decoded Anne Lister's diaries and has published three books covering the diaries and life of Shibden Hall's remarkable resident.
The Council's Collections Officer, Angela Clare, interviewed Helena Whitbread at Shibden Hall in November 2022, captured on camera by West Yorkshire filmmaker, Limehouse Films. The resulting film, 'The Helena Whitbread Story' features Helena talking about her early life growing up in Halifax, her education, career and the incredible journey which led to her work transcribing, publishing and speaking about Anne's diaries.
Helena also talks about the 'Gentleman Jack effect' and how the Sally Wainwright programme has had a further significant impact on her life.
The 'Helena Whitbread Story' was broadcast for the first time on 3 April 2023, after a live talk with Helena and Angela at Bankfield Museum in Halifax, as part of the Anne Lister Birthday Festival celebrations. The film is also available to view online at https://www.youtube.com/watch?v=sRGwjKMDatw&feature=youtu.be(external link)
Tickets for the talk sold out quickly, with other events as part of the festival proving equally as popular. The festival ran from Monday 27 March until Monday 3 April and several hundred people from around the UK and Europe, and as far away as the USA and Australia, attended events celebrating the life and legacy of Anne Lister.
Calderdale Council's Assistant Director for Customer Services, Sarah Richardson, said:
"Fans of Helena's work will already know the huge amount of research that has gone into her works focused on Anne Lister and the many, many hours she dedicated to transcribing and publishing the millions of words which make up Anne's diaries.

"What people may not be familiar with, is the incredible story which led Helena to this point and the 'Helena Whitbread Story' is a truly fascinating film about her life and how her experiences growing up in Halifax shaped her career and life works.

"We continue to be blown away by the popularity of Anne Lister's story, thanks in no small part to the incredible Sally Wainwright series, Gentleman Jack. We've been delighted to welcome so many people to Halifax for this year's Anne Lister Birthday Festival, with events like the sold-out talk with Helena making the festival another huge success."
For more information about Shibden Hall, the ancestral home of Anne Lister, visit https://museums.calderdale.gov.uk/visit/shibden-hall
To see all the great things Calderdale has to offer, head to www.visitcalderdale.com(external link) and explore #CultureDale at www.visitcalderdale.com/culturedale(external link)
ENDS