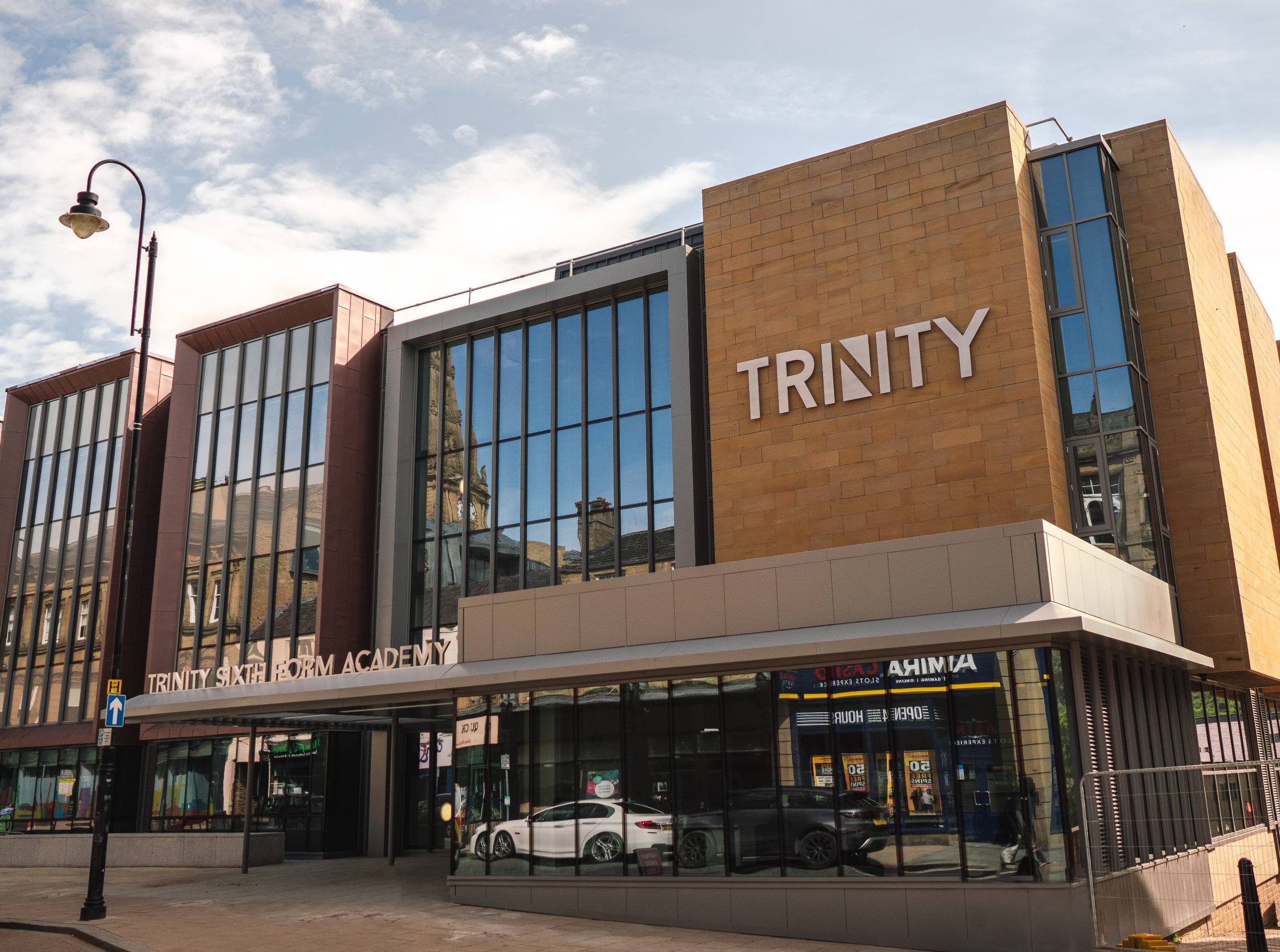 Calderdale's brand new, state-of-the-art sixth form centre at the heart of Halifax is now complete and ready to welcome its first students in September 2020.
The completion of Calderdale Council's multi-million-pound construction project marks the start of an exciting new era for learning in Calderdale, and a major milestone in the borough's wider regeneration.
The scale of the building's transformation is incredible. The Central Library which previously occupied the town centre site has been completely reimagined into the stunning, modern Trinity Sixth Form Academy, whilst conserving and restoring some original features.
This is the culmination of a successful partnership project by the Council, Trinity Multi-Academy Trust, Rastrick High School, LDN Architects, blacc (the Council's construction contractor, based in Halifax) and a range of small, local contractors.
The Council launched this ambitious renovation as part of its Next Chapter programme to transform Calderdale through significant capital projects. The new sixth form centre aims to retain talent locally post-16; help young people achieve their best; boost economic growth by increasing footfall, spending and jobs in the town; and contribute to the Vision2024 for Calderdale by making it an even better place to live, learn, work, invest and spend time.
Key features of the Trinity Sixth Form Academy building, which has been designed to be inclusive, include striking new zinc cladding and restoration of the existing stonework; a beautiful new atrium extending from the ground floor right up to the roof, allowing natural light to flood in; large, distinctive windows with solar-control glass; and a complete repurposing of the indoor space, with a university-style study centre, impressive classrooms providing specialist facilities, a multi-use hall and performance space, and an on-site café and social space.
Take a first glimpse of the transformed building in this short film(external link).
The building has been carefully designed to be 'green' and sustainable to help tackle the climate emergency and provide a healthy and energy-efficient learning environment. It is naturally ventilated and bright due to lots of natural daylight, has new insulation, low-energy LED lighting and great public transport links, and the zinc cladding is 100% recyclable.
The Council will hand over the completed sixth form centre to Trinity Multi-Academy Trust in summer 2020. In total, 600 sixth form students are due to start using the new building in September 2020.
Next to Trinity Sixth Form Academy, the Council is renovating its vacant former office building, Northgate House, to provide over 40,000 square feet of flagship office space and retail units, part-funded by the West Yorkshire Combined Authority through the Leeds City Region Local Enterprise Partnership (LEP) Growth Deal. Work is expected to be completed in summer 2021. Royal Sun Alliance will occupy all of the office space, bringing vitality to this key town centre location.
Both the sixth form centre and commercial parts of the Northgate site will benefit from plans for improved transport links, attractive public spaces and pedestrian zones in the area, and will complement the huge range of regeneration taking place across Calderdale through an unprecedented level of investment.
Cllr Jane Scullion, Calderdale Council's Cabinet Member for Regeneration and Resources, said:
"The completed sixth form centre is an extraordinary example of regeneration. It has given the former library building an exciting new lease of life and is part of a whole range of plans to revitalise our town centres to boost the economy.
"It's really quite a remarkable achievement to reach completion in just 18 months, especially with the added challenges of an exceptionally wet winter and the COVID-19 pandemic. This is thanks to a phenomenal amount of partnership work."
Cllr Adam Wilkinson, the Council's Cabinet Member for Children and Young People's Services, added:
"We are proud that Calderdale now has its very own sixth form centre, and we couldn't be more impressed with the top-quality design and construction work. It was really important to us to base this facility in the heart of the town centre, rather than at an out-of-town campus, to benefit students, teachers and local businesses.
"Trinity Sixth Form Academy will be an exceptional place for young people to learn, and we're excited to hand it over to Trinity Multi-Academy Trust in the next few weeks. We have designed the building to have contemporary 'university' and 'office' style facilities, to help prepare students for further education and employment. By improving the education and skills offer in Calderdale, we can give young people more career opportunities and encourage investment and growth."
Michael Gosling, CEO of Trinity Multi-Academy Trust, said:
"We are extremely proud to be part of this significant and game-changing development. Seeing the Trinity Sixth Form Academy come to completion is a testament to our commitment in ensuring our students fulfil their potential and this new state-of-the-art building creates an impressive foundation to make that happen."
Richard Crosby, Director at blacc, said:
"As a Halifax based Construction Management business, we are incredibly proud to have delivered this project as principal contractor with Calderdale Council. There is something special about handing the keys over to a happy customer in our home town of Halifax.
"The project shows what can be achieved when the customer, professional team and trades all work together. The sixth form centre is a truly amazing facility and will be a great asset to the pupils and the borough as a whole."
For more information about the Trinity Sixth Form Academy project visit http://calderdalenextchapter.co.uk/projects/halifax-northgate-house(external link)
The Northgate transformation is part of the Next Chapter to enable economic growth, reduce inequalities and build a sustainable future. For more information about this and other exciting developments in Calderdale, visit www.calderdalenextchapter.co.uk(external link) and follow #CdaleNextChapter on Twitter.
The Next Chapter helps to form the Vision2024 for Calderdale. In the year 2024, Calderdale will celebrate its 50th birthday. Where do we want to be by 2024? Get involved in the conversation using #VisionCdale2024 on Twitter, by following Calderdale Council on Facebook and by visiting www.calderdale.gov.uk/vision