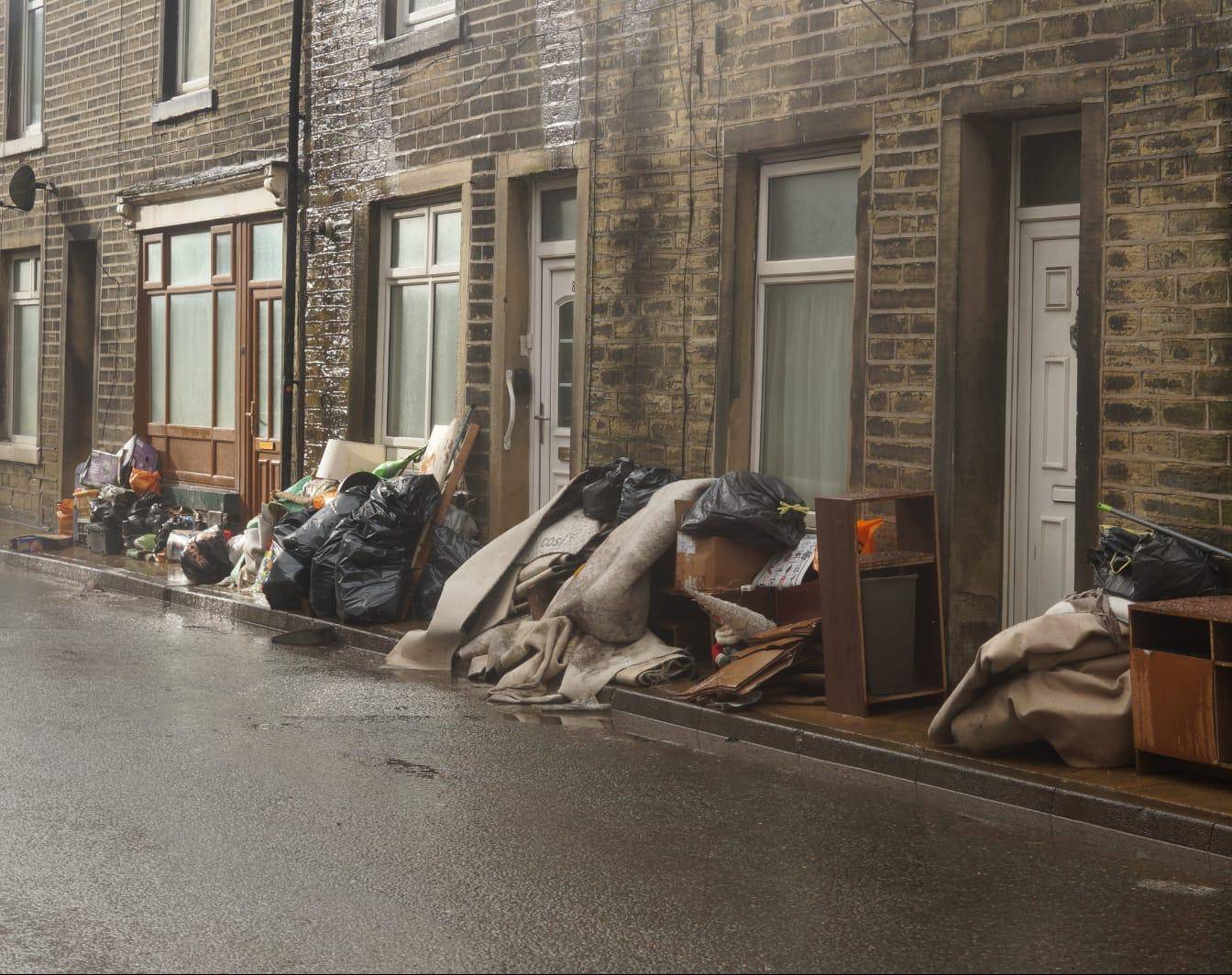 Tuesday 9 February 2021 marks the first anniversary of Storm Ciara, which caused Calderdale's fourth major flood in just eight years and brought 10 miles of damage across the borough.
Cllr Scott Patient, Calderdale Council's Cabinet Member for Climate Change and Resilience, said:
"The floods on Boxing Day 2015 were our most devastating, but the impact of Storm Ciara was felt over an even bigger area, showing that the risk of flooding is widespread and ongoing in Calderdale. More than a third of the homes and over half of the businesses that flooded in England last winter were in the Calder Valley.
"Since Storm Ciara, we've faced 16 flood alerts and warnings and a very near miss during Storm Christoph this January – a stark reminder of the constant threat of climate change.
"But through all the fear, distress and expense of constantly being on alert, Calderdale's kindness, resilience and community spirit always shine through. 2020 was an especially hard year because of COVID-19 straight after flooding, but joint work has continued on the recovery and future resilience.
"As we approach the one-year anniversary of our latest major flood, we want to say a big thank you to everyone in our communities for their continued support to reduce flood risk and tackle the climate emergency."
Adrian Gill, area flood risk manager at the Environment Agency said:
"Storm Ciara had a devastating impact on many people, homes and businesses across Calderdale. It was the second highest recorded level on the River Calder, second only to Boxing Day 2015. However the climate emergency means that we cannot always prevent or build our way out of an incident. That's why we're working to help households, businesses and communities be better prepared and more resilient to flooding.
"Since this flood, some great progress has been made to reduce flood risk, with the £41 million Mytholmroyd Flood Alleviation Scheme better protecting 400 homes and businesses in Mytholmroyd, Brearley and Luddenden Foot, including during Storm Christoph last month.
"Early works have started in Hebden Bridge and other projects continue to develop at Brighouse, Sowerby Bridge, Copley Village and Walsden. These projects are only part of the solution to reduce flood risk across the Calder Valley. We continue to work in partnership with Calderdale Council, Yorkshire Water, other partners and communities to develop a catchment-wide approach to reduce flood risk, including the use of natural flood management techniques and reservoir storage."
Strong partnership work across the borough has seen good progress being made on improving flood protection and reducing the local impact of the global climate crisis. Here are some recent milestones:
Mytholmroyd's £41 million Flood Alleviation Scheme, developed by the Environment Agency and the Council, will better protect around 400 homes and businesses this winter.
Yorkshire Water is working with the Environment Agency and the Council to hold down reservoirs above Hebden Bridge by 10% for a third winter, to leave storage capacity for floodwater.
Rastrick Bridge reopened to traffic in July 2020, ahead of schedule, after it was badly affected by Storm Ciara. The Council's repairs and added protective measures will make the bridge more resilient to future flooding.
The Council has been ramping up its work with groups like Slow the Flow, Moors for the Future and Treesponsibility on nature-based solutions to flooding (Natural Flood Management), including planting trees, providing flood attenuation ponds, restoring moorland and installing 309 leaky woody dams through its landowner grant scheme. Grants from the Council and the Environment Agency in 2020 have helped to complete 15 natural schemes, with a further four in progress.
The Council's £1 million carbon neutral fund is helping Calderdale to be carbon neutral by 2038, with substantial progress by 2030. Community tree planting, LED streetlights, improved walking / cycling facilities and road closures around schools for drop-offs and pick-ups are contributing to this bold target.
Calderdale has now joined 50 other councils in pledging to do everything they can to become carbon neutral as soon as possible.
In 2020, the Council welcomed its first 35 electric / hybrid vehicles into its fleet to replace old petrol and diesel ones.
10 electric vehicle chargepoints were introduced across Calderdale last year for the public, taxis and private hire vehicles. This is a joint project between the West Yorkshire Combined Authority, the five West Yorkshire councils and Leeds-based energy and services company, ENGIE, to collectively tackle air pollution and fight against climate change.
Work is set to start this summer to create a new wetlands nature reserve at Brearley Fields in Mytholmroyd, after planning permission was granted at the end of 2020. The project, partly funded by the European Regional Development Fund, will create valuable wetlands habitat and increased floodwater storage on the floodplain of the River Calder. Accessible footpaths and seating areas will create more walking areas for local people and visitors, bringing health and wellbeing benefits.
Some of the habitat creation work will be carried out by volunteers, working in partnership with the Council, Yorkshire Wildlife Trust and local community groups. There are plans to establish a friends group to offer opportunities for volunteer involvement and to help manage the nature reserve. If you are interested in getting involved, please contact sam.speight@calderdale.gov.uk
To sustain and build on flood protection and climate emergency work, the Council needs more financial support. It has been calling on the Government for some time to recognise Calderdale's unique flooding risk. It will continue to do this to try to secure the resources needed to protect local communities.
Residents and businesses are urged to remain vigilant and prepared for future flooding. For advice and updates, please visit www.eyeoncalderdale.com(external link)
With the increasing impact of climate change, it is impossible to completely stop the risk of flooding, particularly in the Calder Valley due to the geography of the area. Residents are urged to sign up for free flood warnings to get vital time to save themselves and their possessions from the devastating effects of flooding by visiting www.gov.uk/flood(external link) or contacting Floodline on 0345 988 1188. You can also check your flood risk online at https://www.gov.uk/check-flood-risk(external link). Find out what to do when you receive a flood warning and how to prepare for a flood at https://floodsdestroy.campaign.gov.uk/(external link)