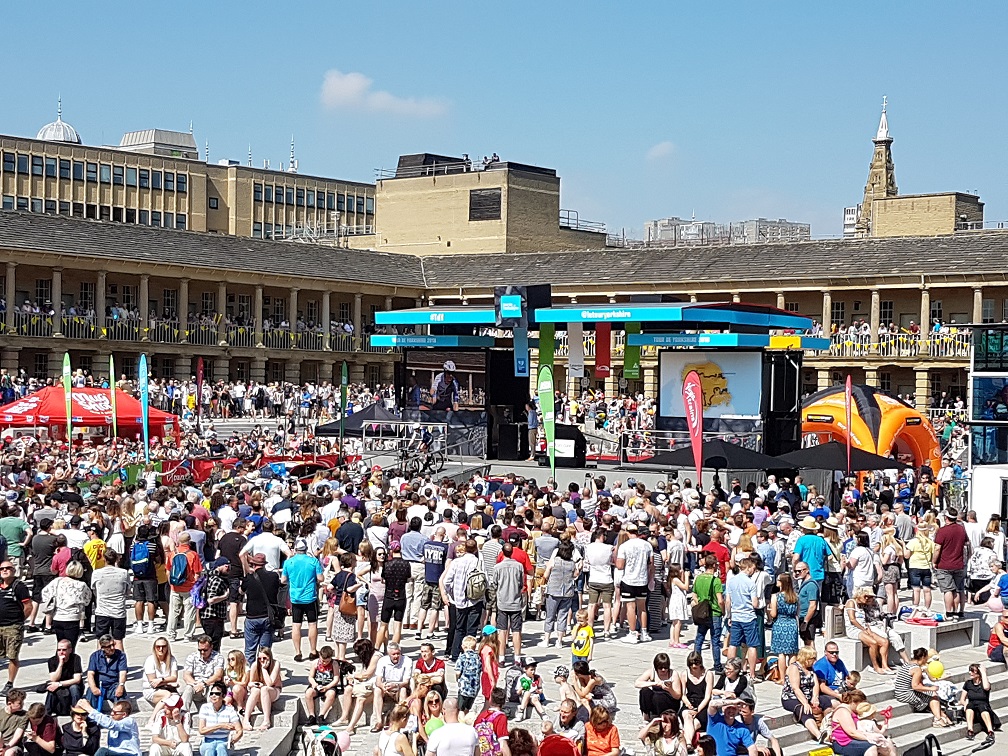 There's now less than a week until the start of the Tour de Yorkshire, with Halifax hosting the start of stage 4 of the race on Sunday 5 May.
The final decisive stage, known as the 'Yorkshire Classic', will head from Halifax to Leeds, taking in some of Yorkshire's toughest climbs. The race will begin with a ceremonial start at The Piece Hall at around 12.35pm, with the courtyard opening from 9am.
Watching the race is free and there's no need for tickets, however if you want to see the cyclists sign in at the podium and the ceremonial start it's recommended that visitors get to The Piece Hall as early as possible and enjoy the build up.
After the cyclists have left The Piece Hall, they'll loop around the town centre, before passing the Victoria Theatre and heading on towards Savile Park. At King Cross the peloton will turn right and travel along Aachen and Burdock Way before travelling onto Ovenden Road for the official start of the race which will be at approximately 12.45pm.
In most areas, roads will reopen shortly after the race has travelled through, but Halifax will be a 'no car zone' on the morning of the race, so visitors are advised to use public transport wherever possible. A normal bus and train service will be running over race weekend, although buses may have amended routes around Halifax town centre.
In partnership with West Yorkshire Combined Authority's CityConnect programme, the Council is also offering a free, safe and secure bike parking service on Russell Street in Halifax from 9am – 3pm. Bikes will be checked in and out, complete with a tag system, and stored by authorised staff.
The CityConnect team will also have a stall on Southgate from 9am, which will be packed with information and advice on how you can take up cycling or improve your existing skills.
Throughout the day there will be a series of mini guided rides in Halifax on a closed road circuit, with bikes and helmets provided. You can pre-register at www.eventbrite.co.uk(external link) (search for Calderdale Council Bikeability).
If you intend to come into Halifax by car, please be aware that parking will be limited. It's recommended that visitors use parking facilities on the outskirts of the town centre, such as Dean Clough and Broad Street Plaza. Please note that Eureka! is open for usual business and their car park is primarily for Eureka! visitors.
Calderdale Council's Director for Regeneration and Strategy, Mark Thompson, said:
"The Tour de Yorkshire is back in Calderdale and I'm sure many people will soon be planning their day and deciding where to watch the big race.

"There's so much going on in Halifax so why not spend some time looking around the town centre while you're here? The Piece Hall not only hosts the start of the race, but has a packed programme of entertainment throughout the day. Other attractions around the town will also be open on race day, including the Industrial Museum, which will be opening specially, and Shibden Hall, which will be open as normal.

"This year, the race will also visit Bradshaw for the first time and will showcase some of Calderdale's beautiful scenery. As always, visitors are asked to protect the natural environment and follow advice from the stewards to help you enjoy your day."
To help you plan ahead and be prepared visit www.visitcalderdale.co.uk(external link) where there's lots more information about race day and other attractions to visit in Calderdale. There's also a special 'Tour de Yorkshire in Calderdale 2019' pocket guide, which is available at visitor centres across the borough. For details of The Piece Hall activities on the day, visit https://thepiecehall.co.uk/events/tour-de-yorkshire-stage-4(external link) 
Full details on the 2019 Tour de Yorkshire can be found at http://letouryorkshire.com(external link)