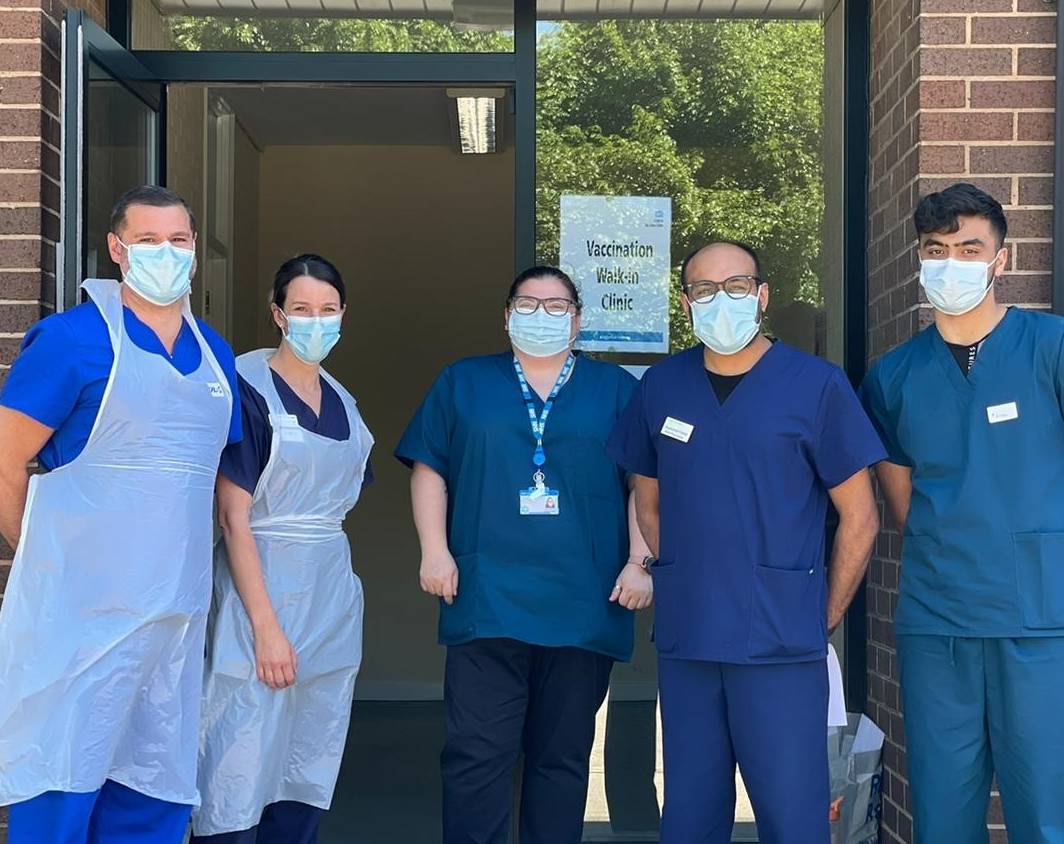 78 people were vaccinated at Calderdale's latest pop-up clinic, as part of the drive to increase uptake of both doses of the COVID-19 vaccine to minimise harm from new variants.
The pop-up clinic at Ainley Industrial Estate in Elland on Wednesday 16 June was a partnership between Calderdale Council, NHS Calderdale Clinical Commissioning Group and the 14 businesses at the industrial estate.
All employees working on the estate were invited to have their first or second dose of the vaccine. The walk-in clinic was also available to anyone in Calderdale aged 18 or over who hadn't yet received their first vaccination, or who had their first dose at least eight weeks ago.
Some workplaces are at greater risk of COVID-19 spreading due to the nature of their work. Calderdale Council has been supporting local employers throughout the pandemic, giving one-to-one advice and helping them to be COVID-secure, to reduce the risk of the virus in the workplace and help prevent outbreaks. The pop-up vaccine clinic was part of this ongoing work.
Cllr Tim Swift, Calderdale Council's Leader, said:
"Businesses across Calderdale have worked so hard throughout the pandemic to help protect their staff and the wider community, and to keep the local economy going. The success of the pop-up vaccine clinic at Ainley Industrial Estate shows a fantastic joint effort and commitment from each business on the estate. We appreciate their support in promoting the importance of getting vaccinated."
Deborah Harkins, Calderdale Council's Director of Public Health, added:
"I am delighted that so many people took up the offer of the vaccine at the pop-up clinic. Getting both doses of the vaccine is one of the five big things we can all do to help protect ourselves and others from COVID-19.

"With case rates on the rise, maximising uptake of both doses of the vaccine is essential to minimise harm from new variants. We're encouraging people who have been invited to come forward for their second dose if they haven't already, as two doses give the best protection against the Delta variant which now makes up the majority of cases in Calderdale."
Vaccinators from GP practices across Calder and Ryburn Primary Care Network vaccinated people during the clinic. Dr Fawad Azam, Clinical Director of Calder and Ryburn Primary Care Network, said:
"Every vaccination really does count and will protect both you and your loved ones, as well as helping us to get back to a normal way of life as soon as possible.

"We're doing what we can to reach people who have not yet taken up the offer of a vaccination and make it as easy as possible for people to get their jab. We are providing a range of different services across Calderdale, including walk-in services and outreach clinics like this one today at Ainley Industrial Estate, where large numbers of people work in close proximity.

"Uptake in Calderdale has been very good overall; around 130,000 people have now been vaccinated and over 100,000 have had both doses. However, it remains vitally important that everyone who is eligible gets their jab as soon as possible, especially as restrictions ease and cases of the Delta variant of the virus continue to rise."
Dave Greenwood from Resdev at Ainley Industrial Estate, who donated a unit for the pop-up vaccine clinic, said:
"Resdev Ltd back in 1980 was the first company to establish itself on Ainley Industrial Estate in Elland. With such a long history in the area and employing a local workforce, we felt it was part of our civil duty to offer our facilities to the local vaccination team to enable them to push forward with the vaccination programme in potential hotspot areas such as industrial estates. This in turn reduces the transmission risk to the local community, ensuring the health and welfare of not just Resdev and the industrial estate workers, but to the wider local community. Resdev is part of the community giving back."
Following the success of the pop-up clinic at the industrial estate, the Council is looking at the possibility of further clinics in other areas across Calderdale where there is a high risk of COVID-19 outbreaks.
This adds to the work that Calderdale's local contact tracers are doing to contact and support people in priority groups who are at the highest risk and have been offered a vaccine but haven't yet taken it up.
The more people who get vaccinated, the more chance we have of tackling the virus and getting more of our freedoms back. We're all in it together.
Even if we have had the vaccine, we all need to keep doing the other big things to reduce the spread of COVID-19 and protect ourselves and our loved ones:
Keep our distance and limit mixing with people we don't live with.
Wear a face covering where necessary, unless medically exempt.
Self-isolate if we test positive or are a contact of someone who has tested positive. A range of support is available for people self-isolating: www.calderdale.gov.uk/v2/coronavirus/help.
Meet others outside where possible, and if not then let fresh air in.
For up-to-date and reliable information about COVID-19, use trusted sources such as:
www.gov.uk/coronavirus(external link)
www.nhs.uk/coronavirus(external link)