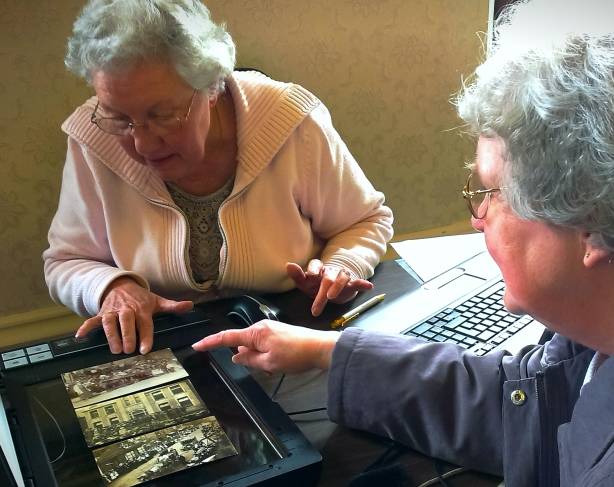 The history of Todmorden is being brought into the digital age, at the latest of a series of photo scanning events at Todmorden Town Hall. 
On Sunday 7 August, visitors to the Town Hall will have the opportunity to bring along old photographs to have them scanned and saved to Pennine Horizons digital archive at the scan 2 save event. The archive is a digital image collection of the Upper Calder Valley, including over 30,000 photos showing the history of the area.  
This free event will allow visitors to see how the digital scanning works and see their old photos in digital format, which can then be downloaded and printed to help preserve them and keep them safe for future generations. 
There will also be a free taster tour of the Town Hall available on the day, where visitors will have the chance to see beautiful features like the ornate ballroom which once featured an indoor water fountain, the elegant staircase and the Council Chamber which once doubled up as a Magistrates and Civil Court. The volunteer tour guides bring the building's stories to life by sharing their own personal insights into its history.  
The tour starts at 2pm, starting outside the Town Hall on Border Bridge. Tour participants can visit the Heritage Centre within the town hall as part of their tour where they can also use the digital archive point to see all the many images held on the Pennine Horizons Digital Archive for themselves.
The tours are part of the Todmorden Development Board's aim to increase the use of the building and celebrate its heritage. The 'Telling the Story' project has been made possible by a Heritage Lottery Fund (HLF) grant of £45,700 and a Council contribution of £3000. 
Hundreds of people have been on the tours so far, giving wonderful feedback.
 Calderdale Council's Cabinet Member for Neighbourhoods and Communities, Cllr Susan Press, said:
"Lots of people have old photos of family members or landscapes around the Upper Valley, but it's not always easy to keep these safe, and they can easily deteriorate.

 "The free scan 2 save event at Todmorden Town Hall is a great opportunity to keep these images safe, and by printing copies of these digital scans the photos can be enjoyed without fear of damage and also preserved for future generations.

 "There's also the chance to join in a tour of the Town Hall, which has a fascinating history of its own that is being shared by our brilliant volunteer tour guides."
 To find out more about the Town Hall visit Todmorden Town Hall or for more information about the event or tours contact Daniel Jessop on  01706 548105, 07912 891370 or daniel.jessop@calderdale.gov.uk