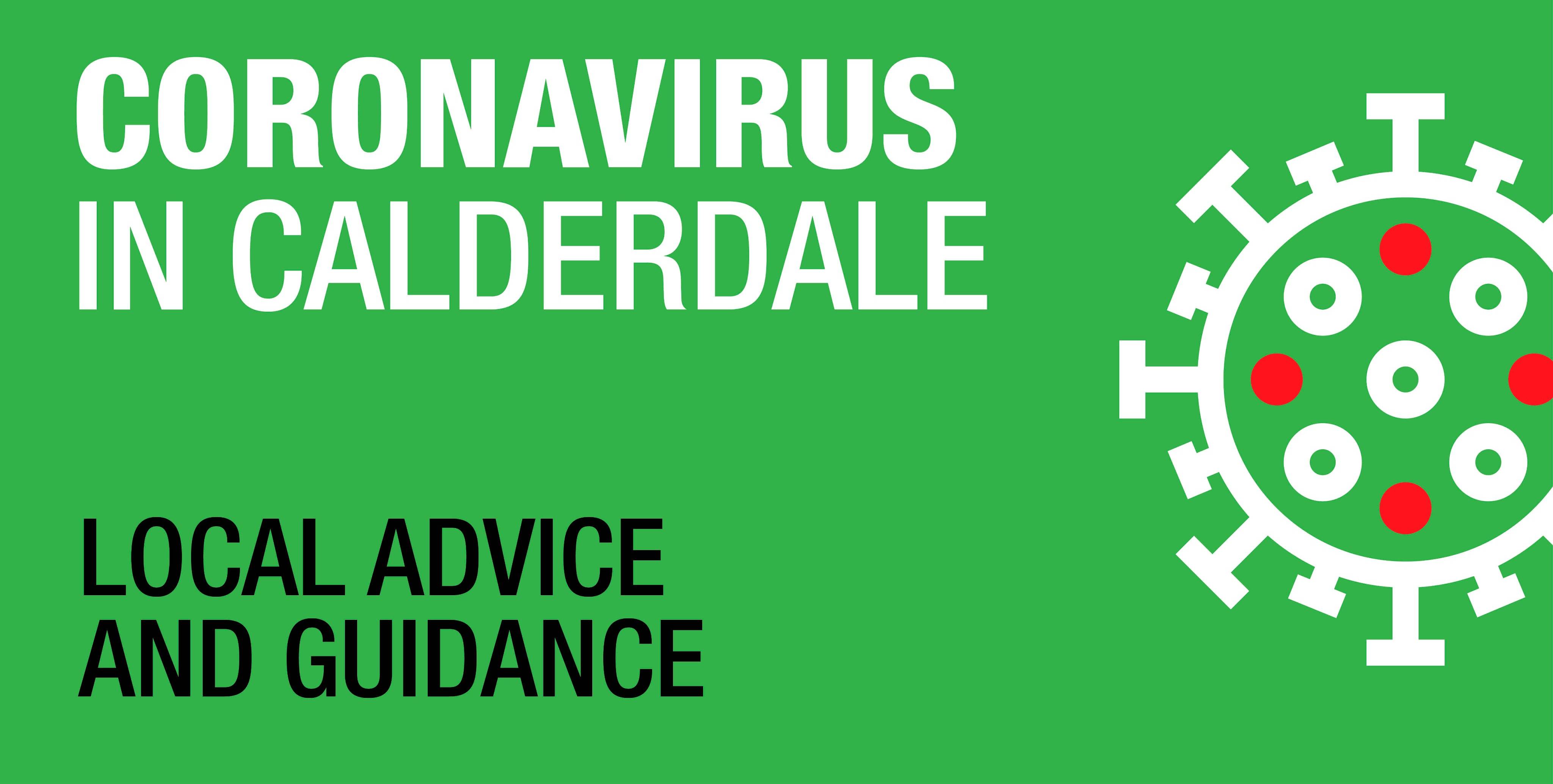 The Government has announced today (Friday 18 September) that local COVID-19 restrictions remain in the Halifax constituency and will be reintroduced in the Calder Valley constituency from Tuesday 22 September, meaning that the local restrictions will apply throughout Calderdale.
In response to this announcement(external link), the Leader of Calderdale Council, Cllr Tim Swift, said:
"We understand residents' frustration and concern following this news, and we really feel for everyone affected. For Halifax residents it means more time away from loved ones, and for those in the Calder Valley, another change to their lives.

"This is not the news we would have wished for, and we know this is difficult to hear for many people, but we do understand that the safety of our community must always come first.

"Sadly, infection rates are rising significantly across the whole of Calderdale and throughout the country. We can all still make a difference by following guidance, washing our hands, social distancing, wearing face coverings and limiting time with other people. COVID-19 will unfortunately be part of our lives for months to come, and these are the things we all need to keep doing together to protect each other.

"It's also vital to get tested if we have symptoms of COVID-19. We recognise that people may be concerned about the national issues with test availability at the moment, but as the infection rate is increasing, it's really important to book a test and stay at home for 10 days if we have symptoms, as this will stop the virus spreading further.

"The Council, our partner organisations and our communities continue to do all we can to control COVID-19. Our local contact tracing system is working well, helping us to understand the local situation in more detail and contain outbreaks. Our fantastic contact tracing team is using local knowledge to get extra insight into how the infection is spreading in Calderdale. We are not finding any single cause for the spread of cases in our area, but as we learn more about local cases we'll be able to continue to take targeted action where it is going to have the most impact.

"Let's not give up hope, let's not blame anyone, let's stay kind and compassionate. Together we can beat this."
The local restrictions which continue to apply to the Halifax constituency, and which will also apply to the Calder Valley constituency from Tuesday 22 September are as follows:
Must not have visitors from or visit other households in your home or garden (other than those in your support bubble)
Strongly advised not to socialise with people you do not live with in other indoor public venues
Must not visit friends or family in care homes, other than in exceptional circumstances.
What are we doing to prevent and control COVID-19 in Calderdale?
It is clear that we will continue to live with COVID-19 for the foreseeable future. In line with Calderdale's Outbreak Prevention and Control Plan, the Council, local partner organisations and communities are working together to protect people from the virus and to prevent and manage outbreaks. This includes:
Engaging with and supporting communities, particularly in areas of high infection rates, and helping local businesses to be COVID-secure
Increasing and improving access to testing for residents
Carrying out local contact tracing to support the national Test and Trace service
Providing support to people to enable them to self-isolate
Enforcing COVID-19 restrictions.
We can all play our part to beat the virus by:
Washing our hands regularly
Staying two metres apart
Wearing a face covering when we are indoors where we might come into contact with others, such as public transport, taxis, shops, museums and places of worship
Not visiting, or having visitors from, other households
Staying away from crowds and avoiding close contact with others, such as handshakes and hugs
Keeping up with guidance
Isolating for 10 days and getting a test if we have symptoms of COVID-19
Following the advice of the Test and Trace service if we have come into contact with someone with the virus.
For up-to-date and reliable information about COVID-19, use trusted sources such as:
www.gov.uk/coronavirus(external link)
www.nhs.uk/coronavirus(external link)