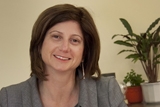 Residents in Calderdale are being reminded to register to vote, to ensure their voice is heard at election time. 
On Thursday 8 June, the UK will go to the polls to vote in the 2017 General Election. To ensure you can have your say, it's important to register to vote before the deadline of Monday 22 May 2017.
Online registration takes less time than it takes to make a cup of tea. Visit www.gov.uk/register-to-vote(external link)and fill out the details on the form. You'll need your National Insurance number to hand to complete your registration.
Merran McRae, Calderdale Council's Chief Executive and Acting Returning Officer at the elections, said: 
"Registering to vote is quick and easy to do, requiring you to just fill out a few of your details and submit the form online.

"It's important you register before the deadline of Monday 22 May to ensure you can have your say on Thursday 8 June. Don't wait until it's too late."
To check if you are registered or for further information contact Electoral Services, electoral-services@calderdale.gov.uk or call 01422 393103.