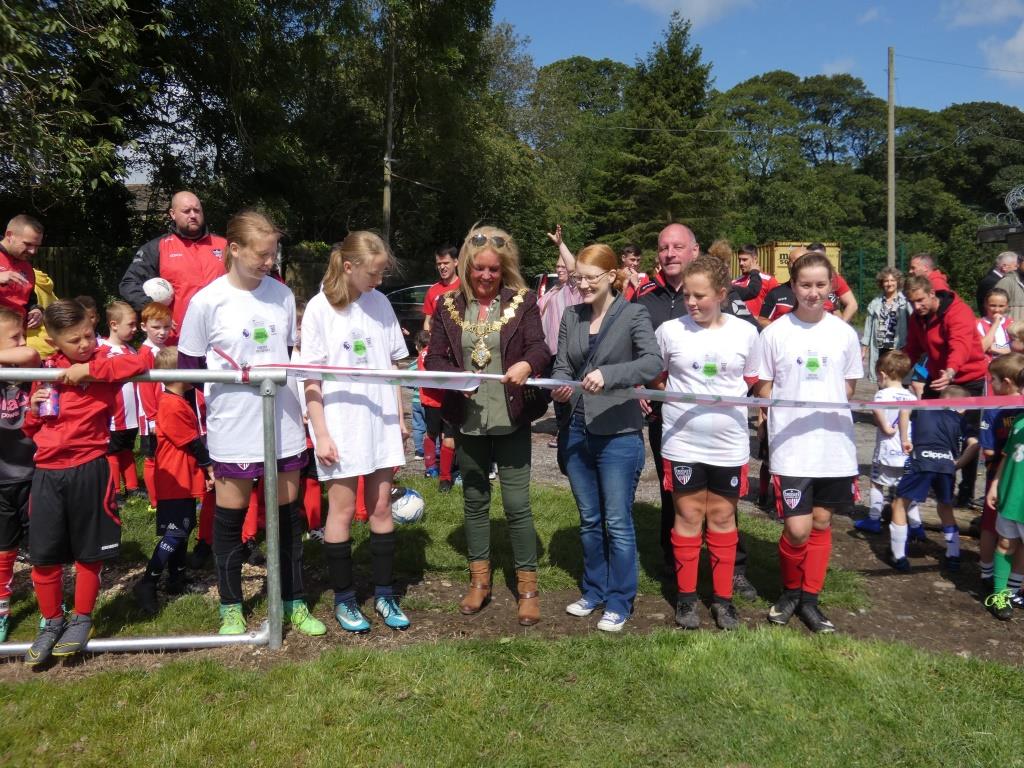 Newly refurbished state-of-the-art sports pitches at Illingworth Sports Club near Halifax were officially opened by Holly Lynch, MP for Halifax and Cllr Angie Gallagher, the Deputy Mayor of Calderdale recently (Saturday 17 August 2019).
The renovated sports pitches were made possible thanks to investment from the Premier League, The FA and Government's Football Foundation, as well as contributions from Sport England and Calderdale Council.
After netting a £89,703 grant from the Football Foundation, work began at Illingworth Sports Club in July 2018. The work included levelling, reseeding and fencing the pitches at Mason Green and Tar Hill. Access improvements at the Tar Hill site and a new car parking area has also been created.
The sports club is the home of Crossley Juniors AFC, a successful football club with 19 junior boys' teams, four junior girls' team, two open age teams and 30-40 children participating in mini-kickers sessions. The facility is also used by Illingworth ARLFC, however, in recent years both clubs have had to hire pitches elsewhere in the borough, due to the previous poor condition of their own pitches.
The grant enabled Calderdale Council to work with the clubs to create one new grass pitch and redevelop the existing three pitches. These have replaced the previous poor-quality pitches which were uneven, unable to withstand heavy use and not fit for play during the harsh winter months.
With the new and improved pitches, it is anticipated that Crossley Juniors AFC will be able to grow from 25 to 33 teams over the next five years. This will support competitive playing opportunities for nearly 500 people and provide the whole community with suitable sports and recreation facilities.
Martin Armstrong, Chairman of Crossley Juniors AFC said:
"I'd like to thank the Deputy Mayor of Calderdale, Councillor Angie Gallagher for officially opening the pitches today for us.  We are delighted to unveil these new pitches and would like to express our gratitude to the Premier League, The FA and Government's funding program through the Football Foundation.

"The new pitches are a real boost to the communities in North Halifax whose children will benefit greatly from having high quality playing surfaces available to them. The quality of the pitches will allow us to get even more use from them which in turn means we can expand, not only our boys and girls participation, but increase usage to include disability and veteran provision in the coming years, further engaging and integrating Illingworth Sports Club at the heart of our community."
Calderdale Council's Cabinet Member for Public Services and Communities, Cllr Susan Press, said:
"Having good quality sporting facilities can make a real difference to local communities. I'm sure that the state-of-the-art surface improvements at Illingworth Sports Club will provide a pitch-perfect experience for both resident clubs and for those visiting the site.

"The improved facilities will also allow opportunities for more people to be active complementing our Active Calderdale campaign and bringing the local community closer together."
Paul Thorogood, Chief Executive of the Football Foundation, said:
"The support of the Premier League, The FA and government enables the Football Foundation to help improve community sports facilities like this one across the country. Their funding has played a key role in delivering these improved grass pitches in Halifax and I am delighted for everyone associated with Illingworth Sports Club.

"This is one example we want to make people in Halifax aware of, that they have the kind of quality pitches and changing rooms that are taken for granted in other cities. We will continue to support projects nationwide, but we cannot do this on our own, so we are encouraging organisations in the area to join our movement to deliver quality football facilities for people in Halifax once and for all.

"Taking part in community sport at any level offers many benefits and rewards, not least the opportunity for people to enjoy themselves and socialise with different members of the community."