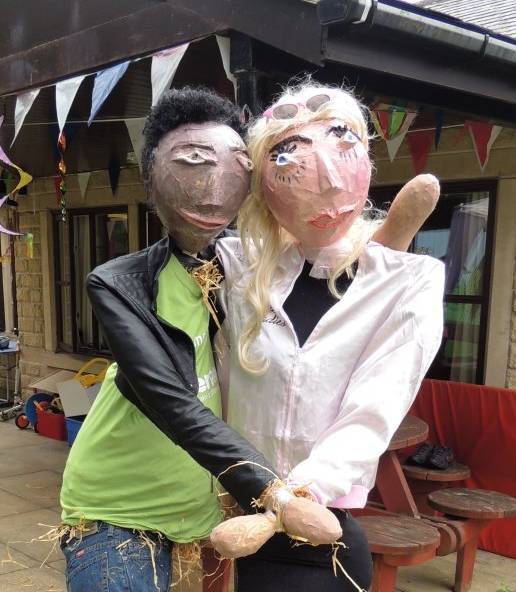 Calderdale Council's fostering team had some new helpers last weekend. Like any other member of the team, they wore fostering t-shirts and raised awareness of the need for more foster carers. But there was one big difference…they were made of straw!
 As part of Norland Scarecrow Festival, children with disabilities at the Council-run Linden Brook Short Breaks Centre, Halifax, got creative and made their own scarecrows, which formed part of the popular trail in Norland. Following the festival's theme of musicals, the scarecrows looked like Danny and Sandy from Grease. But as well as Danny's iconic leather jacket, the male scarecrow wore a t-shirt showing the address of the Council's fostering web page, to encourage people to ask about becoming foster carers.  
This was part of the Council's continued work to increase the number of foster carers, particularly for teenagers, in Calderdale. The campaign is borough-wide but the Council is also targeting particular areas, including Norland, to increase the number of people coming forward.
This comes a week before the next fostering information evening, which takes place on Wednesday 17 September 2014 at Halifax Town Hall from 7.00pm. Anyone thinking about becoming a foster carer is welcome to attend. Staff from the Council's fostering team, as well as foster carers who look after teenagers, will be there to answer questions.
Calderdale Council's Director of Children and Young People's Services, Stuart Smith, said:
"It's brilliant to see young people getting involved with our fostering campaign, and the scarecrows were a really creative way to raise awareness.

"More than 400 people have asked about becoming foster carers since we launched our latest recruitment campaign in January 2014. That's a record number for the Council, but we still need more people to come forward. A significant number of young people who need foster care in Calderdale are teenagers, so we're particularly encouraging people to contact us who can provide the skills needed to look after children in this age group.

"It can be a challenge but fostering not only makes a huge difference to young people, it's also incredibly rewarding for foster carers. We run support groups for fosterers, where they can share information and advice. Each fostering household has a social worker who provides support on a regular basis, as well as access to our fostering training sessions."
The government is now supporting young people remaining in foster care until the age of 21, by ensuring foster carers are financially supported until this time. Previously foster carers were only supported financially until the young person reached 18.
To see for yourself the real benefits of fostering in Calderdale, and to register your interest, head to www.calderdale.gov.uk/fostering or call 01422 288001.