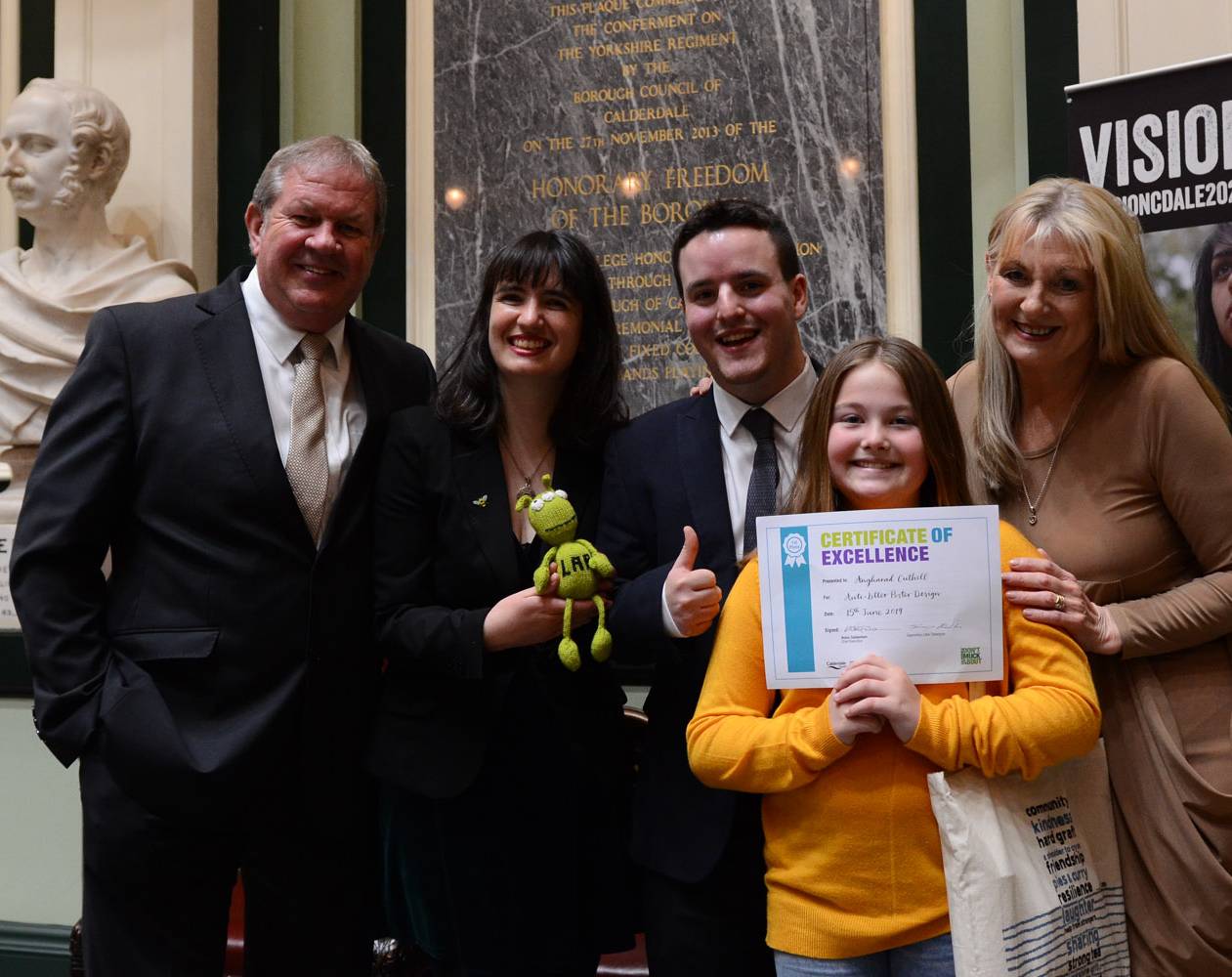 Pupils from Calderdale schools are helping the Council to combat litter.
They have been busy designing anti-litter posters as part of a competition run by Calderdale Council's Apprentice Litter Champions, to encourage people to take pride in their community and to bin their rubbish.
Angharad Cuthell, aged 11 from St. Andrew's C of E Junior School, Brighouse, was announced the winner at a special event at Halifax Town Hall on Saturday 15 June. Her striking poster, which tells the story of 'Tarquin the turtle' who is hurt by trying to eat litter, will be displayed around Calderdale.
The passionate and enthusiastic Litter Champions, Joel Duncan and Rachael Crane, had the difficult task of narrowing the posters down from a massive 600 to the top 25, and then choosing the top three. In second and third place were Sienna, 11, from St Andrew's C of E Junior School, Brighouse and Sukaina Ali, 11, from Ferney Lee Primary School, Todmorden. The Council's Cabinet Member for Climate Change and Environment, Cllr Scott Patient, and Chief Executive, Robin Tuddenham chose the winner.
RC Bridgestock, best-selling crime authors and supporters of Calderdale's anti-litter campaign, presented prizes to the top 25 poster designers at the Town Hall event. All 25 posters were on display at The Piece Hall, Halifax, during the week after the event.
Joel and Rachael, who spoke at the event, have each had a year-long apprenticeship with Calderdale Council, which was funded by the Community Foundation for Calderdale and Halifax Rotary Club. Over the last 12 months they have visited schools and community groups across the borough, spoken to around 6000 people about litter and recycling, and taken part in community litter picks.
Feedback sent to the popular pair highlights the legacy of their work, with many schools saying that they have influenced positive, long-term change.
Joel said:
"We wanted to make people aware that litter is doing far more damage than just looking bad. Our workshops have shocked people of all ages, and we've had comments like "I never knew plastic took 500 years to break down." We've been amazed by the response to our poster competition. It's really brought the litter issue to life for young people and we hope we've inspired more litter champions to rise up."
The two apprenticeships were created as part of the Don't Muck About campaign, which the Council and the Community Foundation for Calderdale launched in 2018 to encourage residents to look after our environment and to emphasise that the Council will not tolerate littering, fly-tipping, dog fouling and graffiti. This supports the Vision2024 for the place we want Calderdale to be in the future.
Dropping litter is an offence and Council enforcement officers won't hesitate to issue an £80 fine to people who drop litter on purpose.
Cllr Scott Patient, Calderdale Council's Cabinet Member for Climate Change and Environment, said:
"Litter doesn't just affect us today, but for generations to come, due to its harmful long-term impacts on our distinctive environment. We declared a climate emergency earlier this year, and tackling litter is just one of the things we can all do to address this."
Cllr Susan Press, Cabinet Member for Public Services and Communities, added:
"The Council has a duty to keep public places litter-free, spending around £1.6 million of public money every year on keeping the borough clean and tidy. But it's not just our role alone – if everyone plays their part, this money can be spent on other vital services."
For more information about the campaign to keep Calderdale clean and tidy, visit www.calderdale.gov.uk/dontmuckabout and to find out more about the Vision2024 for Calderdale, go to www.calderdale.gov.uk/vision