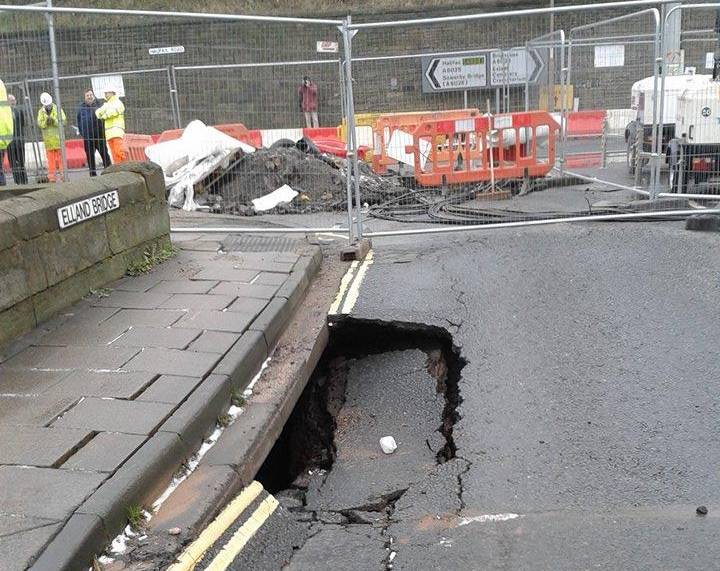 On Sunday 14 February, the Canal & River Trust will be installing a temporary bridge at the site of the flood damaged Elland bridge.
This bridge will be in addition to the pedestrian crossing point, installed last month, and will carry utilities such as water, gas, electricity cables and telecoms.
These important services are currently carried over the closed Elland bridge, so will need to be diverted to enable the bridge to be rebuilt.
While the new bridge is being installed, it will be necessary to close the junction of Elland Road and Park Road from 4am to 9pm on Sunday 14 February. 
This closure means there will be no access via Park Road from Brighouse on to the A629 Calderdale Way for this period. However, access to Exley and from the Calderdale Way through to Brighouse will be unaffected. 
Diversion routes will be in place, and warning signs will be in position on the junctions leading to Park Road.
The footbridge will also need to be closed for a short period during this closure, while the 40 ton bridge is lowered into place. However the crossing further down the canal near the crematorium will still be open for pedestrians wanting to cross.
The bridge will be moved into place using a large crane, which will also be used to lift the stranded canal boats which were displaced during the flooding.
The Leader of Calderdale Council, Cllr Tim Swift, said:
"Elland bridge is in a very bad state, and will unfortunately have to be demolished. As well as previously being an important crossing point, the damaged bridge also carries important utility services. The installation of a separate crossing point to contain these services will ensure they are protected.

"While the new bridge is being installed, it will be necessary to close the road because of the size of the crane needed. The work will be done as quickly as possible, and the crane will also be used to move the beached canal boats which have become an iconic image of the flooding."