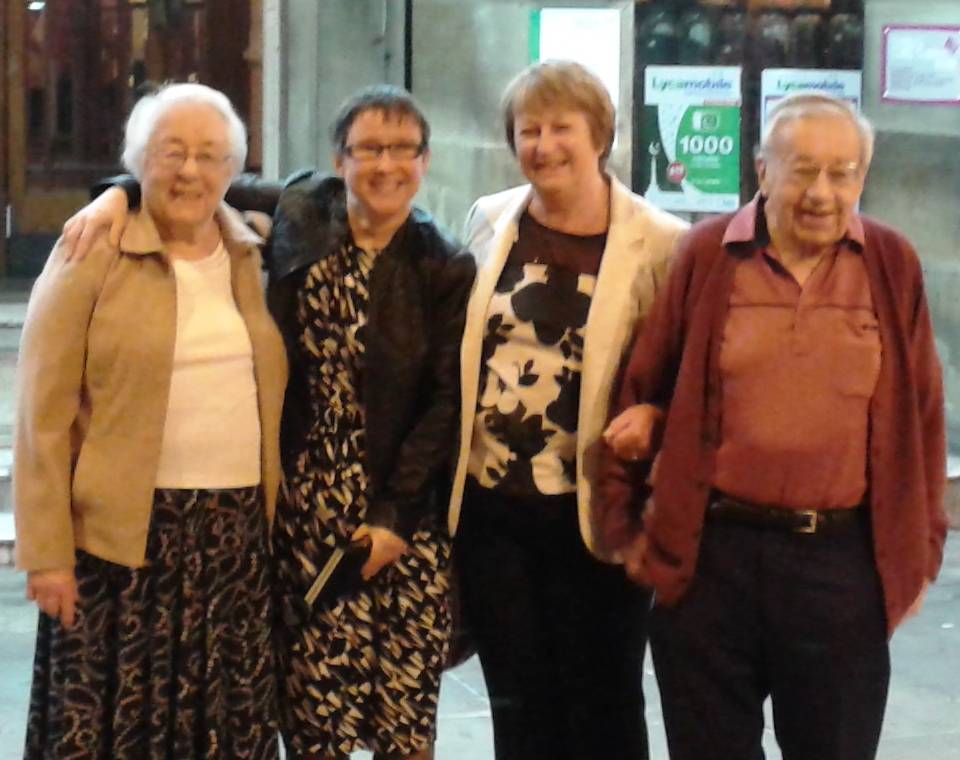 Shared Lives carers across Calderdale are coming together from 17 – 25 October to highlight the fourth annual Shared Lives Week, a UK-wide event to celebrate and promote the innovative and growing 'Shared Lives' approach to care.
Shared Lives carers open their home, family and community life to an adult (or 16/17 year old) who needs care or support to help them live well.
Calderdale Council's Shared Lives team matches trained and approved Shared Lives carers with people who need their support. This approach is now one of the fastest growing forms of social care in the UK, with an additional 1,300 people last year choosing Shared Lives as a unique way to feel independent but not alone.
In Calderdale over 60 people are supported by 35 Shared Lives carers.
During Shared Lives Week, Calderdale Council is calling for more people to come forward as Shared Lives carers. On Wednesday 21 October the team will be in the Borough Market in Halifax, providing information about Shared Lives and answering questions.
The Council is also holding a celebration event for Shared Lives carers on Tuesday 20 October to recognise the difference they make to people's lives.
An information stand will be in the Town Hall, Halifax, all week to let people know how they can get involved in Shared Lives.
Shared Lives Week is about people like Shirley and Dawn from Calderdale. Shirley Stead is a full-time Shared Lives carer to Dawn. Shirley says:
"Dawn lives with me and I support her with everyday activities, teach her life skills and encourage her to be as independent as possible. It's great to see Dawn achieving things and getting the most out of life, and it's filled a little void in my life.

"Dawn and I clicked from the start. Being a carer does have its challenges – that's life – but whenever we need support the Council's Shared Lives team is there for us.

"Being a full-time carer doesn't mean that Dawn and I spend all our time together. Just like all families it's nice to do things together and also on our own. Dawn is very close to her family and gets good support from them too. This gives us time to recharge our batteries."  
Dawn says:
"I like living with Shirley because I get one-to-one support and it's like when I was at home with mum before she sadly passed away. I enjoy learning to be more independent; I can now use a mobile phone and am learning to get the bus on my own. I can still see my family when I want to and I like being part of Shirley's family too."
Cllr Bob Metcalfe, Calderdale Council's Cabinet Member for Adults, Health and Social Care, said:
"Shared Lives Week is a good chance to celebrate and recognise the massive difference that Shared Lives carers make to people across Calderdale. Carers are from all backgrounds and don't need experience or qualifications – the Council provides training to help you. If you have time in your life and space in your home to become a carer, we want to hear from you. You can enjoy new friendships, know you're doing something worthwhile and receive payments to cover your costs."
Alex Fox, Chief Executive of Shared Lives Plus said:
"It's great to see Shared Lives in Calderdale playing such an active role in supporting our national Shared Lives week, highlighting the benefits of the approach and encouraging more people to consider becoming Shared Lives carers or choosing Shared Lives as a way of supporting them to lead a good life in a good place. Our aim is to double in size nationally over five years – and events like this here in Calderdale are vital in helping us hit that target."
The foundation of the success of Shared Lives is the 'Match'. This process – unique to Shared Lives – involves meeting up, perhaps for a cup of tea or a meal and getting to know each other before agreeing to move in to Shared Lives. This way, people can discover if they share common interests or hobbies, meaning they have a basis for a successful partnership. Throughout Shared Lives week people will be tweeting #AllAboutTheMatch, showing the matches that Shared Lives has helped to make for them.
If you are interested in becoming a Shared Lives carer or think you would benefit from the support of a carer, visit Adult placement schemes or email shared.lives@calderdale.gov.uk