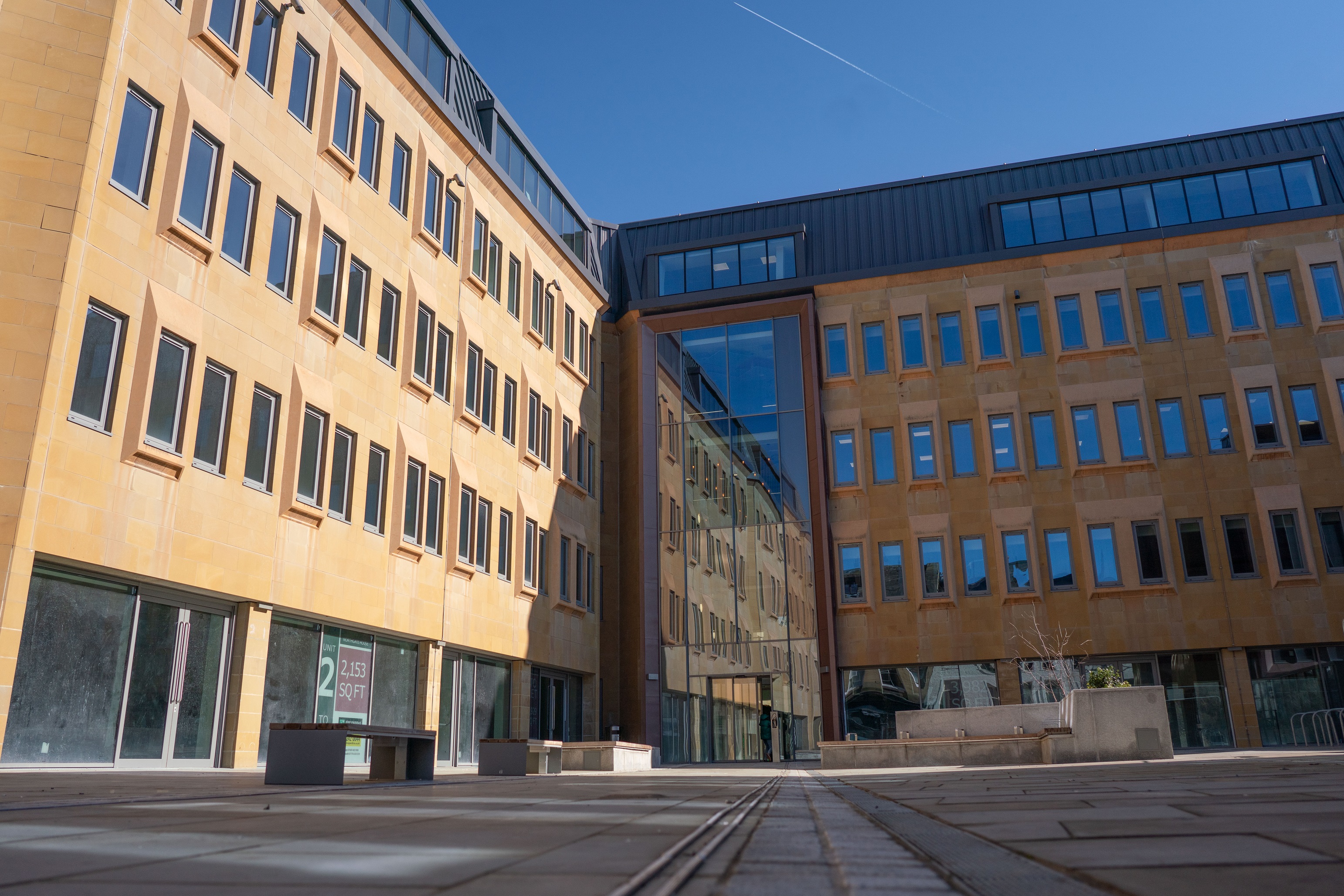 Two of Calderdale's flagship regeneration projects have been shortlisted for the Insider Yorkshire Property Industry Awards 2022.
The Northgate House commercial development is a finalist in the Fit-out / Refurbishment of the Year category, and the Beech Hill housing scheme is up for Residential Development of the Year (in the 'more than 100 homes' sub-category). As public sector entries, Calderdale is in a unique position as most other finalists, throughout the award categories, are from the private sector.
After Calderdale Council and its partner organisations transformed the former Central Library into the state-of-the-art Trinity Sixth Form Academy at Northgate in Halifax town centre, the second phase of regeneration began on the adjacent Northgate House site.
Supported by a grant from the West Yorkshire Combined Authority, the recent completion of the commercial development has provided over 45,000 square feet of top-class office space over four floors for multinational insurance group RSA, 11,000 square feet of multi-use retail / office space on the ground floor, and a stunning new public courtyard area where people can gather for events, socialising and relaxing.
Transforming the 1980s building into a modern, flexible space against the backdrop of the pandemic and national material and labour shortages was no mean feat.
Innovations during design and construction included creating a unique steel frame podium structure to enable street-level access to the office and retail space, and developing pioneering project management processes to address external risks proactively during this unprecedented time, such as using SME trades contractors with established local labour supply.
The outcome is a striking building that boosts footfall, contributes to the inclusive economic recovery from COVID-19, complements nearby heritage buildings, reduces environmental impact through sustainability features, and provided development opportunities for local students during construction.
Not far from Northgate, just outside Halifax town centre, the Beech Hill area is being transformed, after previously being home to three empty tower blocks. Major work through the Calderdale and Together Housing Investment Partnership (CTHIP) is seeing 106 new affordable homes being built, as well as a cycle route, public open space and energy efficiency improvements to existing homes on the site to help tackle climate change.
The topography of the area meant that high demolition and construction costs made affordable housing projects unviable for many developers. The CTHIP unlocked investment with funding support from the West Yorkshire Combined Authority and Homes England.
Many challenges have been overcome to move this important regeneration work forward, and it has become a benchmark for other difficult sites across the region. In partnership with the contractor, Esh Construction, careful design and innovative techniques include the installation of a retaining slope to maximise use of the entire site.
The outcome will be good-quality, affordable homes within walking distance of the town centre, bringing more housing choice and a better quality of life for local people; economic growth by safeguarding and creating jobs and training opportunities; regeneration of an underused part of Halifax and better, greener connections to the surrounding area; and a reduction in carbon emissions and fuel poverty to help tackle the climate emergency and health inequalities.
Cllr Jane Scullion, Calderdale Council's Cabinet Member for Regeneration and Strategy, said:
"Congratulations to the partnerships working on both shortlisted projects. The developments are significant contributors to Calderdale's transformation, and it's a real honour that the level of ambition and confidence in the borough has been reflected at a regional level.

"We are proud of the amazing talent and enterprise shown by our teams and communities, driving us closer to the Vision 2024 for Calderdale where we have strong, resilient towns and people."
George Paterson, Executive Director of Property at Together Housing Group said:
"Being shortlisted as a finalist for the Yorkshire Industry Property Awards 2022 means a lot to us. Beech Hill is a great example of building through our partnership work in Calderdale on what was an unviable and undesirable site. Together Housing through the partnership have underwritten the works and receiving key contributions from both West Yorkshire Combined Authority and Homes England alongside Calderdale Council has proved critical.

"We are also working with current residents in Beech Hill to improve their homes, making them more energy efficient whilst building these new homes. The local community will benefit from these homes and the hard work of the CTHIP."
Think you know Halifax? Think again. It's an inspiring time for Halifax. Discover your part in it. Visit www.calderdalenextchapter.co.uk/think-you-know-halifax(external link)
The Insider Yorkshire Property Industry Awards winners will be announced at an awards ceremony in Leeds on Thursday 22 September 2022. Follow the event on social media: #YorksProp
The year 2024 marks Calderdale's 50th birthday and there are less than two years to go. Where do we want to be by 2024? What's our ambition and what will be different? Find out more at www.calderdale.gov.uk/vision