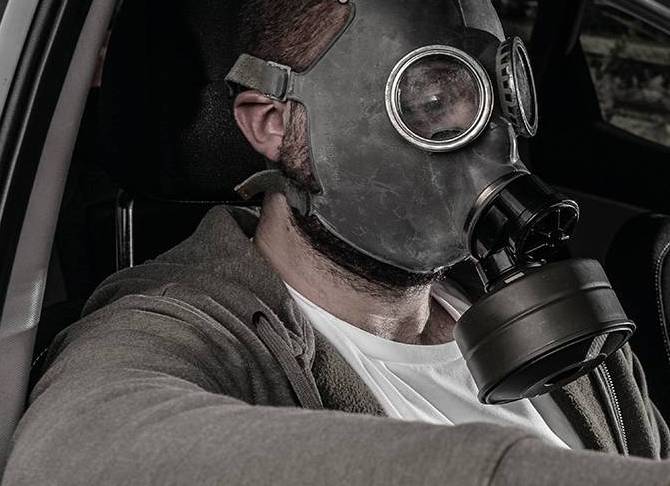 Combatting vehicle engine idling is a major focus of Calderdale Council's new campaign to tackle air pollution.
Idling (where a vehicle's engine is left running whilst stationary) can produce up to twice as many exhaust emissions as when a vehicle is moving.
Air pollution is damaging our health and the environment. Calderdale Council is fighting back through its Let's Clear the Air campaign, which launches on Clean Air Day (Thursday 20 June) as part of its work to address the climate emergency declared in January.
During the week of Clean Air Day, the Council's community safety wardens and teams from Highways, Environmental Health and Licensing will be out on patrol, advising drivers of the dangers of leaving their engine running whilst their vehicle isn't moving.
The patrols will take place on Thursday 20 and Friday 21 June in Sowerby Bridge town centre and on Market Street in Halifax town centre. Following this there will be a programme to educate and enforce at other locations around the borough.
Cllr Scott Patient, Calderdale Council's Cabinet Member for Climate Change and Environment, said:
"We are determined to improve air quality in Calderdale to create a cleaner, greener and healthier environment. Ideally we want people to travel in sustainable ways, like walking and cycling, but if they do have to drive, we encourage them to switch off their vehicle engines while they are parked, to reduce the amount of harmful toxins polluting our air. We hope that our idling patrols on and around Clean Air Day will help people learn more about air quality and change their behaviour."
Hard-hitting anti-idling banners will be displayed outside some Calderdale schools as part of the Let's Clear the Air campaign. School Crossing Patrols are reminding parents and carers about the importance of parking away from the school and not leaving their car engines running if they have to drive.
When a vehicle is idling, the engine is still running and burning fuel without going anywhere. This creates hotspots where the level of toxins in the air is particularly bad and contributes to pollution in the wider area.
Not idling is better for your health and other people's health – you'll emit and breathe in less pollution. It's also better for your wallet – turning your engine off could save you dozens of litres of fuel (and pounds) every year.
Improving air quality, protecting the borough's distinctive environment and making it more resilient supports the Vision2024 for Calderdale: www.calderdale.gov.uk/vision and the Council's new approach to enforcement, which focuses on clamping down on anti-social behaviour and other issues to protect Calderdale's distinctive landscape and ensure it's a great place to live, work and visit.