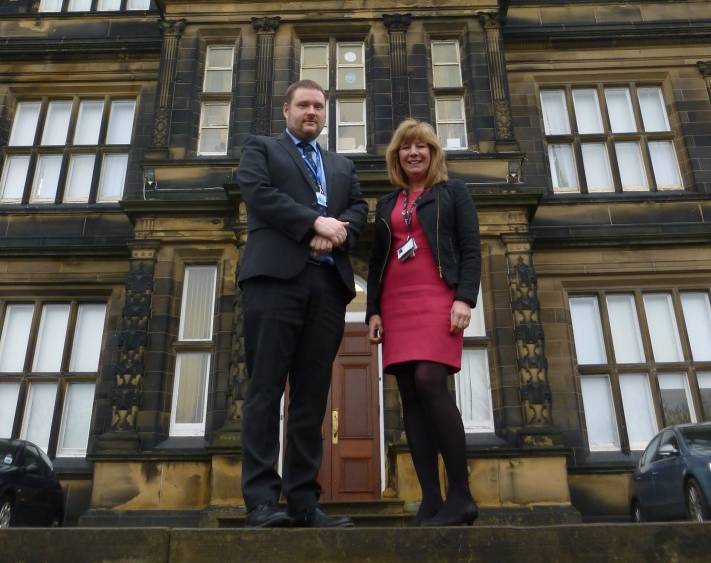 Calderdale students are benefiting from a partnership between their schools which is the first of its kind in Yorkshire.
The Crossley Heath School is working very closely with Park Lane Learning Trust to open up further learning opportunities for the students there.
Shared staffing, mentoring schemes, joint projects, mixed sporting opportunities, new friendships and rising aspirations are just some of the benefits that both Halifax schools are seeing.
When Park Lane was going through a challenging time last year and exam results fell, Calderdale Council approached Crossley Heath to see if they could support Park Lane to bring stability and improvements.
This approach is one of very few in the country – and the first in Yorkshire – to see a highly performing grammar school providing extensive support to a non-selective secondary school.
The partnership started last September and since January 2015 Wendy Moffat, Crossley Heath's Head Teacher, has been Executive Head of Park Lane and Jonathan Brownlie, Crossley Heath's Deputy Head Teacher, is Park Lane's Head Teacher.
It began with Jonathan Brownlie regularly visiting Park Lane to learn more about the school, its students and its priorities, and has developed into full-time support. Jonathan said:
"The young people at Park Lane are very talented, so our focus is making sure they achieve their full potential. We want to broaden their opportunities, give them belief in their own abilities and raise their aspirations – that starts with getting them on the right path to good GCSEs and encouraging them to move on to college, apprenticeships or a sixth form provider such as Crossley Heath. To drive this forward we're using the experience and strengths of Crossley Heath to support Park Lane in challenging students to do their very best.
"Right from the start we've been getting students together from both schools so they can learn from each other. For example, Park Lane pupils have been going to some of Crossley Heath's lessons; they've done a joint business project where two teams competed and did a presentation; Crossley Heath Year 7 students watched Park Lane's Christmas production of Aladdin; a group of girls have worked together to achieve a netball umpiring award; and a Year 10 Park Lane star rugby player made his debut for Crossley Heath playing against a visiting Canadian team. It's great to see the students working so well together and their feedback has been really positive.

"Teachers at both schools are also working together, sharing ideas and resources, watching each other's lessons, taking part in joint training and running a student mentoring scheme."
Wendy Moffat added:
"We are delighted to be supporting Park Lane. It gives them the direction they need to get back on track, and as the 23rd highest achieving school in the country and number one school in the north of England, it allows Crossley Heath to reach out, share the things it does well and make a real difference to young people in the area. At the same time, Crossley Heath is learning from Park Lane, and has so far adapted a number of systems and broadened its skills and experience.
"We know that change won't happen overnight, but we're already seeing benefits like improved confidence in students, parents and teachers, and a significant increase in secondary school applications to Park Lane. And there's lots more to come. We're confident that the students will continue to achieve really great things."
The partnership as it stands will continue into at least 2016, but will be ongoing in some form into the longer term.
Dom Whiteley, a student from Park Lane who attended Crossley Heath to study German, said:
"I really enjoyed my lessons at Crossley Heath. I feel it advanced my skills in German and greatly contributed towards my final exams. I believe that the partnership between our two schools has been, and will continue to be very beneficial. My lessons at Crossley Heath have helped me in my German exams and improved my confidence."
Calderdale Council's Head of Learning Services, David Whalley, said:
"Our top priority for Calderdale schools is to make sure students get the best possible support to learn and achieve their potential. When Park Lane was going through a challenging time last year, we came up with the Crossley Heath partnership as an innovative and effective way to provide support. It instantly provided a fresh, objective view and direction for improvements to be made. We are regularly monitoring the partnership and are thrilled with the progress so far. The shared learning is going really well and some Park Lane students have already signed up for the sixth form at Crossley Heath. It's wonderful to see two different schools working so closely together and helping students to achieve their best."