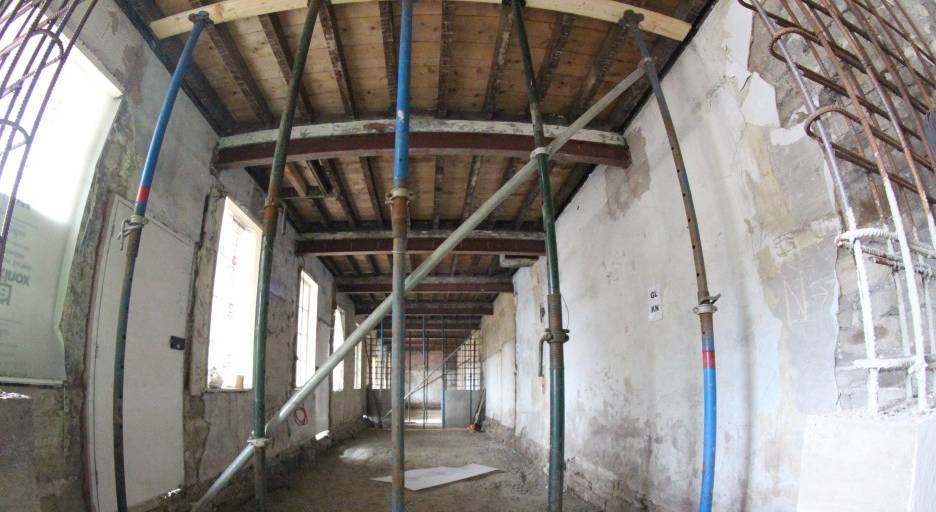 Fascinating behind-the-scenes footage of the historic Piece Hall being transformed and the new Central Library and Archive being built will be available for generations to come, as budding young photographers and film makers embark on a new project to document the changes to the sites as conservation and construction work progresses.
Local film and photography students from Calderdale College are being given special access to the Piece Hall and Central Library sites in Halifax for the next 12 months. They are filming and taking photos of various stages of the work to produce a permanent visual record, which will be on public display at the end of the project, used by the Piece Hall Trust in the future and available to view online at www.thepiecehall.co.uk and www.calderdale.gov.uk/leisure/libraries 
The project has been jointly developed by Calderdale Council, GRAHAM Construction who are carrying out the construction work, and Calderdale College. It will run until the transformed Piece Hall and new Central Library and Archive open in 2016, and will end with a competition to find the film or photo that best represents the projects.
Cllr Tim Swift, Calderdale Council's Leader, said:
"The Piece Hall and Central Library sites offer lots of opportunities for imaginative photos and film shots. The footage showing the various stages of conservation and construction will provide a lasting look into the buildings' story. I'm delighted that the project is giving young people such a valuable and unique experience for their future careers, and am excited to see their work."
Gary Hughes, Regional Director at GRAHAM Construction, said:
"GRAHAM Construction is delighted to work with Calderdale Council and be able to support local students with relevant and exciting educational projects. This photography project will not only allow the students privileged access to the 'live' transformation of a historic building but will generate a lasting legacy for the people of Calderdale and for future generations. Working on this project will support the students by promoting their learning through, participation in and understanding of this landmark heritage project of the Piece Hall. GRAHAM Construction is proud to demonstrate to the communities we work within just how exciting careers in the construction industry can be through interventions such as this project and are pleased to be working with the College and the Council to make it as successful as possible."
Rafiq Khushi, Level 3 Film & Photography Lecturer at Calderdale College, said:
"We are thrilled to be working with Calderdale Council, who have supplied our students with a live brief to capture the transformation of the Piece Hall and Central Library, enabling Level 3 Film & Photography students to play a part in Calderdale's history and gain invaluable work experience and recognition. Those involved have found the documenting of this ongoing large-scale project both exciting and rewarding. This is a fantastic opportunity for our students to build up their portfolio and it will certainly help them secure jobs in the future."