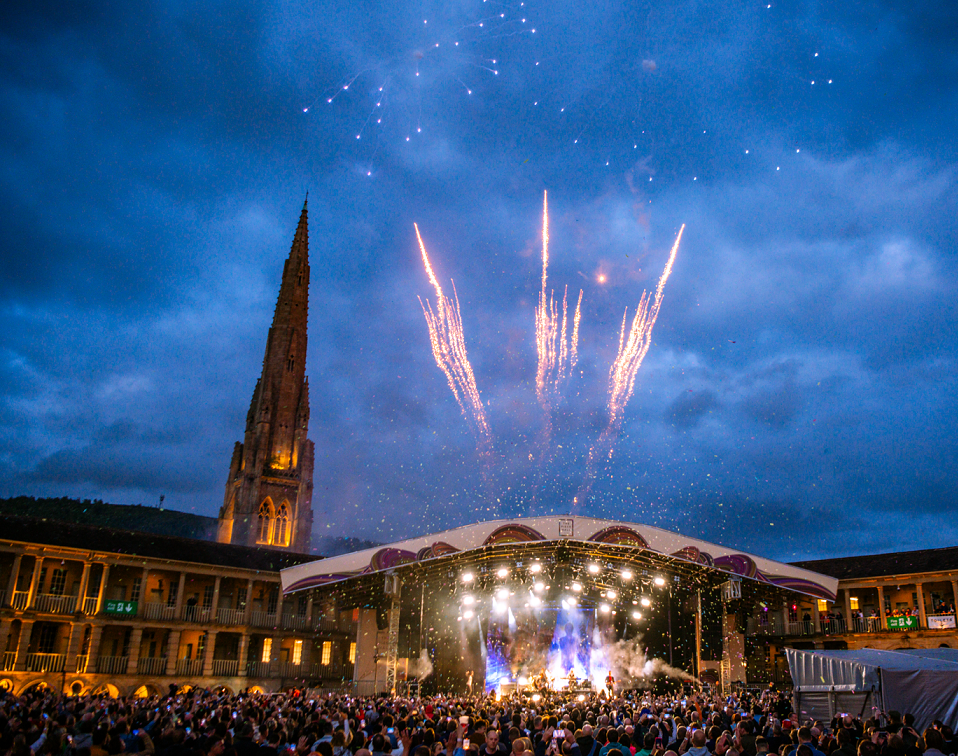 As The Piece Hall continues to help Calderdale and its communities thrive, and in the runup to the borough's Year of Culture 2024, the Council is continuing to invest in this unique destination for the next two years.
To sustain The Piece Hall's wide-reaching activity programme and major contribution to culture and the economy, in the context of rising operating costs, The Piece Hall Trust outlined the need for ongoing investment from the Council in a report to Cabinet and Full Council.
The Piece Hall Trust has run the iconic building and a hugely successful events programme since the 2017 reopening, following completion of the ground-breaking, Council-led Piece Hall transformation project which had funding from the Heritage Lottery Fund and the Garfield Weston and Wolfson Foundations.
At Calderdale's Full Council meeting on Wednesday 26 July 2023, Councillors agreed to continue to make funding contributions to The Piece Hall in the budget for 2024-25 and 2025-26.
Cllr Jane Scullion, Calderdale Council's Leader, said:
"We are incredibly proud of The Piece Hall and everything the Trust continues to do to keep this magnificent destination firmly on the map. Our continued investment in The Piece Hall reaffirms the Council's commitment to this distinctive cultural, heritage, trade and community asset.

"The Piece Hall is a major part of Calderdale's identity, heritage, culture and economy, which is recognised locally, nationally and internationally. As a cultural venue attracting 2.4 million visitors annually, its role in Calderdale's Year of Culture 2024 will be crucial, as well as its ongoing contribution to the Council's priority for thriving towns and places through its positive impact on our economy and local businesses.

"I think I speak for the whole borough and beyond when I say how much pride and wellbeing the world-class Live at The Piece Hall music season has brought, and with 120,000 tickets sold, the knock-on effect for surrounding businesses and Calderdale's national profile is palpable."
Since reopening in 2017, The Piece Hall has added nearly £10.2 million to the local economy on average each year, placing The Piece Hall firmly as a key driver of wider economic regeneration.
It also plays an important role in the Council's priority to reduce inequalities and increase wellbeing. As a free-to-enter venue, The Piece Hall can be enjoyed by everyone, even with the increasing cost of living. It helps to boost skills by providing a successful heritage and learning programme for local schools.
The Piece Hall adds to Calderdale's sense of togetherness and inclusion by holding a range of welcoming events and activities for all communities, bringing people together and celebrating diversity; for example, through the Eid, Christmas and Pride celebrations.
Sir Roger Marsh OBE DL, Chair of The Piece Hall's Board of Trustees said:
"Back in 2012, a brave and visionary decision was made by Calderdale Council to transform, restore, and rescue The Piece Hall, and to create The Piece Hall Trust to run it. It's good to see, ahead of Calderdale's Year of Culture in 2024, that the Council continues to recognise the hugely positive cultural and economic impact The Piece Hall brings to the area.

"We want to build on that success over the coming years, and we value the investment the local authority continues to make in the world's only remaining Georgian cloth hall. The decision also recognises that the Trust is best placed, with our local, regional, national and international partners, to continue to develop a world-class series of events and activities, well into a new decade."
The Piece Hall supports the Vision 2024 for Calderdale by adding to its distinctiveness, resilience, kindness, talent and enterprise. The year 2024 marks Calderdale's 50th birthday. Where do we want to be by 2024? Get involved with the debate on Twitter with #VisionCdale2024 and find out more at www.calderdale.gov.uk/vision
Find out more about The Piece Hall at www.thepiecehall.co.uk(external link)
Explore CultureDale at www.visitcalderdale.com/culturedale(external link)