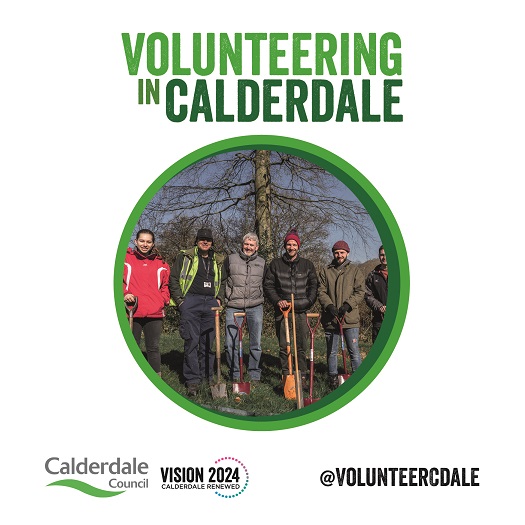 The amazing difference that Calderdale volunteers make to people and places across the borough will be celebrated during national Volunteers' Week (1-7 June 2023).
Calderdale has a long and proud history of volunteering and kindness. There are more than 800 charities and non-profit organisations running everything from community theatre that supports people's entertainment and wellbeing, to recovery services that give the most vulnerable residents a vital lifeline.
The Council's Vision 2024 survey found that an impressive 40% of Calderdale residents had volunteered during the last year, which is above the regional and national average.
The Council is marking Volunteers' Week by thanking local people for their volunteering efforts at a special celebration event.
Over 300 people regularly volunteer with Council services, and on Tuesday 6 June they are invited to Artworks in Halifax where they will be recognised and will get the chance to meet other volunteers. Members of the Council's Extended Leadership Team will thank volunteers at the event, and guests will be able to take part in art sessions to inspire creativity and produce a volunteer collage in the runup to the Year of Culture in 2024.
The Council and partner organisations are also using Volunteers' Week to encourage more people to come forward for the many volunteering opportunities across the borough.
There will be a volunteering marketplace in Halifax town centre on Thursday 15 June from 11am to 5pm, on Corn Market outside the Borough Market. People will be able to visit stalls run by community groups and charities, including Voluntary Sector Infrastructure (VSI) Alliance and the Community Foundation for Calderdale, to find out more about volunteering opportunities and ways to provide support with simple acts of kindness like donating items to local causes.
This builds on the Calderdale Pledge that the Council and VSI Alliance launched on Monday 8 May, the day of the national Big Help Out for the Coronation of The King and The Queen Consort.
By signing up at www.vsialliance.org.uk/cvp(external link), people can make a volunteering or act of kindness pledge – anything from donating money or clothes or checking in on a neighbour, to volunteering for a local charity or community group. The Council and VSI Alliance match pledges to appropriate opportunities.
Cllr Sarah Courtney, Calderdale Council's Cabinet Member for Towns, Tourism and Voluntary Sector, said:
"After the challenging past few years, with flooding, COVID and the cost of living crisis, thanking Calderdale's volunteers is more important than ever. They have continued to kindly and selflessly give their time in very tough circumstances, have helped our communities in so many ways, and have supported the Council's priorities for thriving towns, reduced inequalities and climate action.

"Championing and increasing volunteering is a key part of our Vision 2024 for Calderdale's aspiration for kindness and resilience.

"So, this Volunteers' Week, we're saying a massive 'thank you' to volunteers across Calderdale and promoting the volunteering opportunities available to encourage more people to come forward for this rewarding experience."
The year 2024 marks Calderdale's 50th birthday and there is less than a year to go. Where do we want to be by 2024? Get involved on Twitter with #VisionCdale2024 and find out more at www.calderdale.gov.uk/vision
More information:
Volunteering opportunities in Calderdale: www.vsialliance.org.uk/opportunities(external link) and https://new.calderdale.gov.uk/jobs/volunteering
Calderdale Pledge: www.vsialliance.org.uk/cvp(external link)
Volunteers' Week: https://volunteersweek.org(external link)
ENDS