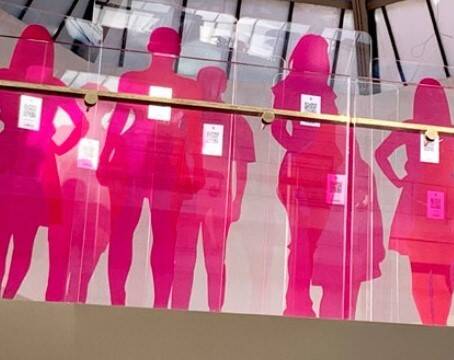 Press release from Calderdale Council and METUPUK
A powerful new exhibition in Halifax will help to raise awareness of secondary (metastatic) breast cancer.
Calderdale Council is working with patient advocacy group, METUPUK to host 'The Darker Side of Pink' – a display that is touring the country to highlight the need to improve care and research around metastatic breast cancer (MBC) – breast cancer that has spread to another part of the body.
From Monday 6 February to Saturday 4 March 2023, people will be able to visit the exhibition at the Central Library and Archives in Halifax town centre. This coincides with World Cancer Day on Saturday 4 February.
The Darker Side of Pink is a physical, interactive, mobile and online experience aiming to highlight the seriousness of metastatic breast cancer, the biggest killer of women under the age of 50 in the UK.
The exhibition features 31 transparent figures, to depict the invisibility of the disease – one for each woman who sadly dies every day from metastatic breast cancer. Each figure contains a QR code that plays a video from a real-life woman living with secondary breast cancer, explaining the struggles and issues they face.
Filmed in 2021, six of these brave women have unfortunately died from the disease, becoming a statistic they spoke about whilst also campaigning for change to benefit others. Many of the videos are incredibly emotional, as befits the seriousness of the topic.
METUPUK is a self-funded, volunteer-led charity and the only patient advocacy group in the UK focusing on metastatic breast cancer. Founder Jo Taylor created the group in 2016 to campaign and promote the issues affecting those diagnosed, highlighting the red-flag signs and symptoms, access to drugs, treatments and clinical trials.
Jo Taylor, founder of METUPUK who lives in Saddleworth, Oldham said:
"There is a critical need for awareness of the disease. This is what I have experienced over the years. Even patients who have had primary breast cancer are unaware of the red-flag signs and symptoms of metastatic breast cancer and the many issues that MBC patients face when diagnosed. There is a real and pressing need for change and that's what this exhibition aims to highlight."
Cllr Sarah Courtney, Calderdale Council's Cabinet Member for Towns, Engagement and Public Health, said:
"We are proud to be partnering with METUPUK on this incredibly important campaign. It's devastating that every day in the UK, 31 women lose their lives to metastatic breast cancer, and we understand the impact this can have on individuals, families and communities.

"We care about the health and wellbeing of all our residents, and by raising awareness of the disease through this powerful new exhibition, we hope to reach out to people about the information and support available."
Cllr Jenny Lynn, Cabinet Member for Public Services and Communities, added:
"Our libraries are a welcoming community space for all – places where a diverse mix of people come to engage, learn, reflect and meet others. We are honoured to host The Darker Side of Pink at Halifax Central Library and Archives as a way of sharing vital messages and personal stories with as many people as possible, through a striking multimedia display."
To find out more about The Darker Side of Pink and METUPUK, head to https://metupuk.org.uk/darker-pink/(external link)
For the location details and opening hours of the Central Library and Archives in Halifax, go to https://calderdale.gov.uk/v2/residents/leisure-and-culture/libraries/your-local-library/central-library