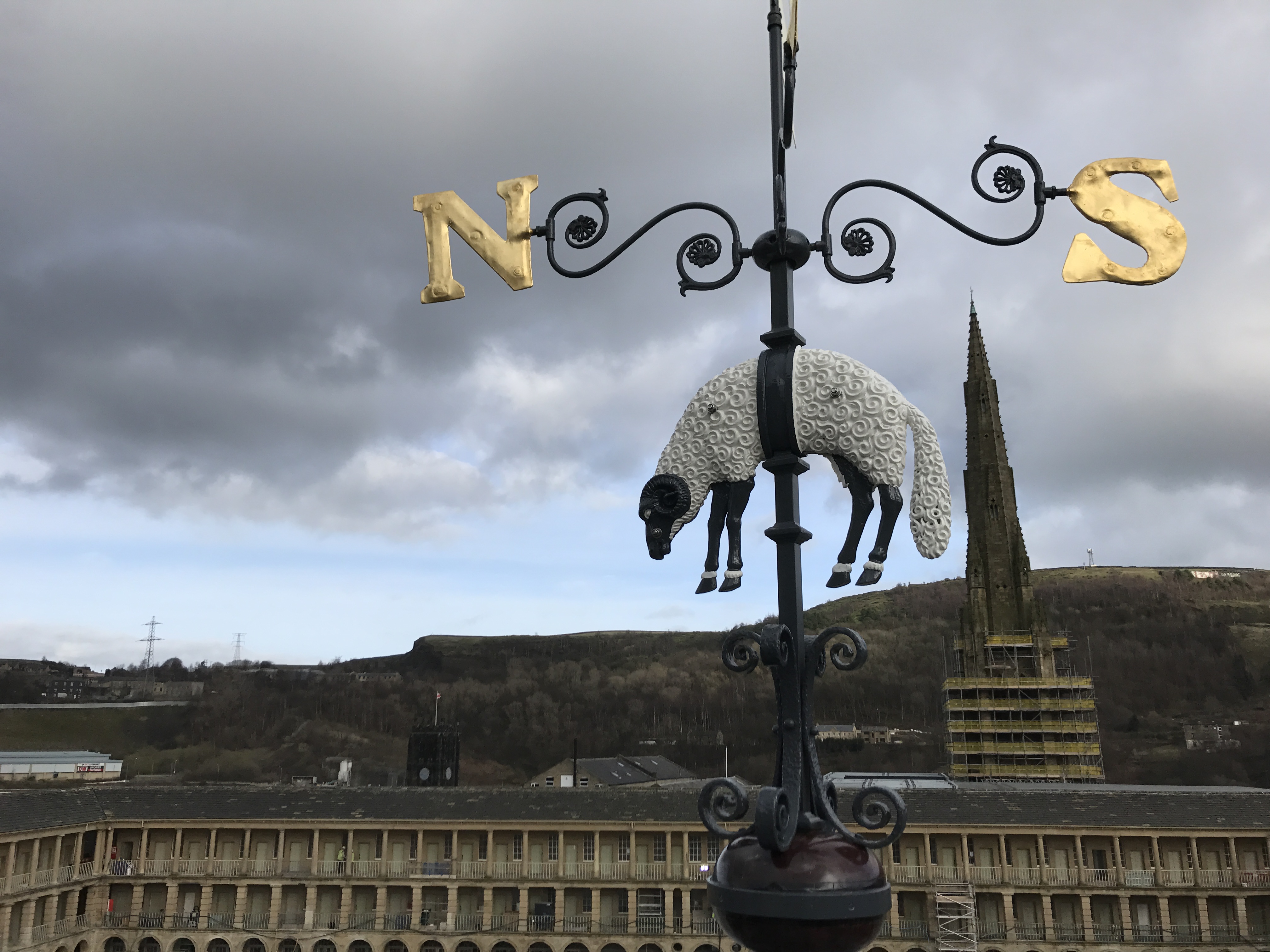 The Piece Hall bell and weather vane, including the historic sheep, have returned to Halifax after being lovingly restored as part of Calderdale Council's £19 million transformation programme.
Housed within a wooden cupola above the Piece Hall's West Gate, the weather vane displays the points of the compass, an arrow indicating the wind direction, plus the sheep, which represents the Piece Hall's strong links with the wool trade.   
The historic ironworks were removed so they could be restored in accordance with conservation surveys carried out at the beginning of the transformation project.  The work to the weather vane was carried out by a blacksmith commissioned by main contractor GRAHAM Construction. 
New letters for each compass point have been made, and decorated with gold leaf. The arrow of the weather vane has been carefully conserved and a new bearing installed to allow it to turn easily as the wind direction changes.  A new set of 'feathers' has also been cast.
The sheep, which is made from cast iron, has been cleaned and painted to match the original colour scheme, with details such as the feet, horns and belt picked out in contrasting colours.
Two scrolls and a flag were missing when the weather vane was removed for conservation, using photographic evidence from the past, these have been reinstated.
Leader of Calderdale Council, Cllr Tim Swift said:
"We have a responsibility to make sure this beautiful Grade I listed Georgian building lasts another two hundred years, by carefully preserving and restoring all the distinctive original features which make it so special.

"The Piece Hall bell and weather vane provide a great example of the very detailed work which has been done by specialist and heritage tradespeople to restore them to their former glory. 

"I'm delighted to see them return to the Piece Hall, which marks one of the final milestones in the transformation programme."
The bell was restored by John Taylor & Co, one of the largest bell foundries in the world with a track record in heritage conservation.  Originally the bell was rung to mark the beginning and end of each trading day. Any merchants caught trading cloth outside the permitted hours were fined.
During the restoration the bell was checked for cracks and a new clapper made to replace the old one, which was particularly corroded.  A new bell ringing mechanism has also been installed as the previous mechanism, which was not original, was difficult to use.
The Piece Hall transformation project is funded jointly by Calderdale Council together with a generous £7 million grant from the Heritage Lottery Fund. The Council is also very grateful to the Garfield Weston Foundation and the Wolfson Foundation which are supporting the scheme.
Photo credit – Sandy Young from GRAHAM construction