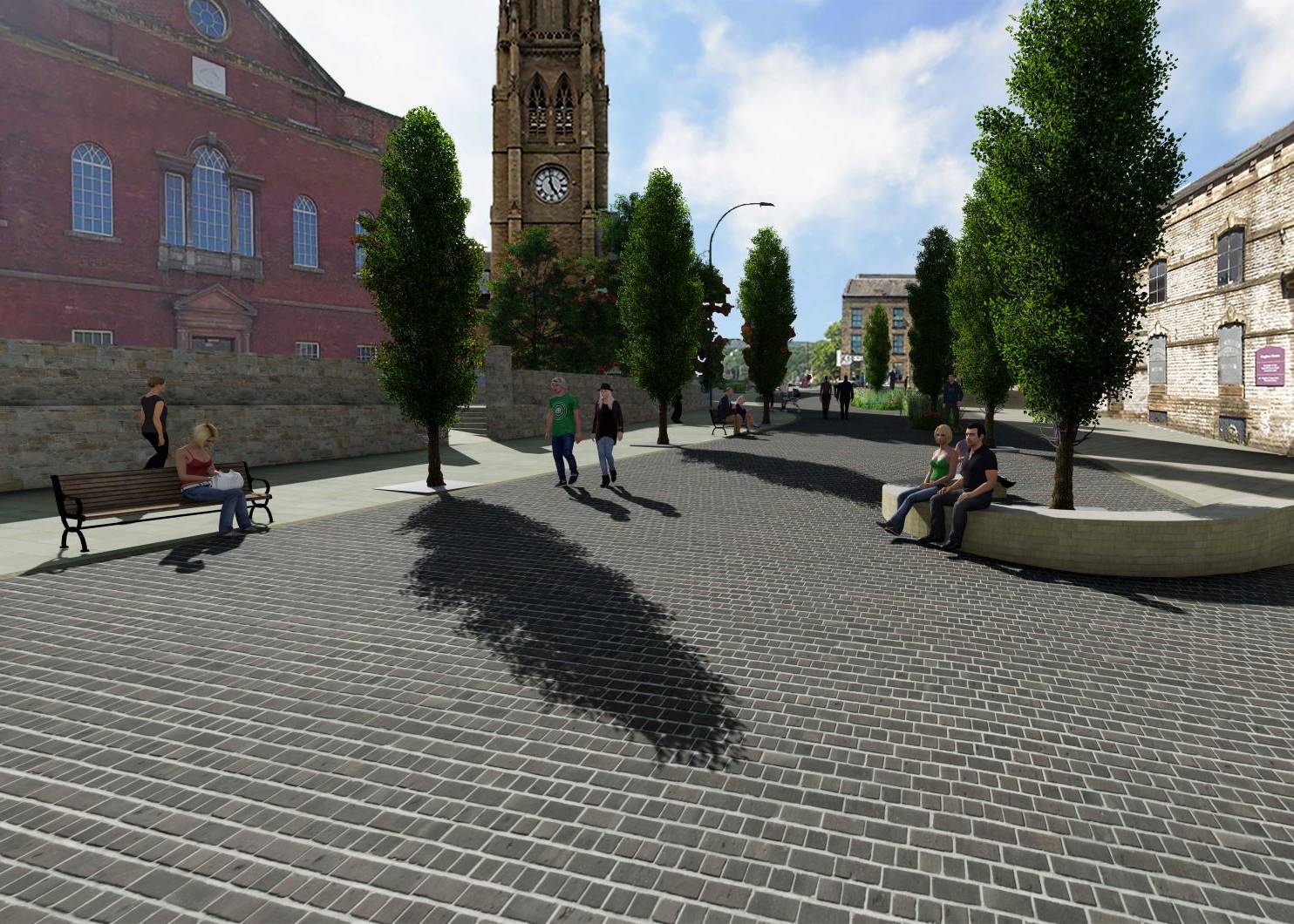 Think you know Halifax?
Think again.
That's the message from Calderdale Council's new campaign to showcase over £200 million of investment in Halifax.
It's an ambitious and inspiring time, with unprecedented investment into buildings, landmarks, travel and infrastructure across the whole town over the next decade.
The Council wants people to get excited about the future of Halifax, to discover their role in it and to spread the word. People's experience of Halifax will be changing for the better – whether they are visiting, living or working there.
Visitors to the town centre may have noticed striking lamppost banners, window graphics and ad bikes over the last few weeks, with close-up photos of Halifax landmarks and 'Think you know Halifax?' as the only words. A short film was promoted on various social media accounts and featured on the big screen on Market Street.
The identity of who was behind the campaign remained a mystery, with no logos or information included, to build curiosity and get people talking.
The Council has now revealed that the 'teasers' were part of its new 'Think you know Halifax?' campaign to celebrate the huge investment in Halifax and open up the conversation about its sustainable future.
A brand new web page and film have launched today (Thursday 18 November), as the exciting next stage of the campaign gets underway.
Cllr Jane Scullion, Calderdale Council's Cabinet Member for Regeneration and Strategy, said:
"We are ambitious about the future of Halifax. We want the town to continue to grow, transform and be a place designed for people – somewhere you can stroll, shop and relax, with greener, easier and healthier ways to get around, and iconic new landmarks to enjoy.

"Our 'Think you know Halifax' campaign brings together the extraordinary amount of investment going into the town as part of the Vision2024 for Calderdale and the inclusive economic recovery. This is about building an exciting and sustainable future, but there's also lots happening right now – we're designing, consulting on proposals and building on site. And we want you all to get involved."
The campaign celebrates the many projects which will transform Halifax, increase footfall, protect the cherished local heritage that people know and love, and help Calderdale to be a zero-carbon place by 2038 to tackle the climate emergency. Projects include:
Planned new office and retail space at Northgate
The completed Trinity Sixth Form Academy at Northgate
The proposed state-of-the-art Halifax Leisure Centre
Refurbishment of the historic Halifax Borough Market and Victoria Theatre
Medieval alleyway and street improvements, including George Square
The planned Halifax Play Trail
Transformation of the Calder and Hebble junction on the A629 and a range of improvements to make Halifax town centre easier, safer and more environmentally friendly to travel around
A new bus station and a new railway station for Halifax
Transformation of the Beech Hill residential area
Find out more about the projects and the vision for Halifax at https://calderdalenextchapter.co.uk/think-you-know-halifax(external link)
Get involved in the conversation using #ThinkYouKnowHalifax
The projects in Halifax are just one part of a whole range of investment throughout Calderdale. Read more at www.calderdalenextchapter.co.uk(external link)
The year 2024 marks Calderdale's 50th birthday. Where do we want to be by 2024? Get involved on Twitter with #VisionCdale2024 and find out more at www.calderdale.gov.uk/vision