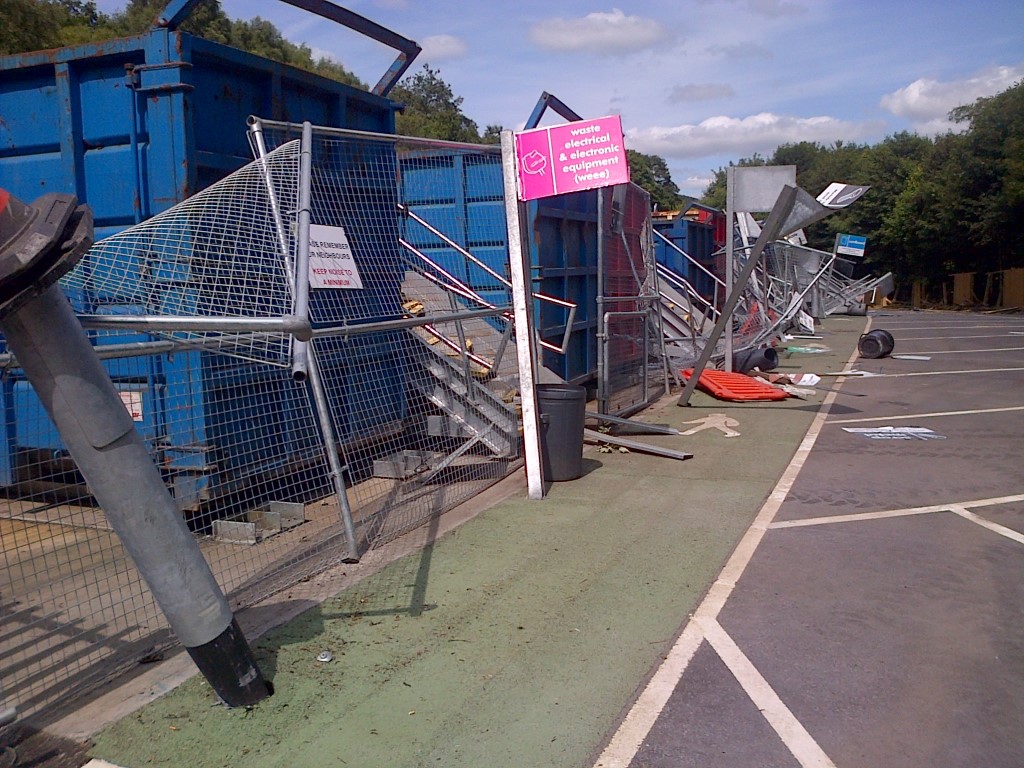 Eastwood Recycling Centre in Todmorden is expected to be closed until November 2014, as extensive repairs are needed following an incident which caused damage on Saturday 19 July.
 This comes just seven months after reopening following major renovations to improve the facilities. A man has been charged with criminal damage and detailed investigations are underway by the Police, Calderdale Council and SITA UK. 
Immediately after the incident on Saturday, Council and SITA UK teams swung into action to make the centre safe and to prevent danger to the public. A security guard is at the site every night as a precaution, and a SITA UK employee is there during the day to advise visitors of alternative ways to recycle and dispose of waste while Eastwood is closed. The nearest centres, which are open as normal, are:  
Sowerby Bridge, Milner Royd, Mearclough, Sowerby Bridge, HX6 3LF
Halifax, Lee Bank, Ovenden Road, Halifax, HX3 5PN 
Now that SITA UK's insurer has visited Eastwood to assess the damage, Calderdale Council is working closely with SITA UK to clear the site and make arrangements for a contractor to carry out the repairs. The majority of the equipment needs to be replaced, and the cost of this will be covered by SITA UK's insurer. The equipment was only seven months old, so the Council will be seeking like-for-like replacements to continue the high standard of facilities at the centre. 
To help residents dispose of waste while the centre is closed, an additional two bags of refuse on waste collection days will be collected in Todmorden and Hebden Bridge during the closure period.
 Temporary garden waste collections for selected parts of Todmorden and Hebden Bridge will take place on alternate Saturdays from 9 August until Eastwood reopens. Properties on the garden collection route will receive a letter about the service, and a garden sack if they don't already have one. This is the same approach that was taken when the site was closed for refurbishment last year, but based on feedback from residents at the time, the Council and SITA UK are adding more homes to the collection route this time, depending on accessibility for the collection vehicle. 
Several community clean up days will take place during the closure period to help remove residents' bulkier items. People who live in the areas where these are happening will be informed in advance and bulky waste will be removed on a specified day.
 Calderdale Council's Cabinet Member for Economy and Environment, Cllr Barry Collins, said: 
"We want to assure people that we're doing all we can to get Eastwood back up and running as quickly as possible. November is the estimated reopening date because it will take time to carry out the repairs to the best possible standard, and to get hold of the required equipment and materials. Since the refurbishment, lots of people have told us how much they liked the new facilities, and we will make sure the repairs and replacements are of the same top quality. 

"In the meantime, we have set up temporary services to help residents continue to recycle and dispose of their household waste during the closure period."
 Don't forget that your recycling is taken weekly from the edge of your property – that's glass, cans, paper, food waste, plastic bottles and textiles. If you are missing any recycling containers they can be ordered online at www.calderdale.gov.uk or by ringing 01422 288002. Alternatively, recyclables can be taken to your nearest local supermarket recycling site. Please recycle all that you can.
 Bulky household waste, such as beds, cookers and three piece suites, can be taken for a charge of £15, by visiting www.calderdale.gov.uk or ringing 01422 288002. 
For more information about recycling sites in Calderdale, visit Household Waste Recycling Centres.