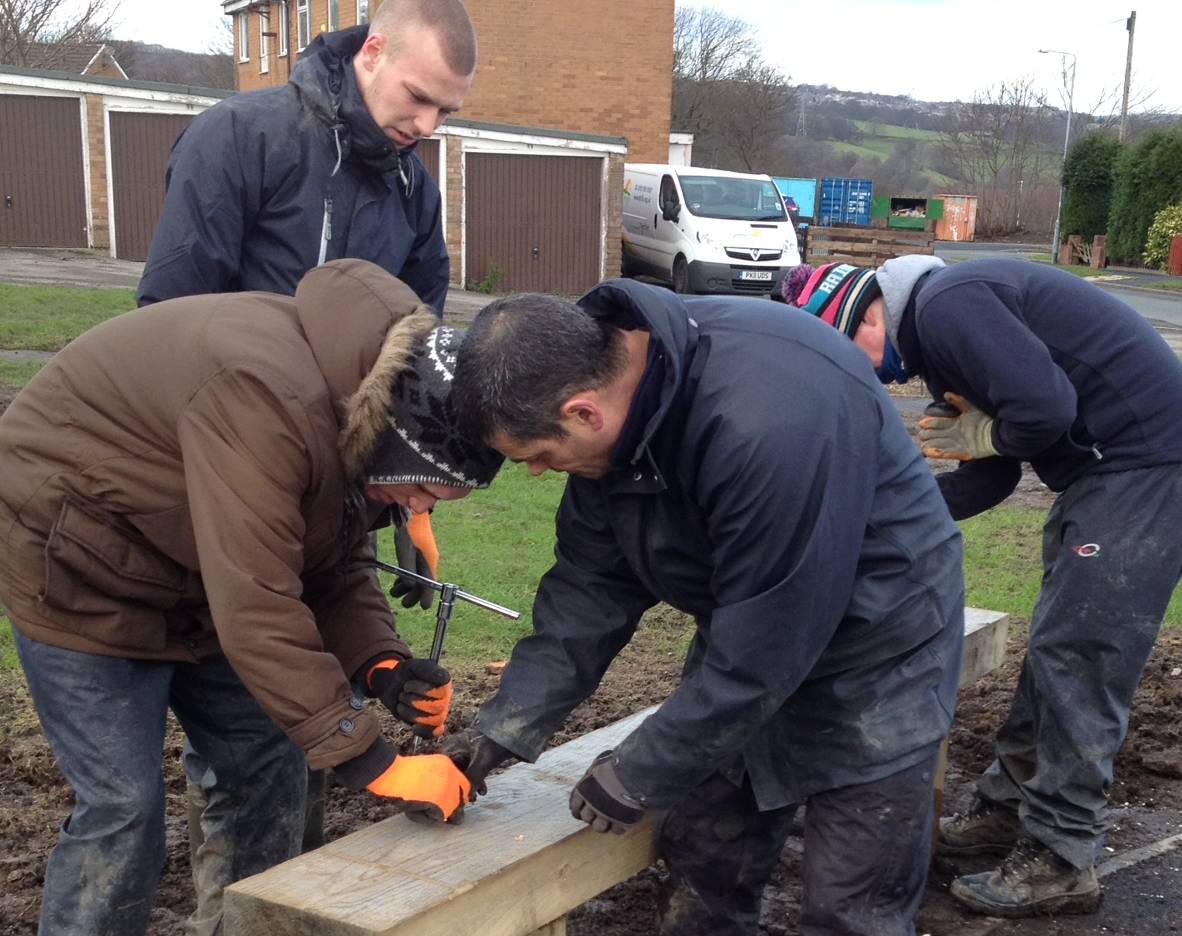 Green fingered volunteers have transformed a patch of bare grass in Calderdale into a beautiful and functional new community space. 
Calderdale Council's Community Task Force Environmental Volunteers have been working alongside staff from Pennine Housing 2000 to create a community garden at Field Lane, Rastrick. 
The previously bare patch of land has been transformed, with picnic benches, planting beds, fencing, willow shelters and a new stone entrance at the site. 
The Community Task Force Environmental Volunteers are a group of young people from the Calderdale area who were not previously in employment or education. For 12 weeks they have been working as volunteers on environmental projects like the Field Lane site, throughout Calderdale, gaining a range of skills in countryside management, construction and horticulture, and receiving valuable experience of the world of work. 
The project came about after residents were concerned that the area was becoming a nuisance as it was unsightly and being used for ball games. A working group was set up with members including the Council, the Police, Pennine Housing and many more, with Pennine Housing securing funding.  
Once this funding was secured, contractors Landscape Engineering were appointed to carry out the developments and provide training and support. The contractors worked alongside the young volunteers, students from Calderdale College and young people from youth organisation, Compass Bridge. 
The volunteers worked tirelessly through appalling conditions with some of the toughest winter weather that could be thrown at them, including gale force winds, hail storms, torrential rain and sub zero temperatures. However, the volunteers' tenacity paid off and they finished the site, recently adding the final touches. 
Calderdale Council's Cabinet Member for Economy, Cllr Peter Caffrey, said: 
"The volunteers have done a great job on the new community area in Rastrick and have picked up some valuable skills along the way.  

"The local residents now have an area they can be proud of and will be a great community asset, especially in spring and summer where the planters will come to life and the picnic benches can be used." 
The Community Task Force is managed by the Council's Grow Your Future team, and applications are now being invited for the next set of volunteers.  The programme is open to anyone aged 16 to 24, living in Calderdale and not in employment, education or training.  For more information please contact Rosie Holdsworth, Community Task Force supervisor on 01422 393359, email rosie.holdsworth@calderdale.gov.uk.