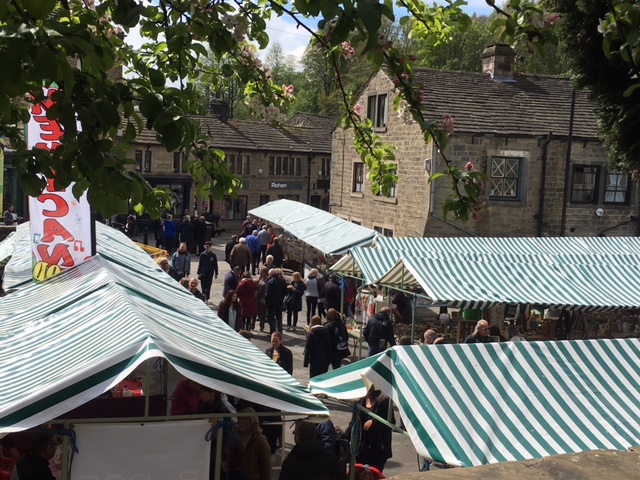 Markets in Calderdale need your vote in the National Association of British Market Authorities (NABMA) awards.
The NABMA awards are among the most respected and highest accolades for markets in the country. Voting is now open in the Britain's Favourite Market category, with people invited to cast their vote before Thursday 30 November 2017.
To help Calderdale markets achieve this coveted title, simply go to www.nabma.com/vote(external link) and enter the name of the local market you love the most. You can vote as many times as you like for your favourite.
Choosing your favourite Calderdale market could prove difficult this year, with so many exciting developments.
One of the most significant pieces of work has been the refurbishment of Todmorden Market Hall, following £500k investment. A new glass roof and work to refurbish and repair the Victorian building has meant that traders and shoppers alike have a much improved experience.
This year has also seen the opening of the new, improved Hebden Bridge market in its new location of Lees Yard on the edge of St George's Square. Moving the market from its previous site has meant that the market now has improved facilities, an additional new Saturday artisan market and a weekly Sunday local produce market.
Halifax Borough Market has also seen a number of improvements this year, with the eight historic gates at the market being restored. Each gate has been repaired using traditional techniques and methods. The gates have also been repainted using specialist paints in a colour scheme agreed by Historic England.
Repairs have also been made to the roof at Halifax Borough Market, with work taking place to replace broken panes of glass and improve insulation in the market hall.
Elland market may be the smallest of Calderdale's markets, but this year the town has been celebrating 700 years since it received a Royal Charter marking it as an official market town. This summer the market hosted a celebration event to mark the occasion.
Both Sowerby Bridge and Todmorden Open Markets have had a great year too, hosting events and specialist markets with an array of local products.
Calderdale Council's Cabinet Member for Regeneration and Economic Development, Cllr Barry Collins, said:
"Our markets are really valued by communities across Calderdale, and the NABMA awards are a chance to show the rest of the country what Calderdale markets have to offer.

"This year a number of significant investments and improvements have taken place at a number of our markets, with lots more developments planned.

"In September, our markets manager, John Walker was named the country's Market Manager of the Year by NABMA. Winning their Britain's Favourite Market accolade would be another great achievement and a brilliant way to round off what has been a fantastic year for the markets service."