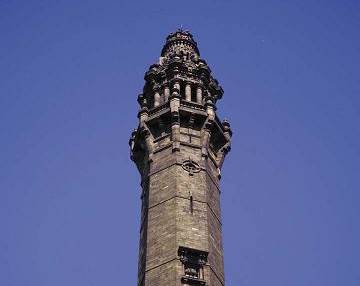 Wainhouse Tower will light up purple from tonight (Friday 23 October) until Monday 2 November 2020, for World Polio Day on Saturday 24 October.
World Polio Day aims to educate on the need to end polio for good, and Calderdale Council is marking this to help raise awareness.
The request to light up Wainhouse Tower, as well as The Piece Hall in Halifax, came from the Rotary Club of Halifax Calder, to celebrate the fantastic efforts of Rotarians over the last decade in their fight against polio.
Polio is a highly infectious disease that mainly affects children under the age of five. The virus is spread from person to person, usually through contaminated water. It can attack the nervous system and sometimes leads to paralysis. There is no cure, but it is preventable with a vaccine.
Polio cases across the globe have been reduced by 99.9% since 1988. For more than three years, there have been cases of polio caused by the wild virus in only two countries, Afghanistan and Pakistan. According to Rotary International, unless polio is eradicated, within 10 years as many as 200,000 new cases could occur around the world each year.
Cllr Tim Swift, Calderdale Council's Leader, said:
"Polio can have a devastating impact on the lives of individuals, families and communities, and our hearts go out to all those affected around the world.

"We hope that lighting up Wainhouse Tower goes some way towards raising awareness of this terrible disease and encouraging people to talk about it and help to end it for good."
Find out more about polio and how to help eradicate it by visiting www.endpolio.org/world-polio-day(external link)
For more information about Rotary Club of Halifax Calder, go to www.rotary-ribi.org/clubs/homepage.php?ClubID=198#(external link)
Get involved on Twitter using the hashtag #EndPolio