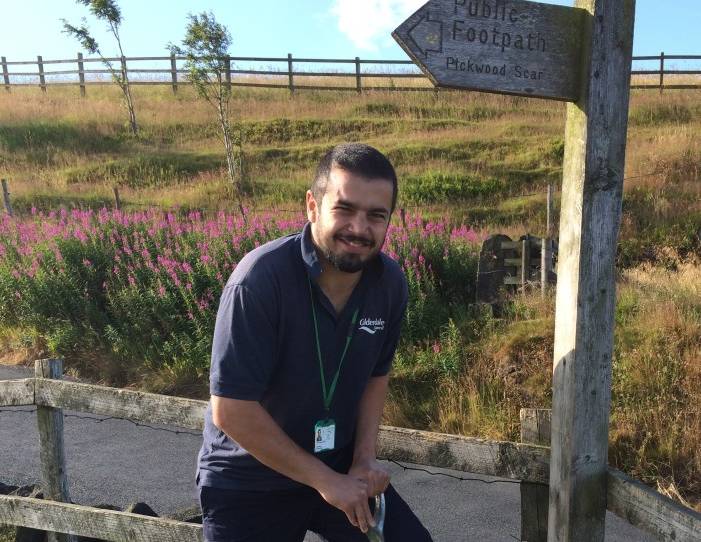 Volunteering for Calderdale Council could soon be easier, giving you even more opportunities to make a real difference to your own life and the lives of those around you. New proposals will be discussed by Cabinet on Monday 10 August.  
Philip Singh from Calderdale says he wouldn't be where he is today without volunteering. He describes how being a volunteer for Calderdale Council helped to transform his life.   
"After finishing my degree in Zoology, I couldn't work for a long time due to ill health. Once I'd recovered, I started volunteering with Calderdale Council's Countryside and Woodlands team as a way to regain a sense of normality and get back into working life.  
"I'd always wanted to work in countryside management and that's where my skills are. I helped out with a range of tasks like planting trees, building bridges and managing habitats. It really built my confidence, gave me valuable work experience, I met lots of new people and kept myself fit. 

"A year later, I applied for a job at the Council as Volunteer Co-ordinator for the Countryside and Woodlands team. I was thrilled to get the job! I wouldn't be where I am today if it wasn't for the skills I developed whilst volunteering.  

"I'm currently managing about 70 volunteers, who do lots of great work to help keep Calderdale so beautiful. We always welcome more volunteers from all backgrounds." 
If you are interested in volunteering for Calderdale Council and want to find out more, please email volunteer@calderdale.gov.uk 
*** 
The new volunteering approach being discussed by Cabinet aims to improve access to opportunities in the Council, ensure volunteers have a consistent and positive experience, and boost recognition for their amazing work.  
Hundreds of volunteers help the Council deliver a huge range of valued services in our communities. That includes running the shop at Ogden Water, supporting the Youth Offending Team to mentor young people at risk of offending, sharing specialist knowledge in our museums and helping to keep our countryside beautiful.  
As dozens of services across the Council work with volunteers, a new approach is needed to provide focus, consistency and a single point of contact. Cabinet will be asked to approve a new policy which would make it easier for people to volunteer with the Council. 
The Council is currently developing: 
·         A new web page showing volunteering opportunities and where people can express their interest

·         A handbook for volunteers on how to make the most of their experience

·         More ways to formally recognise the great work of volunteers 

 
Cllr Steve Sweeney, Calderdale Council's Cabinet Member for Communities, said: 
"We are proud of Calderdale's vibrant volunteering culture. Official Government figures show that over 26% of adults in our borough volunteer regularly – the second highest rate per person in West Yorkshire. We are committed to supporting, enabling and celebrating volunteering – by encouraging people to spare their time to help deliver Council services, and by continuing to support local voluntary organisations.  

"We want people from all walks of life to volunteer with us, so we are taking steps to make it easier for them to get involved. It can help you develop new skills, meet new people, create a pathway into paid work and make a real difference in your local community."  
The proposed new volunteering policy will be discussed at the meeting of Calderdale Council's Cabinet on Monday 10 August at 6pm at Halifax Town Hall. If approved, it will need to be agreed by Full Council before being introduced.