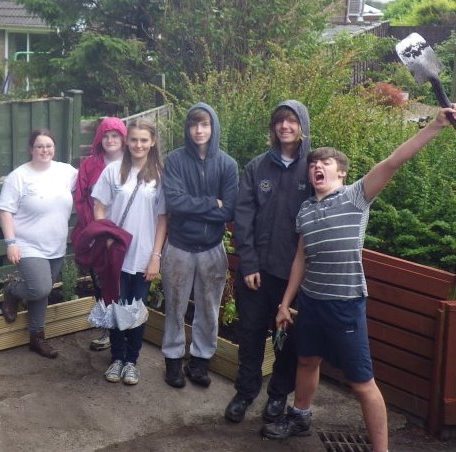 Calderdale youngsters have been taking on new challenges, meeting new friends and making a difference in the community as part of a scheme to build their skills for work and life.  
41 teenagers have raised nearly £1000 for local charities over the past four weeks by taking part in the National Citizen Service (NCS) through Calderdale Council's Young People's Service at Mixenden Activity Centre.    
NCS is open to 16 and 17-year-olds in England and Northern Ireland. It brings together young people from different backgrounds and helps them develop greater confidence, self-awareness and responsibility. It encourages personal and social development by working on skills like leadership, teamwork and communication. 
The Calderdale young people split into three teams and worked on projects that they had identified in the local area. Staff from Calderdale Council were there to support them throughout. The participants were awarded certificates at a celebration evening at the Shay Stadium last week to mark their achievements over the summer. 
Calderdale Council's Cabinet Member for Children and Young People's Services, Cllr Colin Raistrick, said: 
"This summer has seen another fantastic group of youngsters involved in the National Citizen Service in Calderdale. They have made a real mark on our local area. The Council introduced the scheme last year because it gives young people an excellent chance to improve their social and personal skills and helps boost their CVs for education and employment. Council staff have helped them develop important skills like planning projects, learning to budget, working with organisations across Calderdale and learning more about local issues." 
'The A Team' ran a series of events to raise money for Halifax-based charity Happy Days, which helps homeless people. Their projects included making dinner at one of the charity's accommodation units, carrying out maintenance work at the main office and holdinga coffee morning at Norwood Green Village Hall.  
The 'Fight Club' team brightened up a communal patch of land in Shelf by removing weeds, painting fences and planting herbs for people to pick. They worked with The A Team to organise a gig with local acts at Heath Rugby Club in West Vale, and donated the takings to the Forget Me Not Trust.  
The 'Heads then Legs' team set to work sprucing up Shaw Park in Holywell Green. They cleared flowerbeds, paths and the park entrance, built bird boxes and repainted the notice board, helped by the Council's parks staff. The teens also put on an afternoon tea at Stainland and Holywell Green United Reformed Church and raised money for Halifax Street Angels and Wood Bank Primary School at Luddendenfoot. 
NCS runs in spring, summer and autumn. Participants have a short time away from home, living in group accommodation, and take part in a team project that will help their community.They develop a social action project to deal with a local issue they're passionate about, and spend 30 hours putting the project into action.  
Find out more: 
If you fancy getting involved in the National Citizen Service, head to

www.ncsyes.co.uk

(external link)

for more information.

Find out more at the Council-run parents' information event on Thursday 25 September at Mixenden Activity Centre, 6pm – 8pm.

The Council also visits schools to tell young people more about NCS and how to sign up. 

Please call 01422 245006 if you have any questions.

NCS applications are open for autumn 2014, spring 2015 and summer 2015.