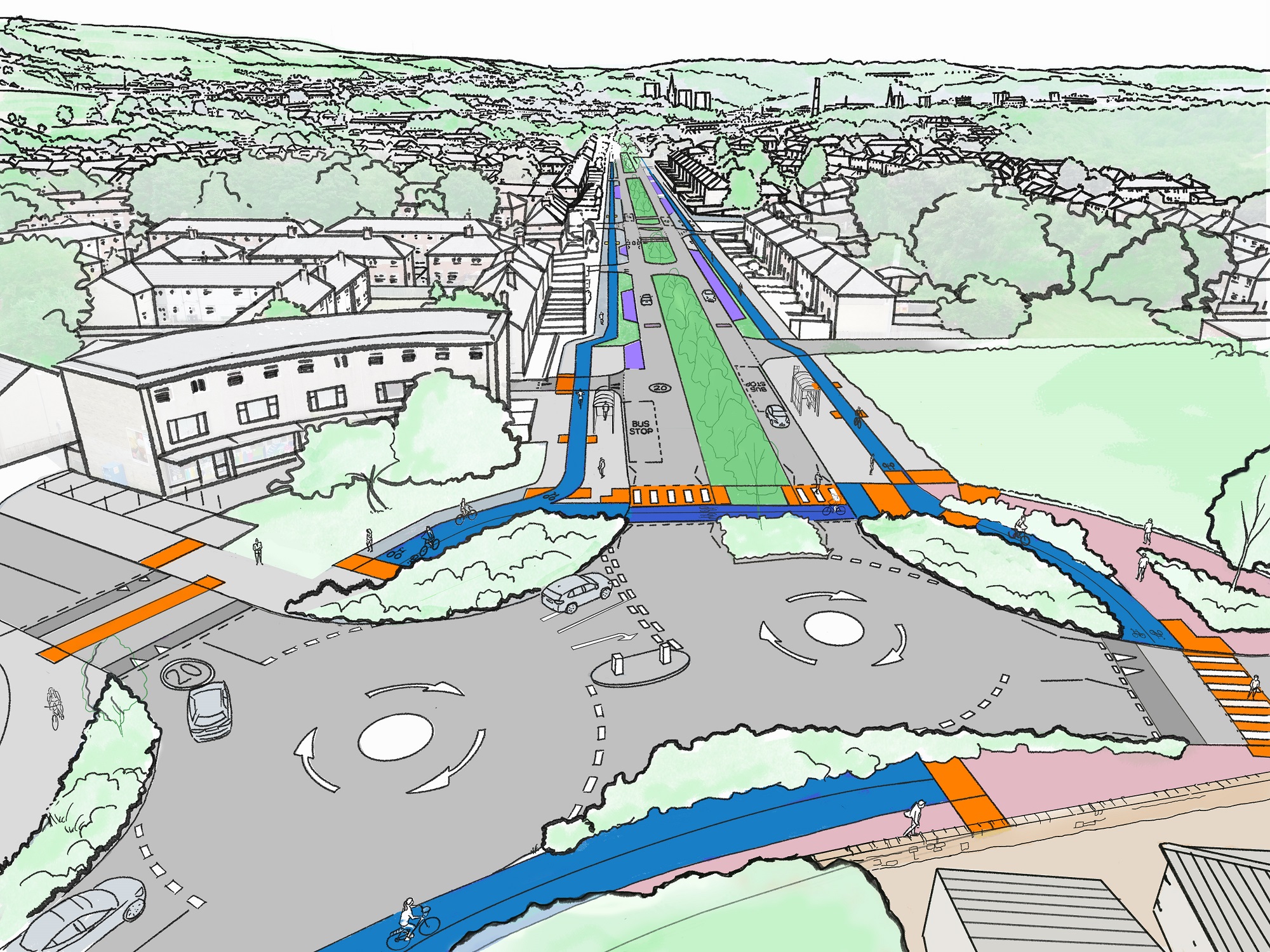 The latest plans to improve options for walking and cycling journeys in north and west Halifax are now available, with updates to the proposals shaped by local people following public consultation.
Calderdale Council, in partnership with the West Yorkshire Combined Authority, is working on two Improved Streets for People projects, which focus on a number of changes to roads and facilities around the areas of north and west of Halifax.
The projects aim to create places where people choose to make trips on foot, bicycle, scooter and bus, by making it an easier, safer and more pleasant experience. Making trips in these ways also helps improve health and the environment.
Proposals cover the areas of Dean Clough, Lee Mount and Ovenden in north Halifax and on and around Gibbet Street, Queen's Road, Hanson Lane, Parkinson Lane and the Beech Hill estate in west Halifax.
In late 2021/early 2022, initial proposals for the scheme were shared as part of a public consultation. The feedback from this exercise has now been used to further develop the plans.
The latest proposals include changes based on comments from local people, including the creation of a rerouted bus service along Queens Road to give residents better access to the shops, GP surgery and other local amenities.
A higher quality provision of cycle lanes has also been developed, particularly in the north section of the scheme, with a continuous cycle lane making cycling safer and easier.
The plans also reinstate parking provision which was initially due to be removed and retain trees along the route. The proposals for a 'bus only' section through Dean Clough have also been removed from plans, in response to local feedback.
The proposals will be available to view at two drop-in events allowing people to find out more about the updated plans, have their say, and ask the project team any questions they may have.
The drop-in events will run from 3-7pm on:
Monday 20March 2023 at the Elsie Whitely Innovation Centre, Halifax, HX1 5ER, focusing on west Halifax proposals
Tuesday 28 March 2023 at the Forest Cottage Centre, Halifax, HX2 8AD, focusing on north Halifax proposals
The latest proposals will be available to view at www.calderdalenextchapter.co.uk(external link) from Monday 27 March 2023.
Calderdale Council's Cabinet Member for Regeneration and Strategy, Cllr Jane Scullion, said:
"The proposals for both north and west Halifax look at ways in which we can make walking, cycling and the use of public transport more appealing. We're really grateful for all the feedback we've received from local people, and we've further shaped the plans for the scheme based on responses to our consultation last year.

"The Council is committed to reducing inequalities, promoting climate action and supporting thriving towns and communities. These proposals are part of wider plans for north and west Halifax to deliver major improvements to infrastructure, housing and community action.

"We continue to work closely with local people to help inform our plans for the Improved Streets for People scheme and the upcoming drop-in events are a further opportunity for people to view the latest plans, meet the team and share any further feedback."
Tracy Brabin, Mayor of West Yorkshire, said:
"Making it easier to walk and cycle is at the heart of our plans to create a fairer, stronger and better connected region.

"These improvements will help more people get to the places they need to go, reduce congestion on our roads and improve the air we breathe.

"It's a great example of how together we are making Halifax an even better place to live, work and play."
Feedback from this round of engagement will be used to prepare the final designs for the scheme which will be submitted the Combined Authority for final approvals. It's hoped that delivery of the scheme will be able to begin early next year.
More information can be found at North Halifax Improved Streets for People | Calderdale Next Chapter(external link) or West Halifax Improved Streets for People | Calderdale Next Chapter(external link).
The proposals are being delivered in partnership with funding from two of the Combined Authority's programmes, the Transforming Cities Fund and Streets for People, both of which are aimed at making it easier for people to walk, cycle and use public transport.