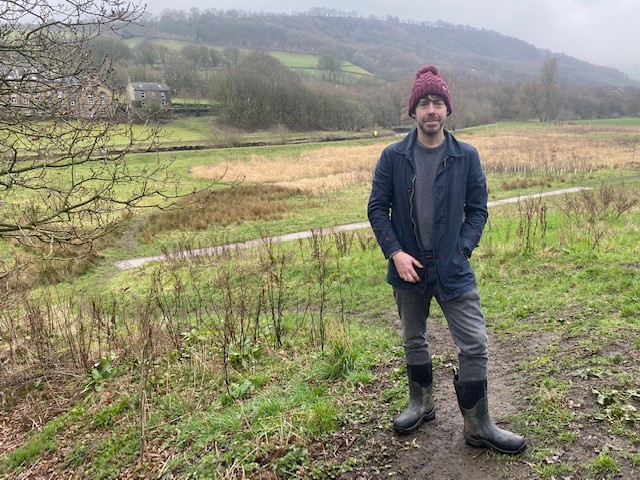 Work is due to begin on the creation of a new wetland nature reserve at Brearley Fields in Mytholmroyd.
The project, which is partly funded by the European Regional Development Fund, will transform the former playing fields into a valuable wetland habitat and enhance naturally managed flood risk.
The wetlands will feature two large ponds and a temporary pond which will fill as the river naturally rises, providing a crucial habitat for a range of species. Parts of the existing river embankment will be removed, improving river connectivity and natural flood management.
To enhance visitor experience and accessibility, a new footpath, seating areas, and interpretation boards will be installed. The fields already act as a natural flood plain for the river and by enhancing and improving this existing space, the nature reserve in its new format will be more accessible and provide a space for the local community to enjoy.
Work is now starting on site and will finish in May 2023. During this time, access to the eastern half of Brearley Fields will be restricted and other parts of the fields may need to be closed at short notice.
Strict measures will be in place during construction to limit noise, maintain site safety, and minimise the impact on the environment. Although the site will be very muddy during and immediately after the works, it will rapidly recover during the late spring and summer.
Once construction work at Brearley Fields is complete, a number of volunteer action days will be held to support the creation of new habitats. This will include work to create a wildflower meadow, featuring reedbeds, trees and other wetland plants, enhancing local biodiversity and leaving a positive impact on the site. For more information about these action days, or to volunteer to take part, contact caldergreening@calderdale.gov.uk
Calderdale Council's Cabinet Member for Climate Change and Resilience, Cllr Scott Patient, said:
"I'm delighted that work is now due to start at Brearley Fields. This innovative and exciting project will create an attractive wetland and nature reserve environment, with new footpaths and seating areas to benefit local people.

"Creating and restoring wetlands and natural flood plains, like Brearley Fields, can deliver huge benefits. As a natural storage for water, they can help protect communities from flooding by reducing flood peaks, making the local area more resilient to the impacts of flooding.

"Wetlands also bring benefits all-year-round, providing habitats for wildlife, increasing our biodiversity and contributing towards our carbon reduction targets."
The Brearley Fields wetland reserve is part of Calder Greening, a series of projects partly funded by the European Regional Development Fund to improve green spaces and complement the Flood Alleviation Schemes with naturally managed flood risk across the Calder Valley. It is delivered in partnership by Calderdale Council, the Environment Agency and Yorkshire Wildlife Trust.