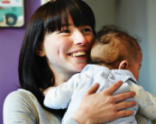 Events are taking place across Calderdale as part of a Breastfeeding Awareness Week, aimed at supporting anyone who is pregnant, as well as partners and other interested family members or friends.
Calderdale Council's Public Health Team, Locala Community Partnerships' Health Visitors, Calderdale and Huddersfield Foundation Trust (CHFT) Maternity Infant Feeding Team and volunteer Breastfeeding Peer Supporters, along with Calderdale's Children's Centres have joined forces to support a series of antenatal classes, themed around breastfeeding.
The sessions, held at locations across Calderdale from Monday 19 June, will support the family journey and provide information on topics such as how milk making works, how to get breastfeeding off to the best start and what to expect in the early days with infant sleep and feeding.
The events are running as follows:
Monday 19 June – Jubilee Children's Centre, Halifax – 10am to 12noon (book a place by phoning 01422 342552)
Tuesday 20 June – Wellholme Park Children's Centre, Brighouse – 12noon – 2pm (book a place by phoning 01484 714768)
Thursday 22 June – Innovations Children's Centre, Halifax – 12noon – 2pm (book a place by phoning 01422 248222)
Friday 23 June – Todmorden Children's Centre – 9-11am (book a place by phoning 01706 399970)
There's also a special drop-in event on Tuesday 20 June at Halifax Central Library led by the CHFT Infant Feeding Team from 2 -3.30pm, to support those preparing for birth with their infant feeding plans. There's no need to book, just turn up and speak to the expert team.
Calderdale Council's Cabinet Member for Public Health, Cllr Tim Swift, said:
"Breastfeeding has health benefits for both mother and child and helps to give babies the best start in life.

"These special sessions aim to raise awareness of these benefits and support those who are about to become parents with advice and provide the opportunity to ask questions.

"In addition to these events, there's lots of information for parents at every stage of the breastfeeding journey with support available from groups or on a one-to-one basis from local midwives, health visitors and the borough's trained Breastfeeding Peer Supporters."
Alison Walklate, Locala's Infant Feeding Lead in Calderdale, said:
"We're delighted to be involved in these events as part of our work to provide support and advice to parents through a variety of initiatives in our communities. Breastfed children are better protected against childhood illnesses and breastfeeding is good for mums because it lowers your risk of getting breast and ovarian cancer and helps to build a strong bond between you and your baby."
Help with infant feeding is part of the support offered by Family Hubs Calderdale- a new network which is bringing together services for local families.
The Council commissions Locala to support families with infant feeding as part of the Healthy Child Programme which is delivered by Locala as the Public Health Early Years' Service (PHEYS).
ENDS