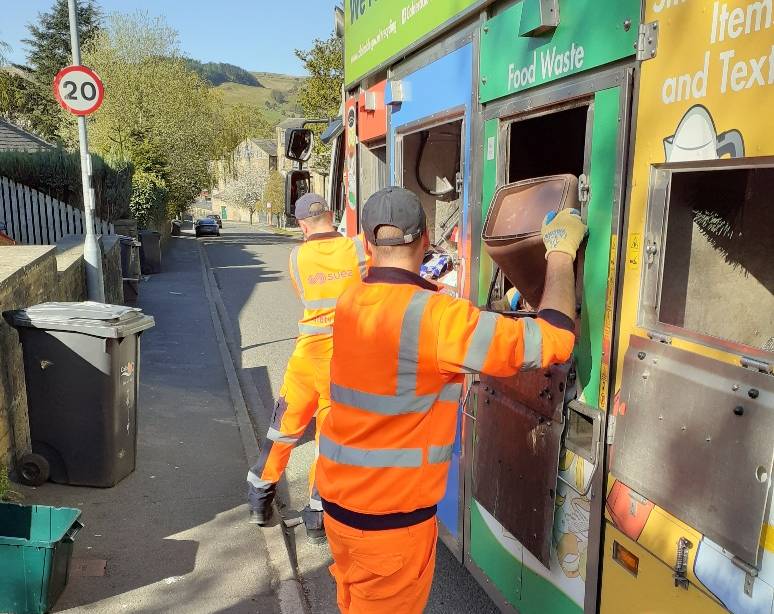 As England reaches its 100th day of lockdown, Calderdale Council reflects on the enormous joint effort and kindness that have defined the response to COVID-19 across the borough.
The Leader of the Council, Cllr Tim Swift, has written a letter to all staff, thanking them for their relentless hard work over the past three months.
The letter pays tribute to the way Council workers have gone above and beyond to support Calderdale's most vulnerable people and keep essential services running, despite the challenges they are facing at work and personally.
Cllr Swift says:
"We know how difficult the last few months have been for everyone. Our staff have had to adapt to extremely challenging circumstances, often taking on new and different roles, but they're keeping vital services going and supporting Calderdale's most vulnerable people. Residents have had to make big changes to their daily lives, and we are grateful to them for following the guidance, being kind and protecting each other. Businesses and community organisations have faced great uncertainty but continue to impress us with their resilience, and we're confident they will approach the coming months with their usual enterprising spirit.
"Although lockdown rules are gradually being eased, we cannot be complacent. We must continue our great united efforts to keep each other safe, as we'll still be living with the coronavirus for a while. Kindness has become even more important in recent months and will continue to play a vital part as we adapt to our 'new normal'."
Here are just some examples from Calderdale Council of the progress made during lockdown:
Over one million items of personal protective equipment (PPE) have been distributed to care providers so far.
More than 1000 vulnerable people are being supported by the virtual volunteer hub set up at the start of the COVID-19 outbreak.
Over 1000 people came forward to volunteer for the hub, and more than 800 are currently still volunteering.
More than 5000 grants to help businesses through the pandemic have been processed, totalling over £56 million.
Calderdale's town centres are being transformed, with new pedestrian and cycling zones and 1000 signs being installed alongside floor markings to keep people safe.
Calderdale's excellent partnership work has continued, with many examples of organisations coming together to support people, including delivering food parcels; boosting PPE supplies; keeping people safe out and about in communities; and safeguarding the health and wellbeing of those at risk such as homeless people, asylum seekers, people using food banks and those at risk of domestic abuse.
The Council has held five live Q&A sessions on Facebook to address key issues and engage with local people, with a combined total of over 17,000 people tuning in.
Active Calderdale has helped local people to stay healthy and happy throughout lockdown, showcasing innovative ways to keep moving at home and in the great outdoors.
The Council has worked with schools to create 14 temporary 'School Streets' where roads outside schools are closed at drop-off and pick-up times for a safer, healthier and greener environment.
Work continues on developing the recovery plan for Calderdale, focusing on providing a safe future with safe workplaces, safe transport, safe communities, safe education and safe public spaces.
The Council's ongoing progress against its 10-point plan for the COVID-19 response is being monitored and recorded on its website: How is the Council responding?
These achievements wouldn't be possible without the hard work and commitment of the entire Calderdale community. Here we thank some of the Council's unsung staff heroes who continue to play a vital role during the pandemic.
Bereavement Services
The team of compassionate people who work in the Council's Bereavement Services are well known for their professionalism and sensitivity. Their work includes running cremations, burials, cemeteries and gardens of remembrance. They are dealing with huge challenges at the moment, but continue to support Calderdale's bereaved families in a kind, caring and diligent way. As of 15 June, up to 20 mourners can attend burials and cremation services inside the crematorium chapel.
Dave Clay, the Council's Bereavement Services Manager, said:
"COVID-19 has led to significant changes in how we run our service, which we know are very difficult for mourners and families, and also for the staff. My team and I are balancing the priority to keep people safe with supporting grieving families at an extremely emotional time, as well as respecting the needs of all faiths in our multicultural community.
"We continue to uphold the strict national safety requirements, work hard to maintain the crematorium and burial grounds across Calderdale, and offer the best support and advice that we possibly can to local people.
"I would like to thank all Bereavement Services staff for the continued hard work, caring nature and dedication they provide on a daily basis in these challenging times to families in Calderdale and surrounding areas."
Waste Management Services
The Council's Waste Management Services, in partnership with contractor SUEZ, have kept the weekly recycling and fortnightly waste collections running as normally as possible throughout lockdown, working extra hours and dealing with a huge increase in the amount of waste and recycling to be collected.
Andrew Pitts, the Council's Assistant Director for Neighbourhoods, said:
"I know that Calderdale residents will join me in paying tribute to the amazing efforts put in by SUEZ to maintain waste and recycling collections across the borough. Crews are out working on the front line day in, day out, including weekends, handling 141,000 weekly collections across Calderdale and helping to get people through the crisis.
"At the moment they are collecting far more recycling than normal, with glass (up 50%) and cardboard (40% higher) seeing the biggest increases. The fact that only a very small proportion of collections haven't been made is testament to the crews' determination and highlights the dedication of the local SUEZ management team.
"This is physically demanding work, in all weathers and with some very high temperatures recently. Crews are collecting on average four tonnes of recycling daily, with each loader picking up the equivalent of around 4000 empty wine bottles (or over 6000 empty beer bottles) every day, all in the context of staff dealing with the impact of the coronavirus. I know crews have been very grateful for the kind thank you messages and drawings displayed on their windows and recycling containers."