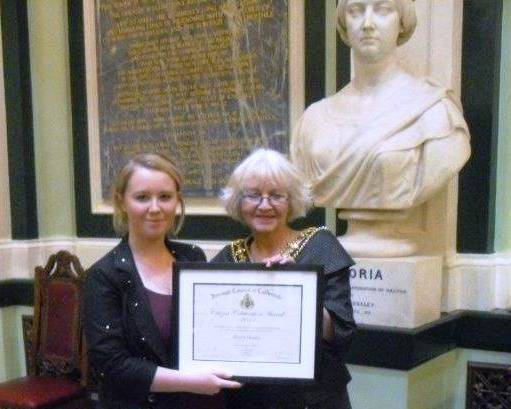 Local heroes who have made a big difference to their communities have been recognised by Calderdale Council at an award ceremony at Halifax Town Hall.
The Calderdale Citizen of the Year event, run by the Council, celebrated individuals, groups and organisations who go the extra mile to support local people – from tireless voluntary work and being exceptional neighbours, to identifying local concerns and running activities in their community.
Residents in each ward in Calderdale have been busy nominating their local stars, and the winners were chosen by ward councillors at their area's Ward Forum. Each ward's winner then went through to the shortlist for the borough-wide Calderdale Citizen of the Year award.
Kirsty Healey, age 18 from Ovenden, is proud to be named Calderdale's Citizen of the Year, as chosen by the Council's Civic Advisory Group. She won £250 to put towards a community project of her choice (she chose St George's Community Trust), and the Mayor of Calderdale, Cllr Pat Allen, presented her with a certificate. Each nominee also received a certificate to recognise their remarkable contributions.
Kirsty has shown outstanding community spirit by getting involved in countless voluntary activities and always going above and beyond what is expected of her. She stands out as an inspiring role model to young people in north Halifax and across Calderdale 
At 13 years old Kirsty had little confidence in herself and her potential. She says she wasn't very well behaved at school and didn't get brilliant GCSE results, but she started going to St George's Youth Project run by St George's Church in Ovenden, and it gave her a chance to aim towards a successful career.
In 2012 Kirsty applied for a job as a youth worker apprentice with the Project, and she has since been working on the Groundwork Project, which provides opportunities for young people aged 12 – 16 to learn arts, woodwork and cooking skills. She has already completed NVQ Level 2 and 3 in Children and Young People's Workforce and hopes to go to university.
Kirsty has climbed Scafell Pike, the highest mountain in England, completed a 22 mile charity bike ride, and taken part in many early morning car boot sales and bag packs to raise funds for the Youth Project.
Kirsty said:
"I was very surprised to be nominated for such an award, so I was even more surprised to have actually won it. I feel very blessed to be able to do a job that I love and have such a passion for, so being awarded for something that I enjoy doing is something very great. I think that the nominees are all fantastic people with a great story behind them and all deserve the appreciation given."
The Mayor of Calderdale, Cllr Pat Allen, said:
"There are so many individuals, groups and organisations in Calderdale making a huge impact every day, and we wanted to formally thank and award them. We have always celebrated the work of people who contribute to their communities, but this was the first ever Calderdale-wide award event and I'm delighted that it will be held annually. The atmosphere was fantastic and it was great to see so much local pride, and people gathering together from different areas."
Nominees included:
May Stocks from Calder ward
May is well known in her neighbourhood for always having a smile on her face. She has owned a local shop in Heptonstall for 40 years, delivers to elderly people, checks if they are ok, makes them a cuppa and even cooks for them – at any time of day. May is a keen supporter of the local church and school activities.
Ann Rutherford and Pat Oates from Brighouse
As Chair and Deputy Chair of Brighouse Road Safety Group, Ann and Pat have tirelessly demonstrated a fantastic commitment to improving road safety, particularly in Brighouse, for many years. They have given talks in schools, worked with neighbourhood teams to deliver speed awareness sessions, and helped with the speed indication device in several locations in the Lower Valley wards.
Todmorden in Bloom
A group of volunteers who have brought beauty to the town with colourful flowerbeds down all three valleys. Unsung heroes and heroines!
Sue Monty from Elland
Sue has made a substantial commitment to Elland ward over the years, as part of numerous committees and voluntary projects to help improve the local area. For the last three years she has been part of the Elland Community First grants panel which has allocated £35,000 to Elland community groups over that time. Sue has played a key role in securing a new community garden and play area for Whitwell residents. She has also helped to create a highly successful community fun day for young people and their families.