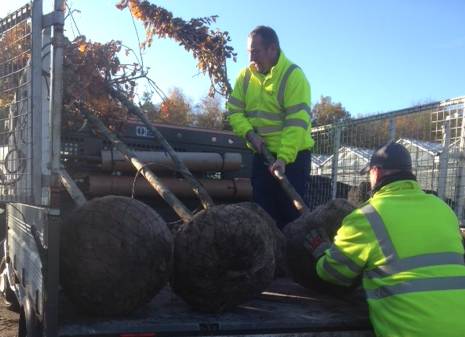 If you're looking for a unique Christmas gift for the person who has everything, why not buy them a tree to be planted in a Calderdale park or green space?
Calderdale Council's 'buy a park a tree' scheme gives individuals, groups or businesses the chance to sponsor a tree of their choice. The scheme started in late summer 2017 and has already proved popular, with almost 30 trees already planted or soon to be planted from the first orders.
Calderdale Council's Cabinet Member for Neighbourhoods and Communities, Cllr Susan Press, said:
"Our well loved trees are really important for the environment and are at the heart of our many parks and green spaces. The Council's 'buy a park a tree' scheme has been really popular and many new trees have already been planted around the borough.

"With the generous help of sponsors, alongside our own planting schemes, we can continue to ensure that there are plentiful trees for future generations to enjoy."
New trees are vital for Calderdale's parks and green spaces to replace older trees which have been lost through disease, storm damage and old age and to help absorb pollution and carbon dioxide.
The second batch of orders will be placed on Wednesday 6 December for planting just before Christmas. The final order of the season will be placed in mid-January for February planting. Anyone ordering after this date will be contacted later in the year for winter 2018/19 planting.
Each tree costs £100, which includes planting and securing the tree. There's a list of varieties to choose from and trees can be planted in most of the parks and recreation areas in Calderdale. A certificate will be issued to each sponsor to keep as a record of their generous help.
Friends groups, businesses and members of the public are being asked to support the tree donation scheme by going to www.calderdale.gov.uk and entering 'buy a park a tree' into the search box. This page also has all the details of how to place an order and a list of trees to choose from. Alternatively you can contact the parks office on 01422 284436.
Trees will be planted by the Council's Safer, Cleaner, Greener team, although if any sponsors would like to help with the planting it can be arranged.