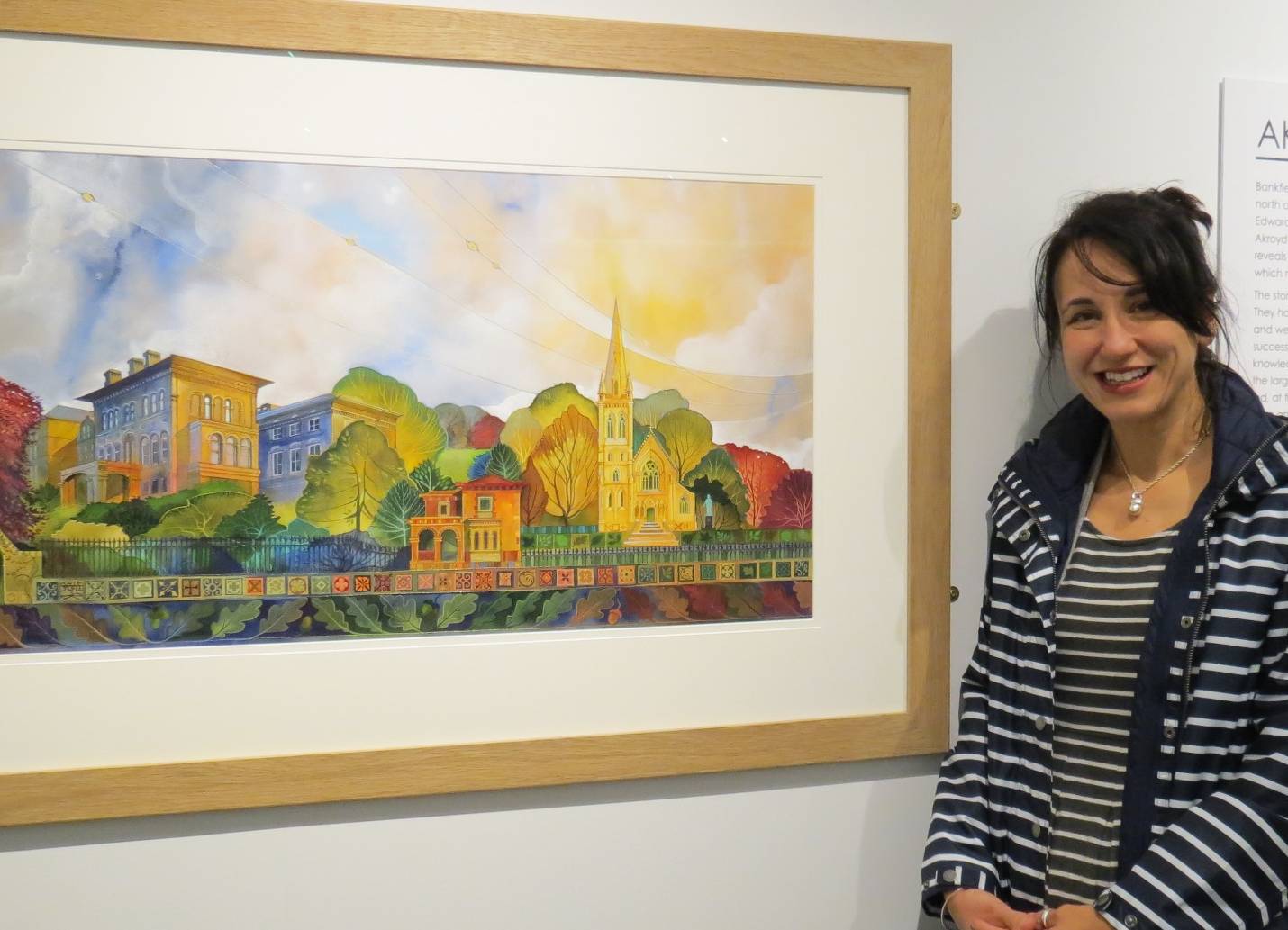 A new painting by local artist Kate Lycett is now on display at Bankfield Museum, Halifax.
The painting shows Bankfield Museum alongside All Souls' Church and features of the model village of Akroydon, now part of Boothtown in Halifax.
Calderdale Council's Cabinet Member for Neighbourhoods and Communities, Cllr Susan Press, said:
"It's great that this new piece from popular local artist Kate Lycett will be on display at Bankfield Museum. The museum features prominently in the painting, along with some of the beautiful buildings of Akroydon – highlighting the fascinating history of this area."
The artwork uses a range of different media, including, gouache, acrylic and watercolour paints, inks, pencils, gold leaf and gold thread. The Museum Service commissioned the painting following a successful exhibition of Kate Lycett's paintings, 'Lost Houses of the South Pennines' in 2016.
The Lost Houses exhibition featured a collection of Lycett's paintings that captured some of the mansion houses that used to exist in Calderdale and the surrounding area, including Castle Carr and Manor Heath. Although the buildings featured in this new commission still exist, they have an equally fascinating history.
Bankfield Museum was the former home of Edward Akroyd, a successful worsted manufacturer. He purchased what was then known as Bankfield Mansion in 1838 and made considerable extensions to the grand house which remains today. Akroyd also founded the model village of Akroydon and All Souls' Church, all of which feature in Lycett's painting.
The decline in the worsted industry resulted in Akroyd selling Bankfield to the Halifax Corporation in 1886 and it opened as a public museum and gallery in 1887.
Restoration work has recently taken place at the museum to open a new gallery and refurbish the public library on site. The floors in the Main Hall are currently being repaired after 150 years of use.
Bankfield Museum's displays cover local history, costume, art, toys, military history, jewellery and textiles from around the world. At the moment there is also a new exhibition in partnership with the Halifax Photography Society where you can find out more information about the village of Akroydon.
A number of Kate Lycett's limited edition, hand finished and signed prints are available to purchase at Bankfield Museum. There are also cards featuring the painting available in the shop.
For more information about museums in Calderdale, visit http://museums.calderdale.gov.uk/ or follow Calderdale Museums on Facebook https://www.facebook.com/calderdale.museums.supporters(external link) or Twitter https://twitter.com/CalderdaleM(external link)